Most iOS users feel more comfortable backing up their phones with iCloud. Apple mainly created iCloud to allow users back up their data to keep it safe in case of data loss. It's a known cloud storage service that adds extra storage to Apple devices since they don't support memory cards. Backing up data in iCloud is a way of making copies of the files which you will be able to restore later. If you are interested in how to back up iPhone to iCloud, you get to the right place. Besides, we'll explain how to restore iCloud backup on iPhone in detail.
After understanding the tricks below, you'll find it not challenging to back up or restore iOS data with iCloud. Let's check it out.
Part 1: Why Should You Backup Your iPhone?
If you want to avoid losing your data, backing up is the only proactive way out. Regular backing up of your phone guarantees the safety of your information. Whether it's because of theft, crash, or damage to your iPhone, you can rest assured that your data will remain secure if properly backed up.
Not only that, but when you have a backup made, it's easier to restore when you need it. When switching iPhones, you will also want to get all the data available in your old iPhone. With a backup in place, it's only a matter of minutes to get all of your files on your device through a simple restoration process.
Part 2: What File Types Will iCloud Back Up and What It Won't?
What you can back up with iCloud:
* Messages, such as SMS, MMS, and iMessage, but you should use a SIM card during the backup procedure.
* A voicemail password, but a SIM card is needed when backing up.
* Camera Roll, pictures and videos.
* Purchased movies, TV shows, music, apps and books.
* Settings on your device like mail, calendars, contracts, reminders, and more.
* Ringtones, App data, health data, etc.
What Can't be backed up with iCloud:
* Media synced from PC/Mac but can be recovered by syncing with your iTunes.
* Movies, Music, TV shows from the iTunes store, Books or Audiobooks from the iBooks Store, and applications from the App Store that were removed after purchasing or downloading them.
See also: Easily Back Up Text Messages iPhone to Gmail in 5 Ways
Part 3: How Do I Back Up iPhone to iCloud?
iCloud is by far the best and easiest way of backing up your device, but its smaller space isn't helping iOS users that much. Apple only offers 5GB of free iCloud storage, which could be very little for your files. This makes it impossible to back up all files if you have many.
How do I back up iPhone to iCloud? It's easy. You can go the automatic way or manually. Whichever technique you decide to use, you can keep your data safe in the cloud storage. All the important files on iPhone will be backed up in iCloud.
3.1 How to Back Up iPhone on iCloud Automatically
Automatic backups are very important. If at any point in time, you lose some info or want copies of your data, restoring the device via iCloud backup should do the trick. Here is how to back up iPhone to iCloud automatically:
Step 1: Open the "Settings" application from the home screen of your iPhone.
Step 2: Click on "iCloud" and sign into your iCloud account. Then scroll down to find "Backup". Click on it.
Step 3: Click on the slider next to "iCloud Backup" in the On position to enable the automatic backup.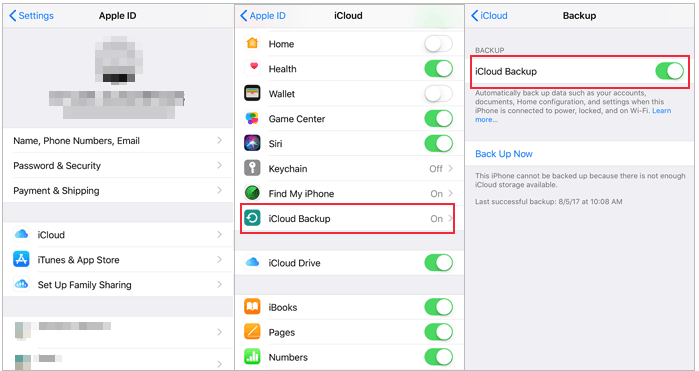 Once you turn on the iCloud backup on an iPhone, it'll back up data every day provided the device is connected to Wi-Fi internet, connected to power and the screen is locked.
Maybe you like: How to Fix iPhone Backup Not Enough Space on Computer Issue (Proven Tips)
3.2 How to Back Up iPhone on iCloud Manually
You can always manually back up your device if you have access to Wi-Fi. Simply launch the Settings app, and navigate to "iCloud" and "iCloud Backup". Then click on the "Back Up Now" button to secure your data backup. Then you have to wait for the process to finish. Ensure you don't close the phone or interrupt the process.
Part 4: How to Restore iPhone from iCloud Backup?
Don't let the task of restoring your data intimidate you. When it's time to access files backed up to iCloud, fret not. We're here to guide you through an easy restoration process. Below are ways to restore iPhone from iCloud backup:
4.1 How to Restore iPhone from iCloud Backup via Coolmuster iCloud Backup Recovery
If you want the best way to restore your iPhone from iCloud backup, Coolmuster iCloud Backup Recovery is your best bet. Not only can you selectively restore data from iCloud, but you also get an exclusive preview of all your files before recovering them.
This software offers lightning-fast recovery of contacts, photos, notes, calendars, and reminders. With its intuitive sorting capabilities that organize data by category, letting you immediately find what you need, it's practically life-saving. This tool can save time and the trouble of waiting around. No need to worry about the safety of your data. It's very safe to use with no chance of leakage whatsoever.
Here are its key features:
* Recover iCloud backup data selectively on a PC.
* Enable you to preview backup files on a PC.
* No loss of quality.
* Data restoration needs an iCloud account only.
Download this software to restore your iCloud backup data.
How to restore iCloud backup easily:
01Install the software on your computer, and launch it. Then log in to your iCloud account and type your password.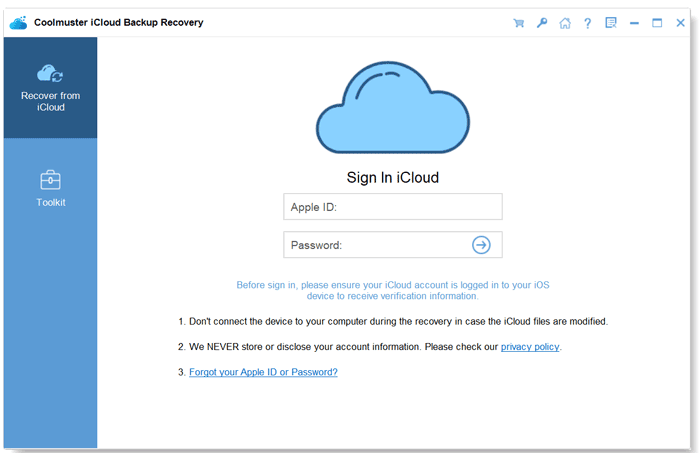 02Hit the arrow to head to the next page. You'd be required to enter the code if you use two-factor authentication on your iPhone. Press "Verify" to proceed.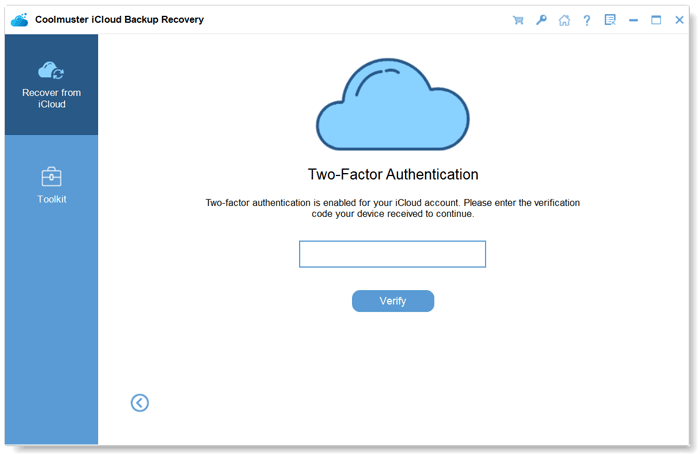 03Check the files to restore and hit the "Next" button. The program will scan and then list all iCloud files on the screen. Now choose those files you wish to recover and click "Recover to Computer".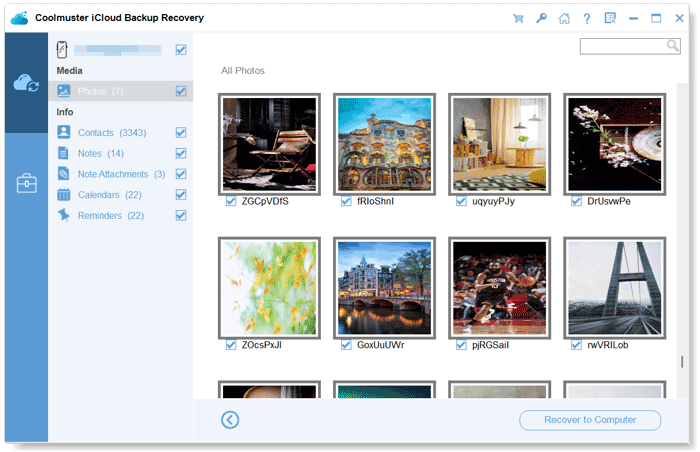 Learn more: How to Recover Photos from iCloud from an iPhone or Computer? [Solved]
4.2 How to Restore iCloud Backup on iPhone via Settings [Resetting Needed]
Before you can restore your iPhone from iCloud via settings, you'll have to erase all settings and data from your device. Here is how:
Step 1: Navigate to "Settings", and click "General" and "Reset". When here, click on the "Erase All Content and Settings" option. Click "Erase Now" from the pop-up window to factory reset the phone. Besides, you can choose "Backup Then Erase".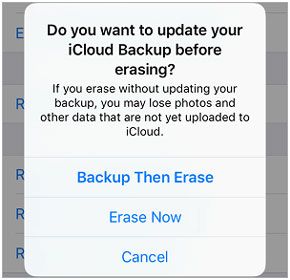 Step 2: Once the factory resetting is done, you'll see a "Hello" screen. Use the onscreen instructions to reach the "Apps & Data" screen. When here, choose "Restore from iCloud Backup".
Step 3: Enter your Apple ID and password when asked, and click "Next" to get to another screen. Now, choose "iCloud Backup", which you wish to restore to the iPhone. After you choose the Backup file, the downloading process will start on your iPhone.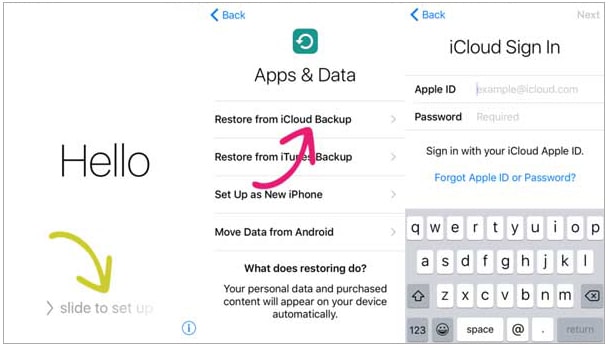 Guess you need: Want to get your voice memos back from your iCloud backup? Then you'll need these advanced methods.
Part 5: FAQs on Backing Up iPhone to iCloud
Q1. Does iCloud backup all data on my iPhone?
Your iPhone backups include settings and information stored on the device. Copies of Contacts, Bookmarks, Notes, Calendars, Reminders, Messages in iCloud, Voice Memos, iCloud photos, or shared photos which were already saved to iCloud won't be included in the backup.
Q2. Does iCloud backup save all of my photos?
iCloud automatically uploads any recent photos and deletes the Videos and Photos from iTunes.
Q3. How long does it take to back up your data in iCloud?
An iCloud backup usually takes 30 minutes to two hours, depending on the size of your files, internet connection speed and device condition. However, if you always do a regular backup, it won't take much time to complete.
Conclusion
With time, your iPhone will accumulate a lot of data, including photos, messages, videos, and contacts. If you lose or have your device stolen or damaged, not to mention if the software on your phone is corrupted, all these documents may be lost forever.
Keeping your iPhone safe and secure is paramount, so regular backups to iCloud should be a top priority. This tutorial has everything if you want an easy step-by-step guide for backing up your iPhone to iCloud. Besides, you can restore the data with ease too. Coolmuster iCloud Backup Recovery is the best solution to use when you want to restore your iPhone from iCloud backup without resetting your phone. It doesn't lose data quality and is very safe to use.
Related Articles:
Why Is iCloud Backup Stuck? How to Solve iCloud Backup Not Working?
Five Methods to Back Up an iPhone without/with a Computer (Step-by-Step)
How to Export Contacts from iPhone? 5 Ways for You Here
How to Transfer Music from iPhone to Computer Effectively? (4 Tips)
How to Recover Deleted Contacts from iPhone with Ease? (4 Easy Ways)