Best Alternative Tool to Titanium to Manage Android Devices
There are a lot of mobile users who do not take the security of their data quite as seriously as they should. These are the same people who are then left in a mess when their devices unexpectedly break down or malfunction and the data is permanently lost. If you back up your data, however, you simply will not have to deal with a lost library full of music or a gallery full of missing photographs. The only problem is that there are so many different backup tools available online that it can be difficult to know which one to choose. For example, one of the leading Android backup programs, Titanium Backup, is used by a lot of mobile owners, but this tends to be because they are not aware of any great alternatives.
Fortunately, there is an alternative tool to Titanium Backup, which is actually quite a slow and fussy app – over the years, it has fallen prey to more than a few errors and glitches which have seen users lose important data. The alternative, however, is the Coolmuster Android Assistant, a third party app which guarantees the safety and security of your information by transferring Android files to computer for backup. The Coolmuster Android Assistant app is a superb Titanium Backup alternative, because it takes just three steps to fully back up important data using this program. Plus, the application can then be used to restore various forms of data on the Android, if and when necessary. The even better news is that this third party app offers a whole host of additional features and tools.
For example, aside from being a more secure and straightforward back up program than Titanium backup, the Coolmuster Android Assistant app can also be used as a management system for lots of different kinds of data. You can use it to store, organize, and transfer everything from music to video, text, SMS, contact, calendar files, and more. It also comes with a Mac version Coolmuster Android Assistant for Mac, which performs the same functions on Mac platform.
Now, you just need to free download the Titanium backup alternative tool and follow the steps below to have a try!
How to Use Android Assistant As A Titanium Backup Alternative?
Step One: Install the program and connect Android device to a computer
The first thing that you will need to do is connect your Android to a computer, so that you can link it up with the Coolmuster Android Assistant interface once the program has been installed. Then, you need to navigate to the starting window, after it has installed, and confirm the debugging process – this is essential if the device is to be picked up by the computer.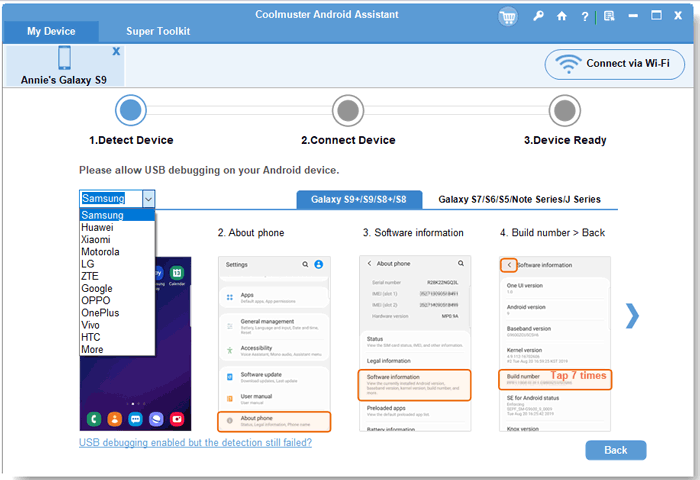 Follow the below instruction to enable USB debugging:
1) For Android 2.3 or earlier: Enter "Settings" < Click "Applications" < Click "Development" < Check "USB debugging".
2) For Android 3.0 to 4.1: Enter "Settings" < Click "Developer options" < Check "USB debugging".
3) For Android 4.2 or newer: Enter "Settings" < Click "About Phone" < Tap "Build number" for several times until getting a note "You are under developer mode" < Back to "Settings" < Click "Developer options" < Check "USB debugging".
When the USB debugging is enabled, click "Allow" on your phone to allow the program super user authorization when an Superuser Request pops up.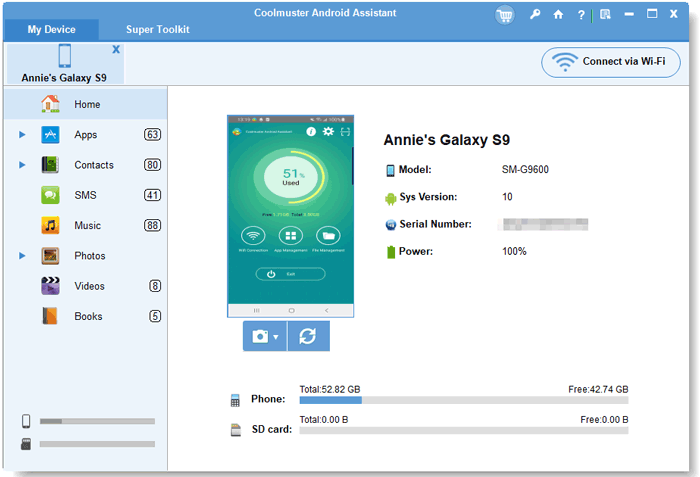 Step Two: Select the files which need to be backed up
In order to start the backup process, you need to check the files which you intend to safeguard and copy. This should be really easy to do, because the Coolmuster interface window will present you with a list of the files which can be back up, and all you need to do is check the relevant boxes.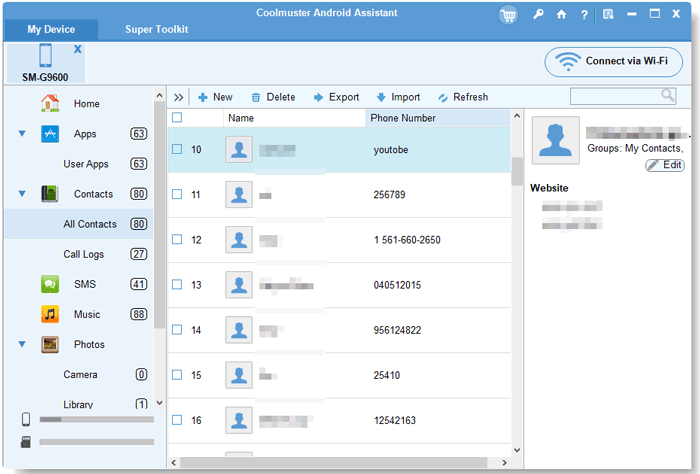 Step Three: Start the backup process and wait for it to finish
The final stage of the process is just as easy, and involves nothing more than double tapping the button clearly marked EXPORT. Then, if your Android ever does happen to break down and you need to replace the data, all that you have to do it tap the RESTORE function - it really is that easy.
Related Articles:
How to View Android Text Messages on Computer