How to Transfer Photos from iPhone/iPad to Flash Drive?
A large number of people like to use iOS devices because they are falling in love with iOS operating system for its high efficiency. The classic example is the inability to use files on your iPad, iPhone and iPod with any other media or data management tools but iTunes. In order to crack down on piracy and make it near impossible for users to indulge in illegal in-field copying, Apple rather shrewdly made it so that data, once converted to iTunes files, cannot be used in conjunction with other tools or software. But what if you want to share photos on your iDevice with other people?
Finding a Solution to Compatibility Issues
The reality is that there are many different reasons why you might want to move photos and other files from an Apple device, such as iPad, iPhone or iPod to an incompatible one like a USB flash drive. In fact, the most important reason is for security – if you do not have a secure backup copy of your iTunes library, you risk losing the entire collection in the event of a system failure or iTunes crash. A USB flash drive would be a good choice for saving your precious photos. To achieve that, you need to copy photos from iDevice to computer and then from computer to another flash drive.
Well, you can transfer photos from iPad or iPhone to computer using email or iPhoto, but here, we want to introduce the Coolmuster iOS Assistant, which is easier, quicker and more efficient to sync files from iOS device to computer then using iTunes or iPhoto or email. With it, you can also export music, movies, TV shows, podcasts, voice memos, camera roll, photos, notes, contacts and Safari bookmarks from iPhone, iPad and iPod to PC or Mac. Once on a flash drive, the files should become much easier to change, manipulate, and transfer between different devices.
The Coolmuster iPad iPhone iPod to Computer Transfer tool is simple to use and quick to download, and it will lift many of the file based restrictions which can impede sharing between the different Apple platforms.
Transfer Photos from iPad/iPhone to Computer and then from Computer to Flash Drive
Step one: Launch iPhone/iPad to computer transfer
Once you downloaded, installed and launched the transferring program, you can link up your iPad or iPhone to the computer via a USB cable. Wait for the program to detect the device and it will be shown on the program interface soon.
Tips: The recommended tool here supports all models of iPad and iPhone, including iPad 2, the new iPad, iPad mini, iPad 4, iPad Air, etc. as well as iPhone 6, 6 Plus, 5S, 5C, 5, 4S, 4, 3GS.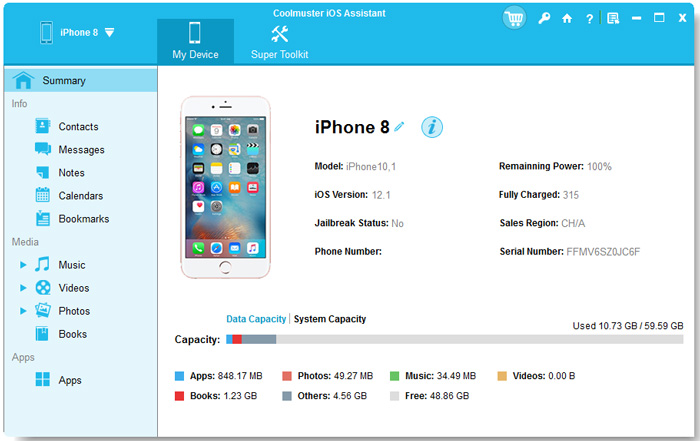 Step two: Select the photos you want to transfer
The transfer tool is able to export music, movies, TV shows, podcasts, voice memos, camera roll, photos, notes, contacts and Safari bookmarks from iPhone and iPad to computer. Just open the "Photos" folder and preview these pictures. Choose the ones you want to copy to flash drive.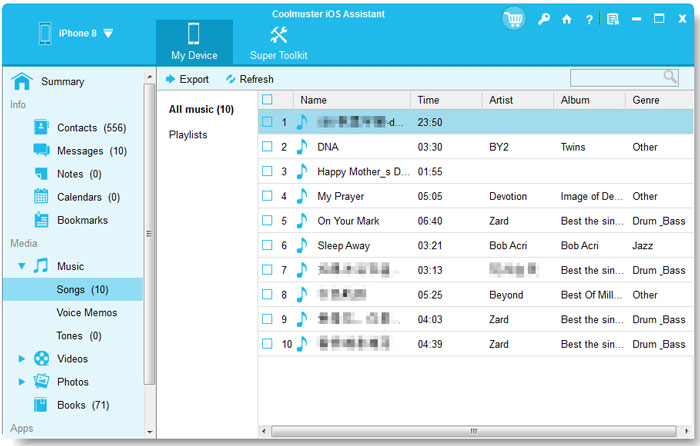 Step three: Transfer photos to a USB Flash Drive
Now, insert the USB flash drive to the computer and make sure it can be connected with the computer successfully. Choose the USB flash drive as the output location and begin to transfer these selected photos to the USB flash drive by clicking the "Export" button.
Related Articles:
Copy Contacts between Samsung and iPhone