Undoubtedly, you may have heard lots of news about the new Apple's operating system - iOS 9 before the official version is available on the Internet, and some of you may think the iOS 9 only have made a great improvement in the performance of the whole system, right? However, when the iOS 9 is finally unveiled at September 16th, 2015, people, especially the Android users have pleasantly surprised to find a new app called "Move to iOS" also be released. This is the first Android app that developed by Apple, which aims to help users, especially Android users, move data like messages, camera roll, google account, contacts, bookmarks from Android devices to a new iPhone easily and safely over Wi-Fi. So, if you are a person, who handles Android and iPhone at the same time, then you can't miss this app in iOS 9. In this article, we'll give you a complete review on it and you can consider whether it is worth to download on your Android phone.
Highlights of the Best Android to iPhone Transfer - Move to iOS
Few days ago, you may still be troubled of transferring data from your Android phone to iPhone device, and you tried to find an ideal solution on the Internet and finally got hundreds of answers which seems all feasible, then you feel in a dilemma and don't know how to do it next, right? Now, you can never worry about it. With the app of "Move to iOS", you can easily and safely move data from Android to iPhone over Wi-Fi. Since the app is developed by Apple, so your personal privacy can get 100% protection. What's more, this app is charged of free, so you can entirely copy your Android data to iPhone without losing. Now, just have a brief look on the basic functions of the powerful tool:
1. 7 types of files can be transferred from Android mobile phone to iPhone over Wi-Fi, including contacts, mail accounts, message history, calendars, camera photos and videos, free apps, web bookmarks.
2. Totally free on Google Play, you can download and install it on your Android device without hassle. (Please be noted that the app can only works on the Android version of 4.0 or later.)
3. Simple to use, and you can finish the whole process within few clicks.
Below is the detailed tutorial of using Move to iOS, you can keep reading and follow it as you like:
Step 1. Be sure the Move to iOS app have been downloaded and installed on your Android device.
Step 2. When you choose to migrate your data, the iPhone will create a private Wi-Fi network and find your nearby Android device that running Move to iOS app. Here, you need to enter a security code, and then the transferring process will be started, and you can put your device in the right places and you can do other things as you like.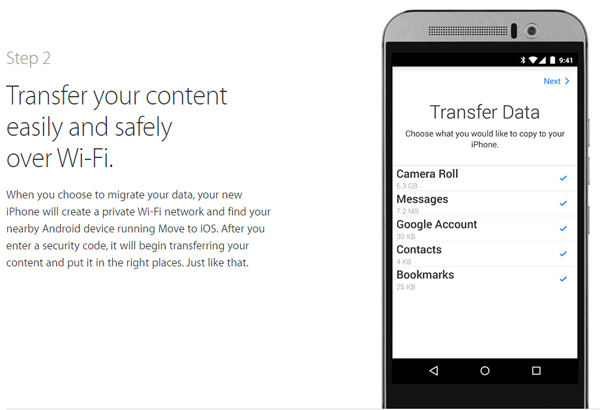 Step 3. When the transferring is finished, you can set up your iPhone and install other apps on your new device as you like.
Weak Point of Move to iOS App and How to Make Up It?
From the above content, you may have found that the Move to iOS app is a single-round application, which only support you to transfer or copy data from Android to iPhone. That means, if you wish to move data from iPhone to Android, this app can do nothing for you. What's more, it also can't help you share data between iDevices or Android devices as you like. So if you wish to enjoy more functions or conveniences while you're going to move data between two devices, you'd better to find an alternative tool to Move to iOS app. Here, we'd like to strongly recommend Coolmuster Mobile Transfer for your reference. With it, you can transfer data between iPhone, Android and Symbian without hassle.
Related Articles:
Everything You Need to Know about iCloud Backup