Launched in 2003, Apple's iTunes is the leading music store house in the USA. It has gained immense popularity due to the numerous genres of music that is now easily accessible by its users. It has enjoyed the coveted love that that Android and Windows couldn't get their respective hands on.
In spite of all this, iTunes comes with its own disadvantages. One of them is the fact that downloading songs from iTunes requires money, lots of money. Now, who on Earth would like to pay for music, when that can be downloaded for free? Because Apple has created iTunes in such a way that, generally, music has to be purchased, people have found ways around this problem. Read on, to find out how you could download free music to iTunes.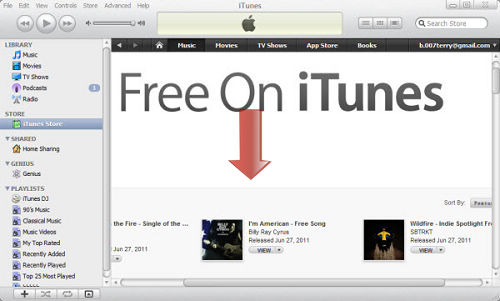 Now, Apple has provided several option on iTunes to solve this problem for its users. If you want more options, and are willing to investigate, you will soon find yourself discovering several sound files that enables you to download free music to iTunes. The following are the different methods along with instructions to go about using them:
Method 1. Download Music from iTunes for Free
Method 2. Discover Free Music Files
Method 3. Transfer Your Music on iPhone/iPad/iPod to iTunes (Recommended)
Method 1. Download Music from iTunes for Free
1. To purchase music on iTunes - whether for free or otherwise - you will need an iTunes account. So download that first. Enter all the important details including your payment information and then update your iTunes to the latest version available. This will give you the latest deals and offers on the store. Below the iTunes tab, look for "Check for Updates" and select it.
2. Now, open iTunes and go to the iTunes Store by clicking on it. You will find it on the top right corner of your screen. Now click on "Quick Links" where you can choose "free on iTunes" to look through the list of options you have in free music that you can download. This page is updated daily, to come up with the latest offers.
3. There are other ways to download free music here. Sign up for the iTunes mailing list to be aware of new updates and songs so you could download free music. There are also various promotional offers that allow you to download free music albums.
4. There are gift cards that are available on iTunes and if you are given one, then you can download music for free. There is a "redeem gift card" option on the homepage. Once you select it and add the details that you're asked for, you will be given credit to download the music.
Method 2. Discover Free Music Files
1. Several websites like Pitchfork and Drunkard offer free music that can be downloaded easily. They offer MP3 music that can be easily dragged and dropped in to the iTunes library. Go to Library on iTunes and drag and drop the music files in to the window or just right click on it and select "open in iTunes". Your job is done.
2. Mix tapes are a new way to circulate album length musical projects and are available for free online to advertise and create buzz around a new artist or a new album.
3. There are websites such as SoundCloud or Bandcamp where several artists release their music for free as they just want to reach out to a greater audience and are not worried about quick revenues. They are based on the scale of pay what-you-want but it doesn't't mean that you have to pay. Just adding a "0" in the payment window will do the trick and you can download music for free.
4. There are many websites that allow you to transfer the music audio file from the video file and download them. You get the MP3 track of the music. Some examples are Tube to MP3 and YouTube to MP3. Because the file is an MP3 file, it can easily open up in iTunes.
5. You can ask your friend who has a good taste in music to make you a CD of some good tracks, or even share files and folders in Dropbox and other sharing services, and then simply download those songs and drop them into your iTunes library.
6. Torrents files are large ones that need to be decoded post downloading using uTorrent or Frostwire. Once you decrypt and download them, drop them into iTunes to listen and enjoy your songs.
Method 3. Transfer Your Music on iPhone/iPad/iPod to iTunes (Recommended)
If you want to download free music to iTunes from the music library stored on your iPhone/iPad/iPod in a batch, this professional software - iOS Music Transfer surely can't be missed. With it, you can easily download free music to iTunes directly from the your iOS device. Moreover, it enables you to freely transfer any files including music, contacts, photos, messages between iPhone, iPad, iPod and the computer. Such a powerful data manager is here for your device, what are you waiting for? Just download it.
Here is how to transfer music to iTunes:
Step 1. Download the recommended software and run it on your computer. Then connect your iDevice to PC with a USB cord.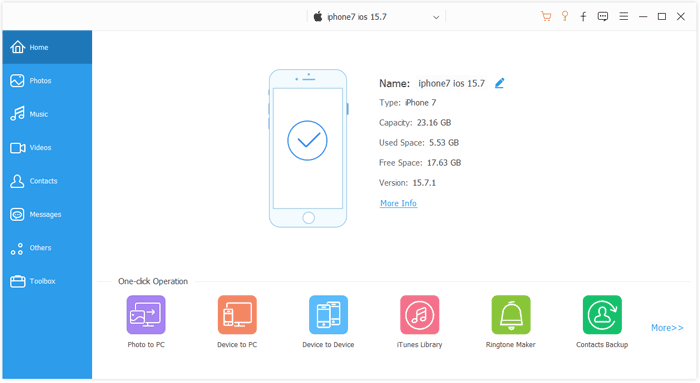 Step 2. After the program has detected your device, click "Media" option and all the multimedia files will be shown on the right. Then click "Music" option on the top to preview the music files on your device.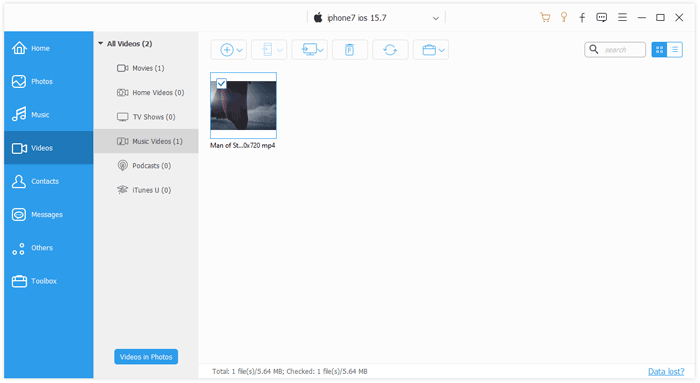 Step 3. Then select the music items you want and click "Export to" > "Export to iTunes Library" option. Thus the music will be transferred to iTunes successfully.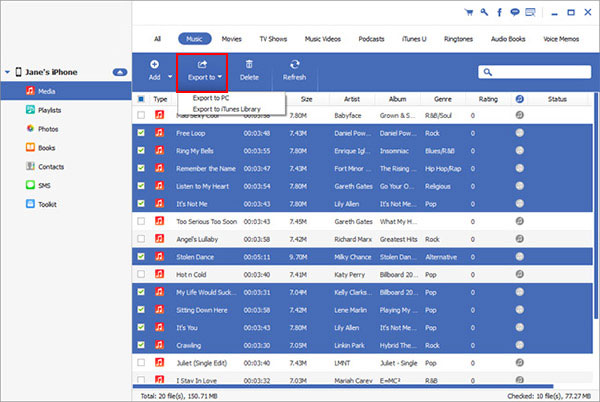 Related Articles:
How to Put Music on iPhone without iTunes