As an all-in-one device, iPhone allows you to do many different things ranging from texting messages, making dialing calls to taking photos/videos or surfing the internet. And one of the most important features within the iPhone or all mobile devices as a whole, lies in its being a music player. After saving your favorite songs on your iPhone, you are free to enjoy music feasts whenever you want and wherever you are even if you are offline. So how do you put music on your iPhone?
Most people may choose to put music on iPhone with iTunes. However, there are several limitations in using iTunes. For example, using iTunes to add music on iPhone will pretty troublesome and time-consuming. Also, if you have two different computers and sync the iTunes with one computer, only to sync it with the other afterwards: iTunes will attempt to erase all the music on the iPhone. So actually you do need to learn another way to do it without using iTunes!
Also Read: Top 5 Music Apps for iPhone/iPad/iPod
How to Put Music on iPhone without iTunes
To add music on iPhone without iTunes, you absolutely can't miss this Coolmuster iOS Assistant (Windows/Mac) software, which allows you to freely transfer files between iPhone and computer with or without iTunes. And this software supports more than simple music files. Instead, all files including contacts, messages, videos, apps, photos, Safari bookmarks and many more can be perfectly supported. This software allows you to easily and quickly transfer files between iPhone and the computer with no difficulty. More importantly, it can support all generations of iPhone, iPad and iPod.
Steps to put music on iPhone without iTunes:
> Open the installed software on the computer and then get your iPhone connected to the computer via the USB cord. Then you will see the below interface where all file folders are detected and displayed on the left panel.
> Enter the Music tab and choose the Import option on the top panel. Now, navigate to the files you want to transfer from the computer to your iPhone device. And then add music on your iPhone within a little while.
> And if you want to transfer music songs to the computer as a backup, just tick out the wanted music songs and then hit the Export option to begin the file transfer.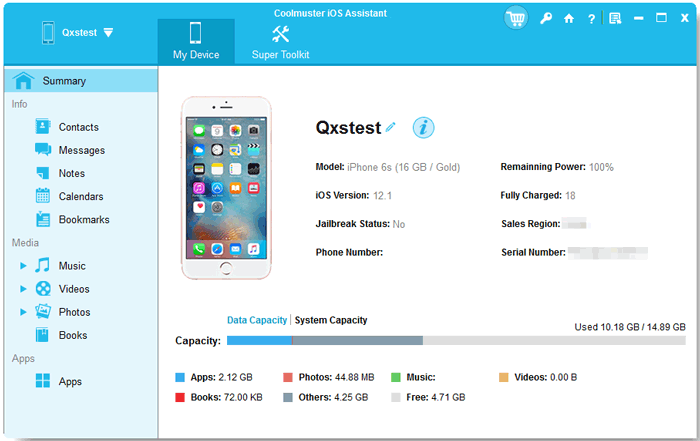 With this Coolmuster iOS Assistant (Windows/Mac) software, adding music songs on iPhone without iTunes can be pretty easy, which is just a matter of a few simple clicks!
Optional Choice: How to Get Music onto iPhone without iTunes
You can also freely enjoy music songs on your iPhone with Dropbox. That is: uploading music to your Dropbox account and downloading them to your iPhone by installing Dropbox app to your iPhone device.
> Sign up for a Dropbox account. Note: Free Dropbox accounts come with 2 GB of space.
> Install the Dropbox client on your computer. Then a Dropbox folders will be added to your computer.
> Now copy all music songs as wanted to the Dropbox folder as specified on the computer.
> Download Dropbox app on your iPhone device.
> Then Dropbox will stream songs stored on your Dropbox account as long as you have a network connection.
> Finally mark songs as Favorites to make them available offline.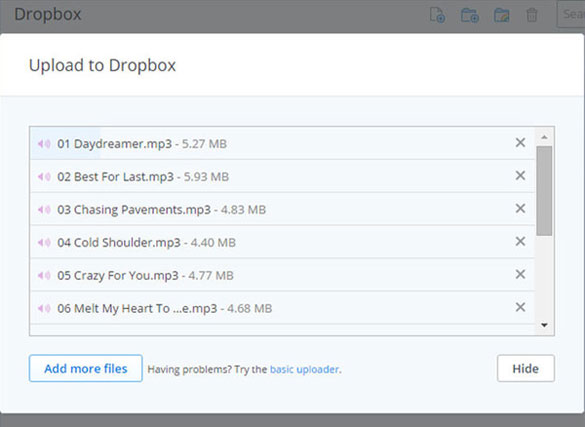 Which is the Best?
As mentioned in the above, the Dropbox account can only offer 2 GB storage space for free. If you have more music than that, you can pay for additional storage or try this Coolmuster iOS Assistant (Windows/Mac) software and follow the tutorial as instructed to add music on iPhone without iTunes.
Related Articles:
How to Backup iPhone Contacts to iCloud
Top-notch Backup Software for iOS Devices
How to Transfer Music from iPhone to Mac? (Top 4 Ways)
How to Transfer Photos from iPhone to Mac (9 Proven Ways)
How to Transfer Photos from Mac to iPhone [Must Read]