Help! I need to print iMessages from my iPhone so as to stick them to my photo albums. But how can I print iMessages from my device? Is there any easier way for me? Thanks for any advice from you in advance!
iMessage is an inbuilt service within iPhone, which allows you to chat with your friends and families at ease. It include stickers, text, video and audio so as to line up your conversation. Also, you can use code to add functionality such as Apple Pay and in-app purchase to further facilitate your daily life. For those sweet messages and interesting conversations, you can save them on your device for future review. But in some cases, you may need to print them into a piece of paper. So how can you do it?
Nothing to worry at all! Just give your full trust on this almighty Coolmuster iOS Assistant software. With it, you can easily transfer all iMessages from iPhone to computer and then print them into a piece of paper within simple clicks. No matter how long the message list is, you can always get them printed within simple clicks. Moreover, this software enables you to transfer other files as a backup including contacts, photos, videos, apps and many more. And you can also import files from the computer to your device, as well as edit them on the computer as needed and wanted. As long as your device is running iOS operating system, be it iOS 7, iOS 8 or the the newest iOS 11 and iOS 10, this software can always be your perfect data assistant. Last but not the least, using this software is just a matter of a few simple clicks, since it has the easiest user interface.
Till now, what are you waiting for if this is what you are looking for? Below are the free trial versions of this software. You can actually download the right one and give it a try by yourself!
Step-by-step Guide to Print iMessages from iPhone
Step 1. Open the installed software on the computer and then link your iPhone to the computer via the USB cord. Then this software will automatically detect your device and show you the main interface as pictured in the below.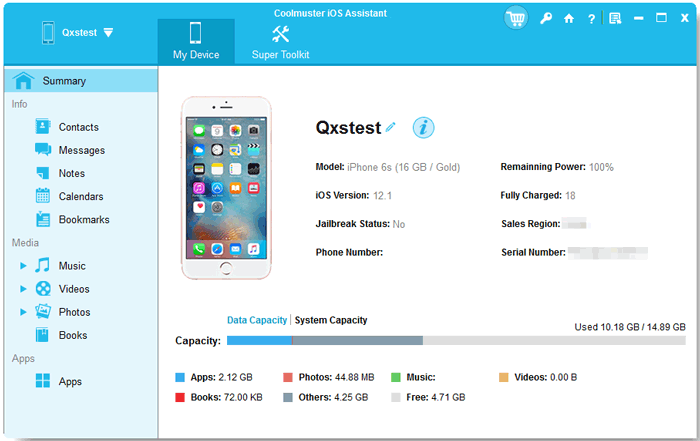 Step 2. All files folders are arranged on the left panel. You can then enter the right file tab to preview more detailed file information and then select the wanted files by ticking them out. After that, hit the Export option to transfer iMessages from iPhone to computer.
Step 3. Finally, link your computer to a local printer and get them printed in one click.
Words in the End
If you also want to print messages or other contacts from your iPhone device, just follow the similar steps. As you can see, this Coolmuster iOS Assistant is actually a powerful data manager integrating multiple functions in one.
Related Articles:
How to Easily Save Instagram Photos