One Click to Hide Messages on iPhone
There can be many reasons to hide messages on iPhone. Sometimes the message is too secret or sensitive to be discovered by others. It may also contain important information like your financial details or other personal details which can fall in the wrong hands. Today we will learn how to hide the messages on your iPhone.
Related: Best Text Messaging Apps for iPhone
Useful Apps to Hide Messages on iPhone
Wondering what the best apps are today if you are looking to hide your messages on your iPhone? We have done all the hard work for you and brought out a list of the best that you can get today.
1. CoverMe
It is one of the leading secured messaging apps that work for messages, photos, videos and the like. You can even remote wipe a message or recall it if you sent to the wrong person. It also keeps all your messages, call logs, contacts, notes from prying eyes safe in its vault.
The messages can be stored privately in the Private Vault of the app. The storage option is not visible to others and you can only access it with a password. You can use this feature to hide your messages.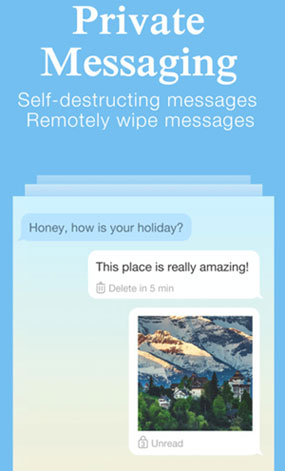 2. iDiscrete
It is a high quality security vault for your sensitive data including pictures, videos, notes, messages. You can safely store them under the protection of the app which uses a unique touch sequence to unlock the vault. Unlike other apps, there is not password or pin to access the hidden messages. When you access the app a dummy screen loads up. It is actually the screen where you perform a sequence of touch to unlock it the app and access your secret content.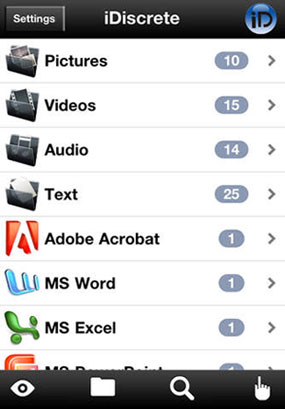 Extra Bonus: Best iPhone Message Manager
If you are looking for the complete solution, this Coolmuster iOS Assistant (Windows/Mac) software is the one you should be looking for. It doesn't help you do one thing - it helps offer you a complete solution that you are looking for, all for a one time payment. Nothing beats this professional all-in-one solution from Coolmuster when you want something to manage your messages on iPhone. With it, you can easily back up everything on your iPhone, iPad and iPod. Not just messages, you can also organize your music, movies, notes, Podcasts, notes and many more files.
Here is a list of all the features that you would love:
- It is compatible with all generations of iOS devices like iPhone, iPad and iPod.
- You can transfer and backup content from your iPhone or iPad to your computer in a simple and speedy manner.
- Files can be quickly tracked thanks to the smart search bar where you can enter the name of the filename to find your data.
- You can export the data from iOS device to computer and manage them conveniently.
- It is safe and does not cause any loss of data.
How to Use this software:
Step 1 - Connect your iPhone with the desktop using the USB cable and access the tool. The program identifies your device and displays the specifications on the screen.
Step 2 - The iPhone content is listed out in a menu in categories on the left of the screen. Click on Messages from the list and determine the details on the right panel of the interface.
Step 3 - Check all the messages you want to transfer to PC and choose the "Export" option located on the upper part of the interface. You will see a pop-up window when the transfer is over.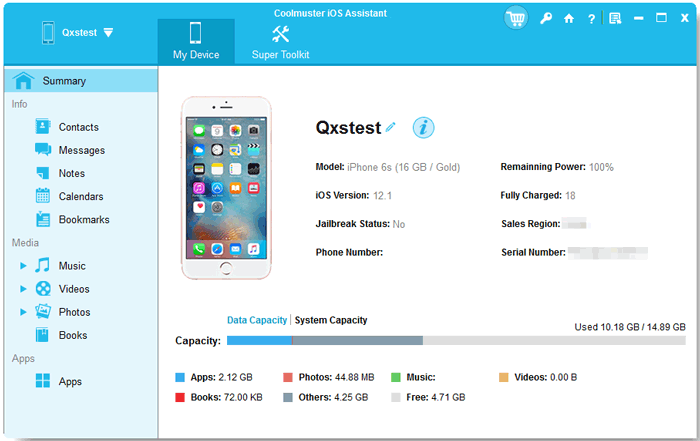 Related Articles:
Easy Way to Put Videos on iPhone