When it comes to downloading apps onto your iPad it's all too easy to get caught up in the eclectic selection of games or social media apps. That's why it's not uncommon for some to overlook one critically important app that everyone should have – A backup app. A good iPad backup app is an essential download for iPad users, ensuring that if you were to lose any data through inadvertent deletion during an upgrade or loss of the actual device, your data's retrievable.
Some free backup apps for iPad:
The good news is there's a multitude of backup apps for iPad available to download that are completely free of charge. Some of the more popular apps include IBackup and IDrive, both available to download via the iTunes store. These two market leading iPad backup apps are both great examples of what you can expect from a free app. They both work in fairly similar ways too, each offers backup for all the important areas such as pictures, videos, calendars and contacts. IDrive even takes it a step further by offering backup for Facebook and Instagram. Of course as you would expect the apps come also come with built in encryption to ensure that all you're backed up information remains safe at all times.
They're not without their drawbacks though (they wouldn't be free otherwise, right?). For starters there's the confusing user interface, referred to by some users as cluttered and unclear, these are apps you'll actually need to go to the trouble of learning! Of course the free apps aren't as polished as their "paid for" counterparts either, expect overlapping lines, off center buttons and even unresponsive pages. It's a combination of all these factors that can leave some consumers lacking confidence in the apps and subsequently leads them to pursuing alternative routes.
The revolutionary new backup app from Coolmuster Studio
Luckily, there's also a wide selection of paid apps available too, there is one app however that stands head and shoulders above the rest. Introducing Coolmuster iOS Assistant, the simple solution to backing up your files! Coolmusters iPad to Computer Transfer focuses on storing all you're backed up files centrally on your PC or Mac; this becomes a storage facility for all your data across all your Apple devices, from iPhone to iPod. This is the area where Coolmuster really excels, sharing and swapping files across a variety of devices at a simple click of a button!
Learning how to backup iPad data is so easy, that it can be broken down into two quick and simple steps:
Read More:
5 Easy Ways on How to Transfer Video to iPad without iTunes
How to Transfer Files from Mac to iPad? 6 Ways for you
2 Steps to Use Best iPad Backup App to Backup iPad Data on PC/Mac
Step 1. First of all, click the button above to download and install the Coolmuster iPad to Computer Transfer. Launch Coolmuster on your computer and wait for it to connect to your device (this happens automatically).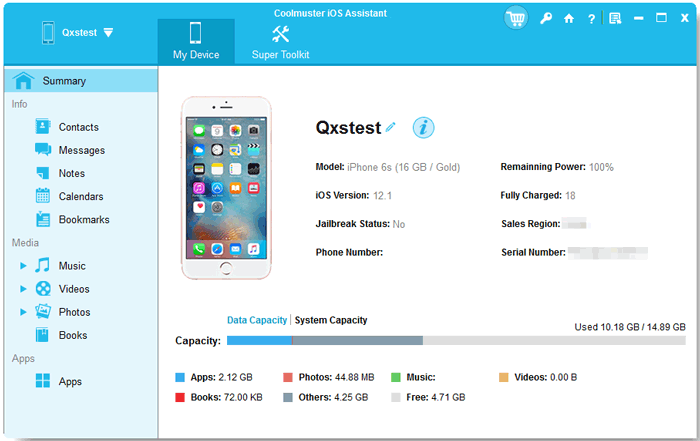 Step 2. Using Coolmuster iPad to Computer Transfer's intuitive user interface select which files you would like to backup. Once you've selected the required files simply click 'export'.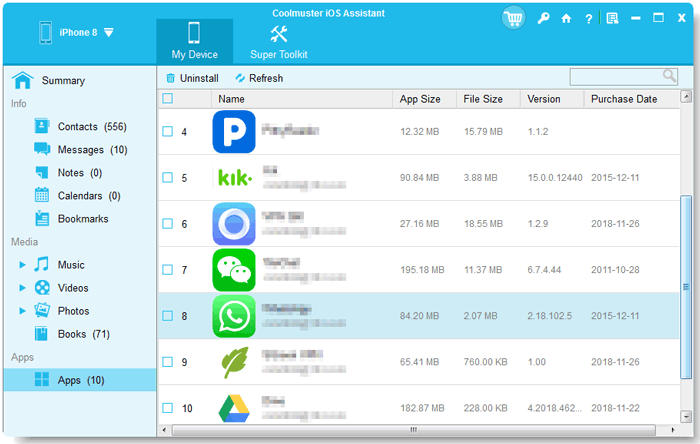 Words In the End:
That's all there is to it, a simple, easy and effective way to back up data. Of course Coolmuster also allows its users to share across devices too, a painfully laborious task (as I'm sure many users are aware) that this app remedies. The added advantage that Coolmuster has over its 'freebie' competitors is the extra security. As its accessed via your computer, the same software that protects it, also protects you Coolmuster data, so there's no need to download anything additional.
Related Articles:
Copy Contacts between Samsung and iPhone
Transfer Contacts between Android and iPhone
6 Methods to Transfer Music from Computer to iPhone without iTunes
How to Transfer Videos from Computer to iPhone Easily
How to Transfer Videos from Mac to iPhone with 5 Methods