With the in-built voice memo app on iPad, users can now freely record important or trivial things lest they might forget when the time comes. For example, iPad user can record voice memos to remind them of some important dates like birthday of families and friends. And also for some artists like writers, they can easily take out their iPad to note down the flashing inspiration at a particular moment. After all, it is much more convenient and easier than writing it down with a pen and a piece of paper, right? This app is especially of great significance to those who are quite forgettable. But with time passing by, problem also comes as predicted!
With time passing by, more and more voice memos will be saved on your iPad, which may eat up a large amount of space on your iPad device. You are suggested to back up voice memos from your iPad to computer frequently. Or otherwise it will be too late when you are stuck in a dilemma where you have to delete some important voice memo to save the new ones or pain yourself to give up adding new voice memos! Don't want that happen, right?
Here, you can rely on this Coolmuster iPad Voice Memo Manager (Windows/Mac) to transfer iPad voice memos to computer within a few simple clicks. After that, you can easily free up more space on your iPad and speed up your iPad, so as to freely save any new files as you wanted and needed. In this way, you can also save your voice memos in a safe place to eliminate the possibility of sudden data losses. Actually, you have valid reasons to form the habit of backing up important files from your iPad! More importantly, this software is more than a simple voice memo manager for iPad. With it, you can also transfer other files from iPad to computer as a backup such as photos, videos, reminders and etc. And it has a full range of compatibility, which can support all brands of iOS devices like iPhone, iPad and iPod. Below is the free trial version of this software, you can download the right version and give it a try by yourself!
Tutorial on How to Use This iPad Voice Memo Manager
Step 1. Connect iPad to Computer
After opening the installed software on the computer, you need to connect your iPad to the computer via the USB cord. Then this software will automatically detect your iPad device and then show the below interface where all file folders are arranged on the left panel.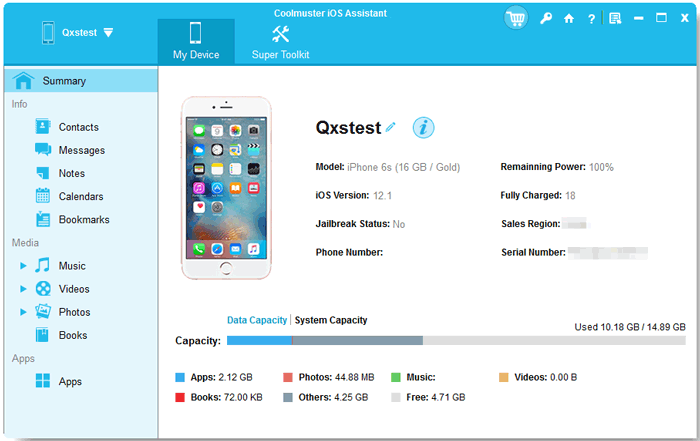 Step 2. Manage iPad Voice Memo as Wanted
Now, you can enter the Voice Memo tab as you wanted and then choose the files you want to export from your iPad to the computer. After selecting the wanted files, you can click on the option of Export to transfer voice memos from iPad to computer in one click.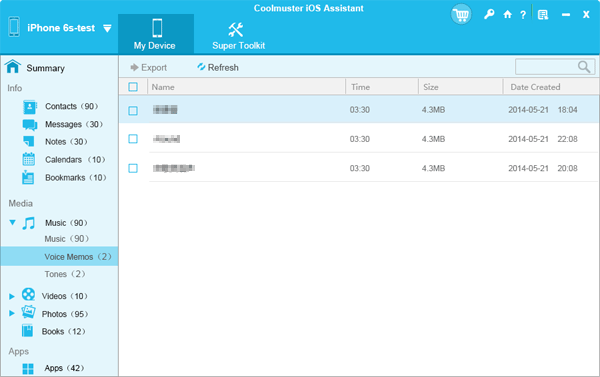 As to other files, just follow the similar steps! After that, you can freely delete some files from your iPad to free up more space and enjoy faster performance of your iPad!
Related Articles:
How to Hide iPhone Photos in One Click