iPhones are admired and loved by many users across the globe, but not all of them like the populous iOS application -
iTunes
. After the release of iOS devices, people majorly used iTunes to transfer files between iDevices and computers because there were no other alternatives. But with the advent of technology, there are other third-party applications that iPhone users can utilize to transfer data between iPhone and computer without using iTunes program.
The fact that iTunes is too slow when it comes to transferring data between PC and iDevice makes people use other applications. But please don't worry, this article is here for you to solve the problem of transferring files from iPhone to PC without iTunes.
Part 1: One-click to Transfer Files from iPhone to PC without iTunes
Part 2: 7 Ways to Transfer iPhone Data
Part 1: One-click to Transfer Files from iPhone to PC without iTunes
If you want to transfer files from iDevice to computer via a single click, Coolmuster iOS Assistant is the real deal. Here are the key features of the application:
* It displays your files on the main interface after scanning them automatically.
* It facilitates a straightforward export of all types of files from iOS device to PC, Mac or iTunes as a backup.
* It supports various files such as messages, contacts, photos, music, videos, bookmarks, notes, applications, calendars, and much more.
* It enables you to import calendars, bookmarks, contacts, iTunes backups, and others from PC to iOS device.
* Simple 1-2-3 steps to export and import data on iGadgets.
* It is extensively compatible with all generations of iOS devices.
"Coolmuster iOS Assistant clones mostly the features you have in iTunes but it works faster and you have more control about what and when backup. You can manage separately the content for your device." -- From kubadownload.com
Managing iDevice Data as Needed via Coolmuster iOS Assistant
This application has the capability of transferring any data as listed above from your iOS device to PC. Therefore, if you need to transfer other files to the PC, please connect your iPhone to PC with USB cable and follow the following steps.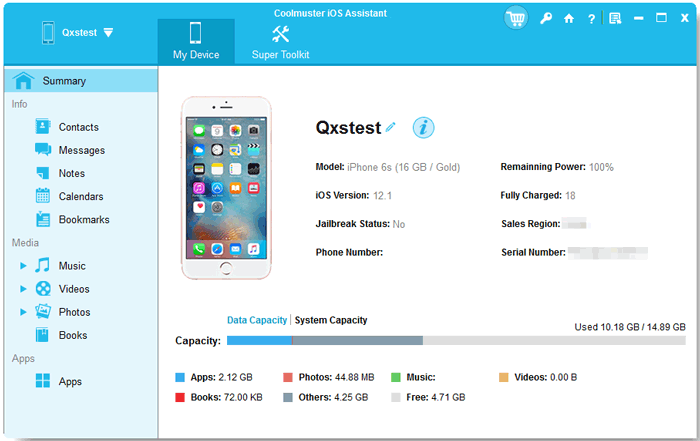 Way 1. Exporting Files from iGadget to PC
* Enter the folder that you want to export and preview its info.
* While previewing, select the files that you want to move to the PC.
* Click the "Export" button and then select the correct output format and start the process.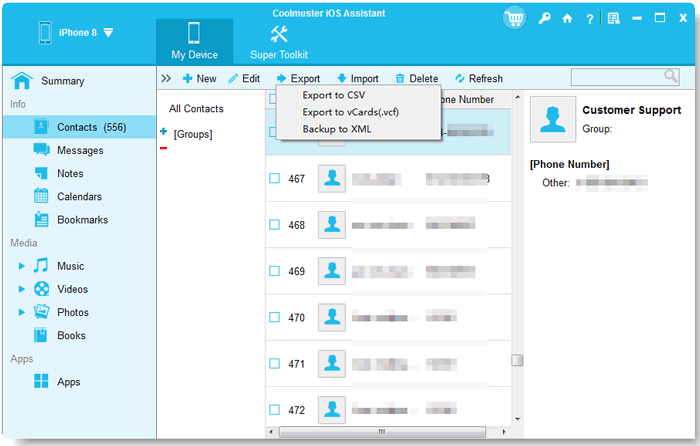 Way 2. One Click to backup iDevice data to PC, Mac or iTunes
* After your iDevice being detected by the program, switch to Super Toolkit section.
* On the main interface, click the "iTunes Backup & Restore" tab.
* Hit the "Backup" tab and then use the drop-down menu to choose your iDevice for backup.
* Select the location where you want the backup files saved. The files can either be stored in the default location or any other location that you choose by hitting the "Browse" option.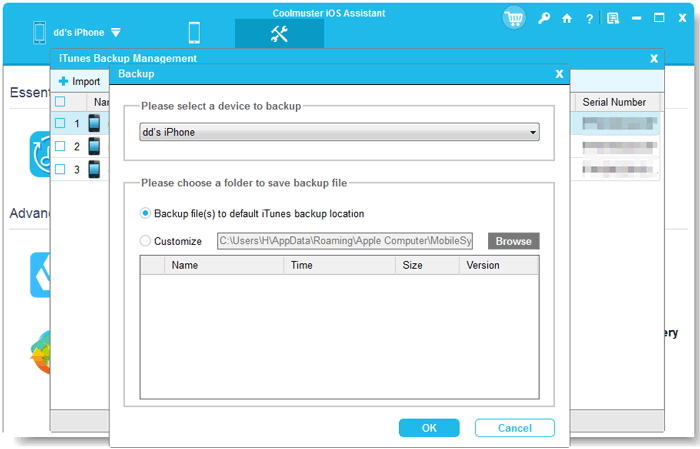 Check more details on how to backup iPhone to iTunes with or without iTunes >>
Video Tutorial:
Part 2: 7 Ways to Transfer iPhone Data
(1) Using iCloud Drive/Online Drive
iCloud Drive and other online drives are good programs for sharing documents across multiple iDevices. These cloud drives can be exclusively used by iDevices to store photos, videos, files, and other applications.
For instance, the iCloud Drive makes the backup and transfer of iOS files and data a straightforward operation. This drive boasts an easy user-interface that is simple for viewing and organizing info. With your files stored in iCloud Drive, you can access them easily either via your iPhone or PC.
You should note that this platform does not allow you to transfer files but enables you to access the files from various gadgets. The drive is beneficial because it allows you to share files and documents with other users as well as collaborate on various projects in real time.
Steps to follow when transferring files from iPhone to PC via iCloud Drive:
1st Step: Download iCloud Drive control panel from the official Apple iCloud website (icloud.com).
2nd Step: Complete the installation procedure by signing in.
3rd Step: Locate your iCloud Drive folder on your PC.
4th Step: Transfer the files to iCloud from your iPhone.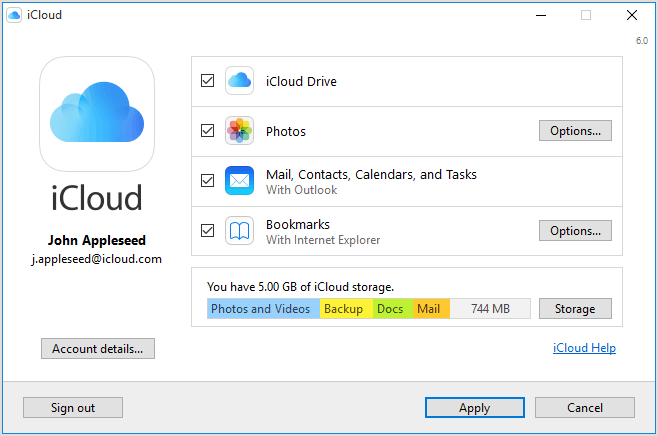 (2) Using iPhoto
Apple offers iPhoto, and users can utilize it to easily and comfortably transfer iPhone images to PC. Since it's offered by Apple Inc., it should be among the first option to consider when it comes to transferring files to PC from iDevice. This application is easy to use and provides simple steps that one can use to transfer files to PC. Here are the steps to follow when using this app:
First Step: Connect your iDevice to PC via a working USB cable. The iPhoto application will startup automatically after your device is detected by PC. Else, you can open iPhoto through application browser if it fails to startup.

Second Step: Your photos will appear on the screen after a successful connection. Select all or choose the wanted photos and hit the "import selected" button. After the selection, you can move the files directly to your PC via the cut or copy option and then paste them on the desired location.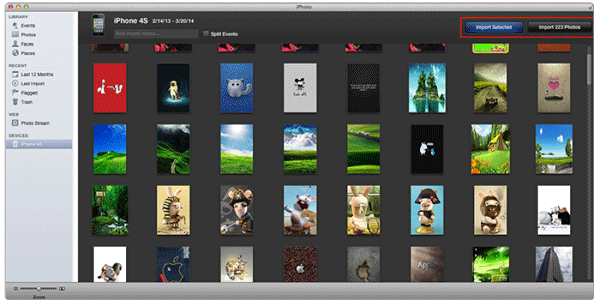 Tips: Also want to know how to transfer photos from computer to iPhone? Check here.
(3) Using the Preview on Mac
The preview app on Mac device is one of the most powerful yet less known applications for moving files between iOS devices and PC. Here are the steps to follow when using this method:
First Step: The first step involves making a successful connection between your iOS device and Mac system using a working USB cable. Afterward, choose to open the preview.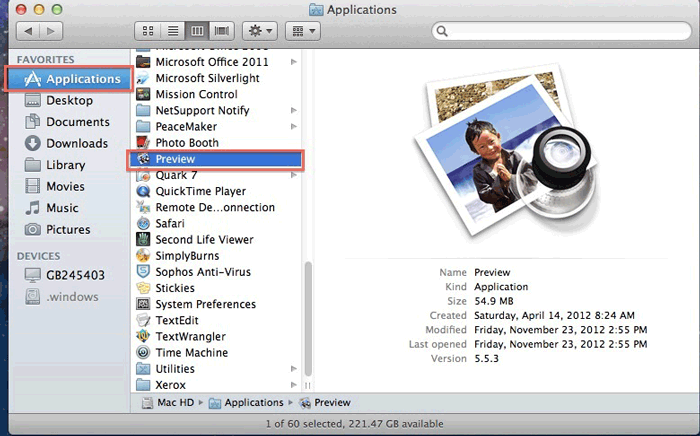 Second Step: Go to the "File" section and select "Import from iPhone device" option. A list of files will appear after doing this. Here, you can either opt to drag and drop your selected files to another location on your device or use the browse option to select the desired location.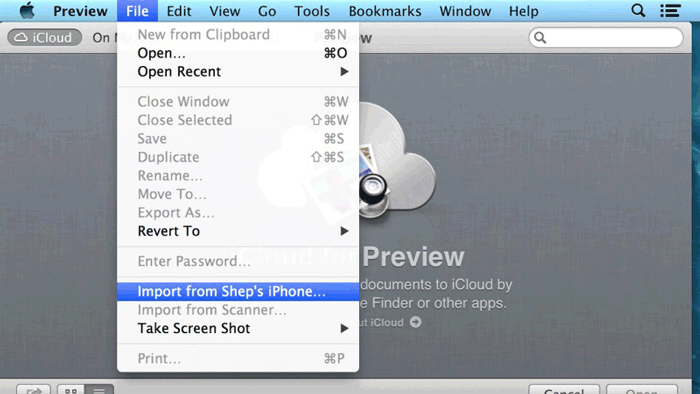 You should note that the preview is an inbuilt functionality in Mac device, and users can access it as per their convenience.
(4)Using Windows Explorer
Windows Explorer enables users to copy their images from iOS devices to computers without using any third-party programs. Users are only required to connect their iPhones to the PC and then search for them under "Portable devices" in Windows explorer. Here, open the "DCIM" folder and then copy or drag and drop your pictures to the PC.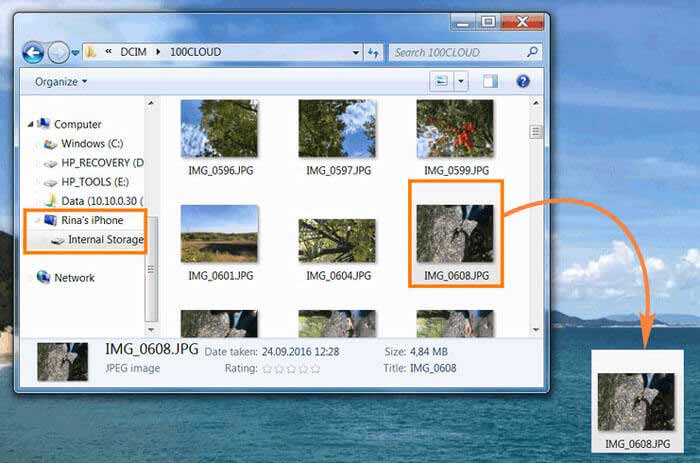 Learn more: What Does iTunes Backup Include? Useful Tricks [Backup Guide]
(5) Using Email
For those who don't want to deal with drives or download and install third-party applications, they can opt to use emails. One can use email to transfer documents by sending the required files to your email address and then log in to your email address on the PC and download the files there. This process is incredibly straightforward:
* Go to your email application on your mobile gadget and attach files, and then send them.
* Go to email on your computer and download the files.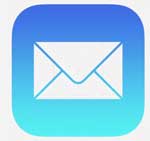 However, one should note that there is a certain limitation on the size of the file that one can send via email.
(6) Using Dropbox
You can use Dropbox to transfer images from iPhone to a computer through LAN. This can be accomplished by installing Dropbox application on your iOS device, launch it, and then hit on the plus icon at the bottom of the screen. Here, you can either select individual photos or choose them by moments and then send them to the Dropbox.
After this, download and install Dropbox on your PC and launch the Dropbox folder on your iOS device. The photos on your device will appear here, and you can transfer the images from your Dropbox to any folder on your computer.
You should note that Dropbox gives users limited storage of 2GB. However, they offer storage of 1TB at the cost of $ 9.99 monthly. Besides, the photos on your iDevice must be individually picked or chosen by moments, and not in one big batch. Also, the original structures of files are not retained, and there is the possibility of saving a duplicate photo on Dropbox as it doesn't recognize the similarity.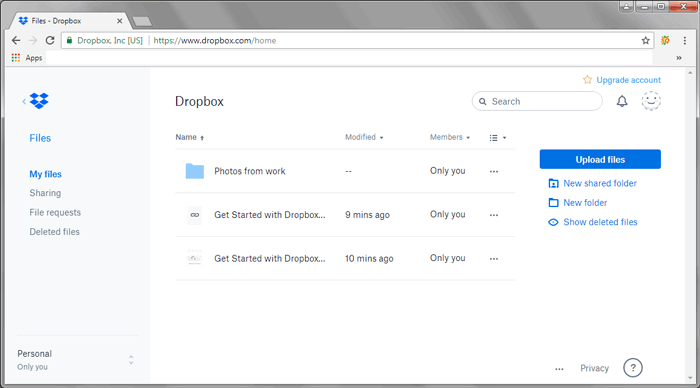 (7) Using Google Drive
Google Drive gives users limited storage of 15GB and enables them to transfer iPhone pictures to the computer wirelessly. Moving photos from iOS device to computer through Google Drive demands users to download and install Google Drive to iPhones from App Store. After downloading, launch the application and hit the plus icon at the bottom of the screen, then click upload and then photos and videos. Here, you can choose pictures and upload them to Google Drive.
Afterward, download and install Google drive on your computer. A folder named "Google Drive" will be automatically created on your computer. Launch this folder to find the pictures uploaded via the phone platform. It is notable that Google Drive offers 100GB of storage at $1.99 every month.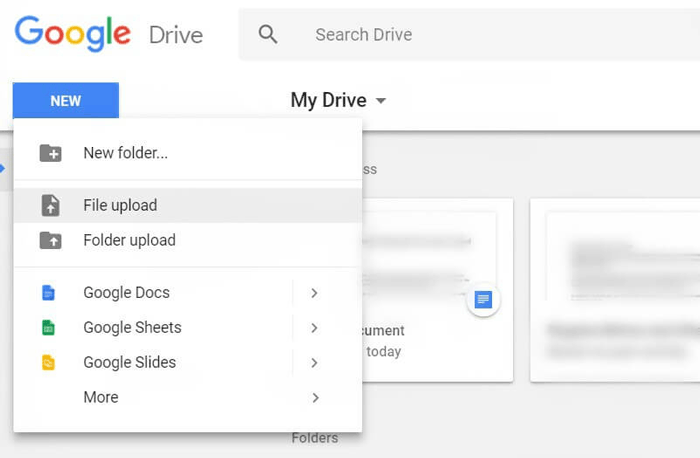 Summary
The best method to transfer files from iPhone to computer without iTunes is Coolmuster iOS Assistant app. With just a single click, you can easily move your files between iPhones and PCs. This program is continually being developed and acquiring more and more valuable functionalities. However, you can consider using the other methods outlined above as they are equally important.
Related Articles:
How Can I Transfer Files from PC to iPhone without iTunes? [5 Ways]
How to Transfer Files from PC to iPad without iTunes [Top 5 Ways]
How to Transfer PDF to iPhone without iTunes in 7 Unexpected Ways
Full Guide to Transfer Files to iPad [10 Ways]
iTunes Backup Restore: Back Up & Restore with/without iTunes
Sync Purchased and Non-Purchased Podcasts from iPhone to Computer (PC/Mac)