Mobile phones have been an integral part of daily lives: you need to use them to store personal information, important work files, medical information, photos, music, videos, or any other file that is of utmost importance to you. All in all, we can say that you need the phone for everything in the daily life, such as personal connections, work-related activities, entertainment, and even monetary transactions.
However, it's certainly impossible to know just how much your phone means to you until it gets lost or damaged in unavoidable circumstances. When such tragedies occur, you may not be able to retrieve critical data as your phone will have been wiped out clean. So in this article, we could like to explain why you need to back up phone data regularly from different aspects.
Top 4 Reasons Why You Need A Phone Backup for iOS & Android Users
1. Your Phone is Stolen, Lost or Damaged Physically
Some of us have had the nasty experience of losing something, whether its money, jewelry, clothes, or any other item, which is truly devastating. And nowadays, losing smart phone also becomes a common situation in the daily life. But with the frequently using of smart phone like iPhone or Android devices, losing a smart phone always not only mean a loss of money of you, it also means unlimited personal info, precious photos, hundreds of contacts info, etc. that related to your daily life are all lost at one time. What's more, the device also be damaged due to lots of reasons, and sometimes it can't be repaired. Disaster, right?
Therefore, it's important to ensure that all your personal files and other important items are safe and secure on your phone and other places. So backing up your mobile phone data in any other security places could be a great way to protect all phone data from losing forever.
2. Malware Attacks May Corrupt your Phone System and Everything Else in it
No one can deny that Malware attacks on mobile devices are happened on the rise especially for those without real-time protection from anti-malware programs. Viruses and Trojans can cripple your OS functionality, leaving you with no other option but to set up a new one. Of course, this means that all stuff on your device will be wiped and may be overwritten by new data, so that you can't restore them with a special data recovery software for mobile phones.
3. Accidental Data Loss
Mistakenly deleting something important on your mobile phone have been happened here and there. For example, you may delete your cherished graduation or birthday photos or even important work-related files by mistake. Or you may delete something you think useless and after a period of time, you need it in urgent. This can be devastating especially when you do not have any backup in other places.
4. Dead Battery
If your phone battery has ever died just when you're trying to access some important files, then you must know how stressful it can be. Data loss on mobile phone always can't be predictable, so we can do nothing but to save these files in other places to avoid these unpredictable disaster in the daily.
It is no doubt that there are also lots of other reasons that leading to back up phone data in the daily life, such as hardware failure, quick recovery times, and so on. But here we don't want to list them one by one in the page. We believe that you must have realized the importance of saving a phone backup on your desktop computer, external hard drive or other places for avoiding losing data by accident, right? Thus, here, we could like to recommend several tools for you to backup and save iOS, Android or even Symbian phone data with one simple click.
Tools You May Need to Backup Phone Data
This is an all-round software that allows users to backup and restore Android, iOS and Symbian phone data like contacts, photos, movies, music, apps, etc. to desktop Mac or Windows computer with one simple click. And it also allows users to transfer data between different operating system without any restrictions, such as iOS to Android, iOS to Symbian, iOS to iOS, Android to Android and so on. We can say that you can use the one program to deal with all kinds of problems related to your mobile devices.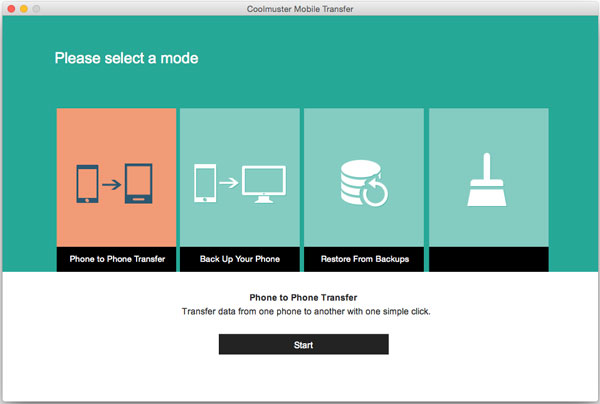 Note: At present, the program only supports Android system, and only the Mac version is released to public. So if you're a Windows user or iOS user, you can keep reading and take the below software into your considerations.
Can't Miss:
How to Transfer Photos from Android to Another Android
How to Transfer Data between Two Different Android Devices
2. Coolmuster Android Assistant
Compare to the above program, this tool is a professional backup program for Android users. With it, you can backup data like contacts, text messages, apps, photos, music, books, movies, etc. from all kinds of Android devices to PC or Mac computer with one simple click. And you're also allowed to import files from hard disk to your Android device with simple operation.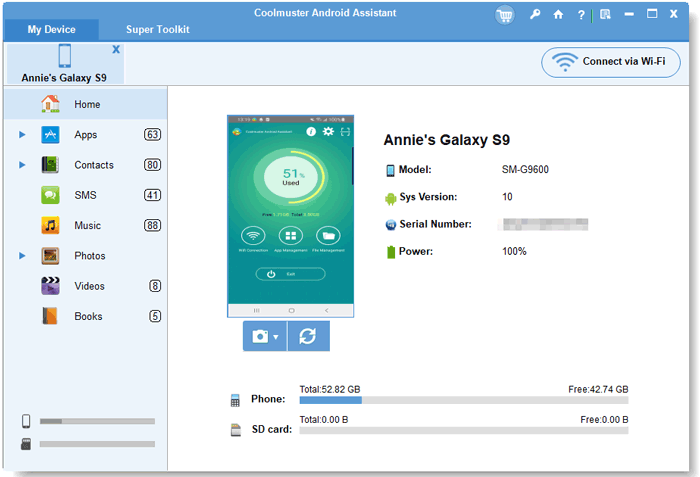 See Also:
How to Transfer Text Messages from Android Phone to PC/Mac
One-click to Backup Android Contacts to Computer
Similar to the Android Assistant, this program is specially designed for iOS users, that allows users to export and save iPhone data like music, movies, contacts, messages, notes, safari bookmarks, voice memos, etc. to desktop computer for backup. However, this program haven't support importing files from hard disk to iDevice at present. So it only can be used to backup, if you wish to restore the backed data, you need to ask help to iTunes.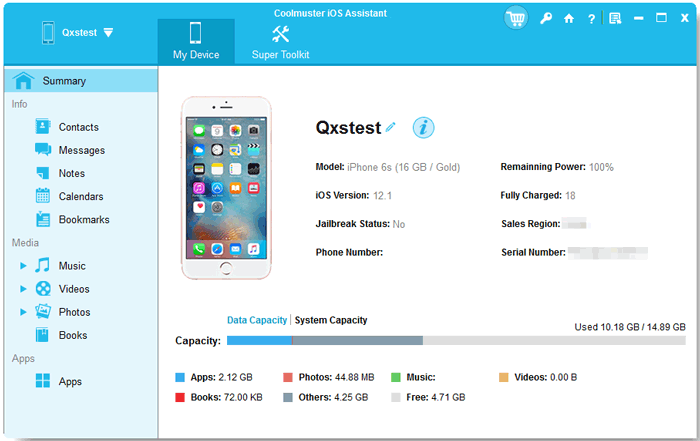 More Details about the Program
How to Transfer or Copy Music from iPhone 6S/6/5S/5 to Computer
Tips to Transfer Contacts from iPhone to Computer
Summarize
All in all, backing up your Android, iPhone and any other phone's data in the daily life should become a habit of you, and it can greatly reduce the loss of all kinds of data during the using of your mobile phone. And in the above content, we also recommend several tools to help you reach the goal, you can compare them and decide which one is better according to your own needs. Hope you'll have a more convenient digital life in the future!
Related Articles:
Solutions to iPhone Texting Problems