In today's world, iTunes is one of the most effective, flexible and outstanding Apple application that offers a variety of AppleScript properties and commands. Unfortunately, there are many scripts for iTunes and finding the best may be quite overwhelming. What do you need to do then? Worry less. In this article, you will come across the top ten iTunes scripts that you will definitely love.
Advantages of Using iTunes Script on Your Mac or PC
Every Mac and PC user loves to see their iTunes improving each day but they don't know the trick to achieve this. Actually, iTune scripts can be the best tool to make your iTunes colorful. This is because they work to add special features that increase the performance efficiency of your application. The iTunes scripts are easy to install and most of them are open source software. (Note: To use any of these or other iTunes scripts, you'll need to put them in the [yourusername]/Library/iTunes/Scripts folder. If there isn't a Scripts folder in that location, you'll need to create one first.)
Full-list of the iTunes Scripts for Your Reference
1. Google Lyric Search
This iTunes Script uses the artist of the selected track and the specific name to search for lyric sites in Google. You are required to open any browser of your wish (preferably the default browser) and search those lyrics of the selected or current track with Google.
2. Search Wikipedia
There comes a time when you want to get some information about a given music that you may be listening to. The search Wikipedia script allows you to do a Wikipedia search of that song. To do this, you can use the composer tag, the name of the artist, the name of the song or even the Album. When music is tagged in a radio stream, this script can help you to look for the music information.
3. Import iPod Audio files
Have you ever been missing iPod songs in iTunes? If your answer is YES, then this iTunes script is what you need to import those tracks. Unfortunately, this script is not compatible with iPhone/iPod touch and it also needs the iPod to be set manually. You can also try the Coolmuster iPad/iPhone/iPod to Mac Transfer to move audio files from iPhone and iPod touch to Mac computer.
4. Super Remove Dead Tracks
Dead tracks are usually indicated by a "!" after the name in iTunes. Did you know that super remove dead tracks can help you clear your music library without hassle? It scans inaccessible files and deletes them with a single click. However, this script only works on OS X 10.8 or later. (Here, we also like to recommend the best iTunes library manager to help manage the music library easily.)
5. Quick Convert
This script allows you to delete or trash original tracks or files. It is able to save the AAC tracks as M4B. Moreover, it works with the importation of selected CD tracks. After converting the selected tracks, it sends them to the targeted playlists to make the listings organized. This is an important element in iTunes that you can't miss.
6. Find Album Artwork with Google
This script uses the albums name to do Google image search. This search is aimed at looking for any corresponding album Artwork. The latest version was released in September 2010 which means that it will be compatible with many current operating systems.
7. mySpins
mySpins is one of the best iTunes scripts that you should never miss although it is paid for. The script can be acquired from Mac App Store. It is utilized to analyze and monitor the iTunes music library. By doing so, it displays the songs that you played recently and rank them using specific properties and configurations. It shows breakouts and rankers based on Album, Artist, Song, Genre or Year.
8. Gather Up the One-Hits
Gather Up the One-hits collects the tracks that fits in your iTunes library and copies all the audio tracks by that artist to new playlists. It then decides whether it will find more tracks of that specific artist or not. This script can help you create an incredibly smart playlist of your choice in one location known as "one hit wonders".
9. Make PDF Booklet
This iTunes script supports OS X 10.8 or later. It creates a PDF booklet that contains tag information from the current or selected tracks. It then adds the PDF to your iTunes and copies it to where the selected tracks in the playlist are. Make PDF Booklet can be downloaded and installed on your computer.
10. Block Party
The block party iTunes script creates playlists that contain random artists as well as randomly selected songs that are usually arranged in a row or a block of tracks in relation to respective artists. The script allows you to restrict the playlist's size by duration or number of artists. Moreover, this script enables you to use some unique playlists as the source of tracks as well as restrict some genres. As the word suggest, it is perfect for parties.
How to Use iTunes Scripts Step by Step?
Using iTunes scripts are easy but it may be difficult for a newbie. This is because Apple hides the library folder by default hence making the process of installation somehow difficult. But now, you can solve the problem by following below steps:
Step 1: Please make sure you can access the library folder. Press the command+ shift+ H in the finder to take you to the home directory.
Step 2: In the library, please search the folder that is called Library. If you can't find the folder, you should press the command-J to open the view options. After that, find and tick the "show library folder" checkbox. After that, the library folder will be shown in the iTunes well.
Step 3: Now, it is time to install iTunes scripts. Here, you need to find the script files location, then copy and paste the downloaded scripts to the folder. After that, you can access them from the script menu in iTunes.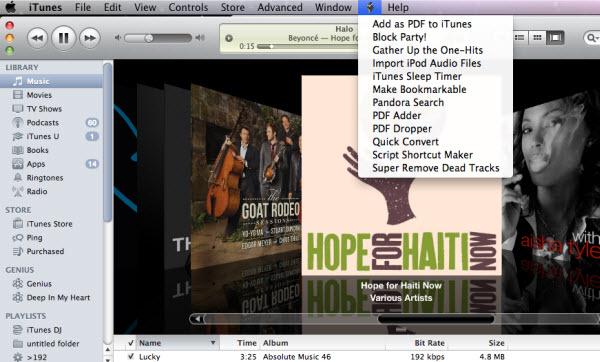 Related Articles:
Best Backup Software for iOS Devices