Now when you are traveling in a foreign place, climbing mountains or simply hanging out in the street, it is no more a surprise to find that many users took out their mobile device to take photos or shoot videos. One of the shining points of iPhone lies in that you can make beautiful photos with high resolution by using a simple mobile device! Even more, iPhoto feature within your device allows you to make slideshow of your photos and view it at any time. Now, let's see the detailed steps on how to create a slideshow out of iPhone photos.
> Create A Slideshow from Selected Photos
1. Tap two or more photos or video clips, an album, or an event, and tap the icon of

. And then tap Slideshow option.
2. Now, confirm or change the photos you want to include in your slideshow. Tap the option of Selected if you want to continue with the photos you selected. Tap Flagged to create a slideshow of your flagged photos. Tap All to create a slideshow of all the photos saved in your iPhone.
3. Then you can choose to create a new slideshow by tapping New Slideshow or you can choose to add some photos to the existing slideshow by tapping the name of the slideshow under Slideshows option.
4. Finally, tap Show to continue. You can then click on Play option to enjoy the slideshow immediately or click on Done option to finish the process and save the slideshow you have created.
> Create A Slideshow from Projects View
1. Tap Projects option and then the icon of

.
2. Then choose Slideshow and select the photos you want to add to your slideshow by following

> Photo.
3. Now, tap Photos, Collections or Projects to add the photos as you wanted and liked. After that, you can touch the slideshow to rename it as desired.
Also, after creating a slideshow with your iPhone photos, you are free to make some adjustments of your slideshow without any restrictions, such as changing the theme and speed of the created slideshow.
> Tap Projects and tap the slideshow to open it as wanted. And then tap the icon of
to go to slideshow options. You will now see the below interface.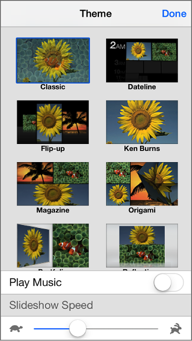 > Now, you can change the slideshow's theme and speed by tapping the corresponding option. Then you are free to decide whether to play music while opening the slideshow or not. Finally, tap Done to save your adjustments.
Aside from the two ways mentioned in the above, you can also rely on some professional applications to make slideshow out of your iPhone photos. The apps listed in the below are some of the best slideshow makers for iPhone.
Best Slideshow Makers for iPhone
1. Sharalike
As a free app, Sharalike is an easy to use and stunning photo slideshow creator. With this application, it is just a piece of cake to make a slideshow with photos from your iPhone with beautiful graphics. Also, the music library allows you to freely add music to your slideshow as wanted and liked. After making a special slideshow out of your iPhone photos, you can easily share it via different channels like email, Facebook, Twitter and etc. with your friends and families. This application enables you to create and share beautiful animated slideshows instantly!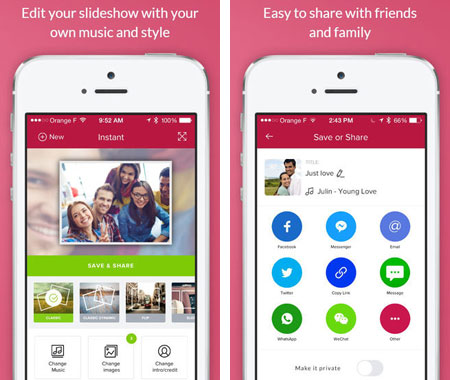 2. Slideshow Builder Lite
Slideshow Builder Lite offers iDevice users the fastest, easiest way to create and share beautiful slideshows directly on their device. With this application, you can build slideshows with photos from your photo albums, photo stream or camera roll using our super-fast photo-picker; you can add music from library and create multi-track playlists and fit the slideshow duration to the music. In one word, this free Slideshow Builder offers the best features and the highest quality of any slideshow.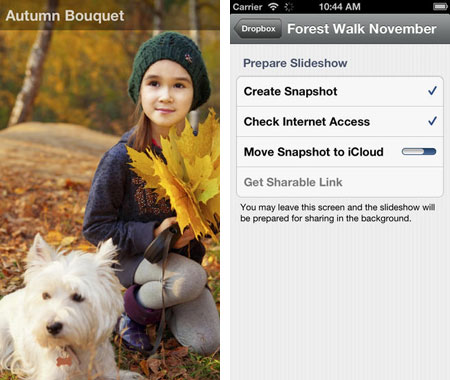 3. Flipagram
Flipagram is the easiest way to create and share amazing musical video stories! You can easily create your own slideshow out of photos from iPhone and then pick the perfect soundtrack from millions of choices to personalize your slideshow. After creating your own special slideshow, you can treasure this beautiful memory and share it with your friends and families via different platforms to showcase your artworks.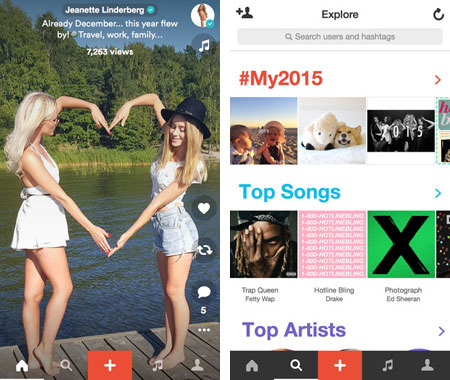 Words in The End
If you want to permanently keep these precious slideshows on your iDevice and back up these important apps in case of sudden data losses, you are suggested to rely on this iOS data manager - Coolmuster iOS Assistant, to transfer important files from iPhone/iPad/iPod to computer as a backup to guard against potential dangers brought by accidental data losses.
Related Articles:
Useful Apps to Hide Photos on iPhone
How to Block iPhone Calls/Messages
How to Put Videos on iPhone? [Solved with 5 Ways]