Are you in need of a GoPro editing app to enhance the GoPro footage by getting rid of the fisheye effects, stabilizing shaky footage, and adding background music to the video? Can't wait to share the clips with your family and friends or post the videos on social media platforms like YouTube or Instagram? For simplicity, we have rounded up the 10 pieces of the best GoPro editing software now on the market.
In the end, you will have the top 10 video editing tools you may use to edit your GoPro videos. So, whether you're looking for the GoPro video editing apps for Windows or Mac, we've got you covered.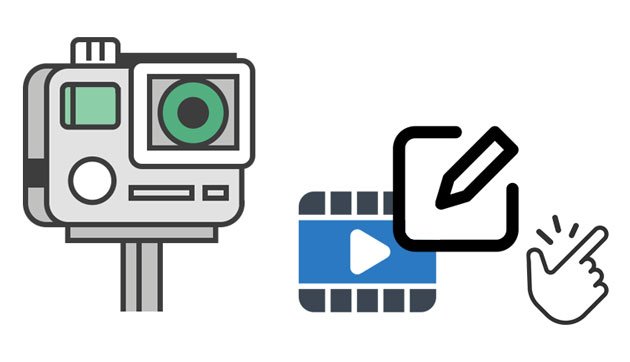 1. Aiseesoft Video Enhancer
2. GoPro Studio
3. Windows Movie Maker
4. iMovie
5. WeVideo Online Video Editor
6. Wondershare Filmora9
7. Magix Movie Edit Pro
8. Adobe Premiere Pro
9. Sony Catalyst Production Suite
10. Final Cut Pro
1. Aiseesoft Video Enhancer
Even though we have many GoPro editing software in the market these days, the issue is that they've got fundamental features or can cause a loss in the image or photos quality after editing. When you really want software that can make everything completely perfect, the Aiseesoft Video Enhancer is the way to go.
This app can assist you in analyzing and fixing any shaky video. Besides, you will be able to remove any eye disruptions by applying an audio noise reduction filter, stabilizing any sloppy videos, and many more.
Key features:
* Edit GoPro videos with the latest Artificial Intelligence technology.
* Allow you to adjust effect, including volume, brightness, contrast, saturation, and hue.
* Upscale video resolution and remove video noise.
* Effectively reduce video shaking.
Pros:
* It comes with the latest AI technology.
* Many practical features for video editing.
* Allow you to crop the area size of your videos manually.
* Help you edit your GoPro videos on Windows or Mac.
Cons:
- Not a free video editing program.
How to use this GoPro editing software:
Step 1: Launch the Aiseesoft Video Enhancer Software
Download then install the Video Enhancer software on the computer, then tap the "Add Files" tab on the main interface. This will then import the GoPro video you want from your computer.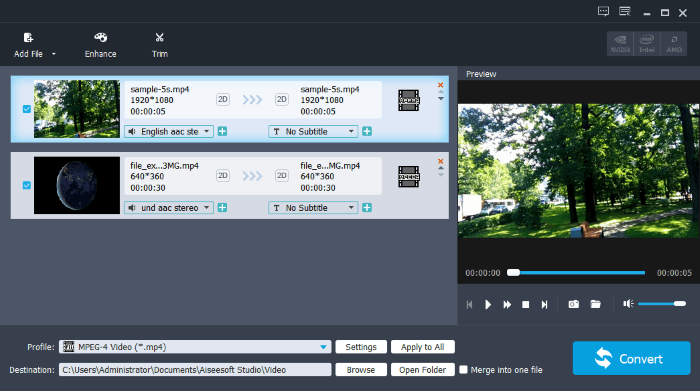 Step 2: Edit Your GoPro Video
Tap the "Video Enhance" icon on the top menu to enhance your video. Then you can also choose other features to edit your video, such as "Rotate", "3D", "Crop", etc.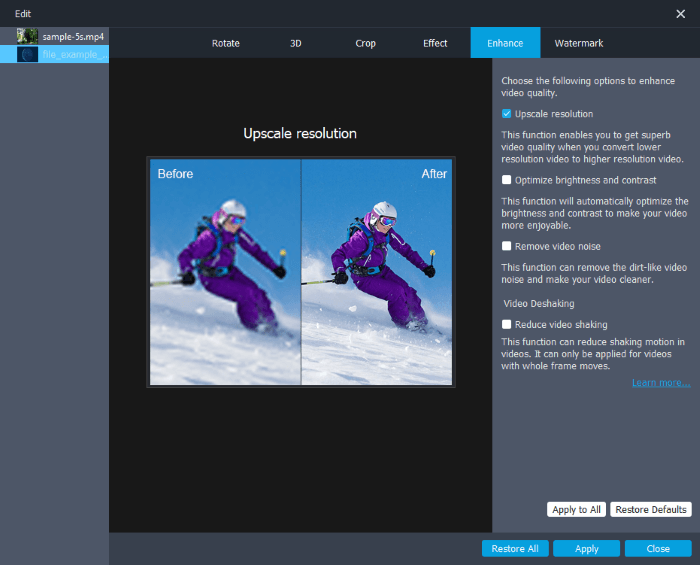 Step 3: Save the GoPro Video
After doing everything, select the output of your video format and tap the "Convert" icon to get your video.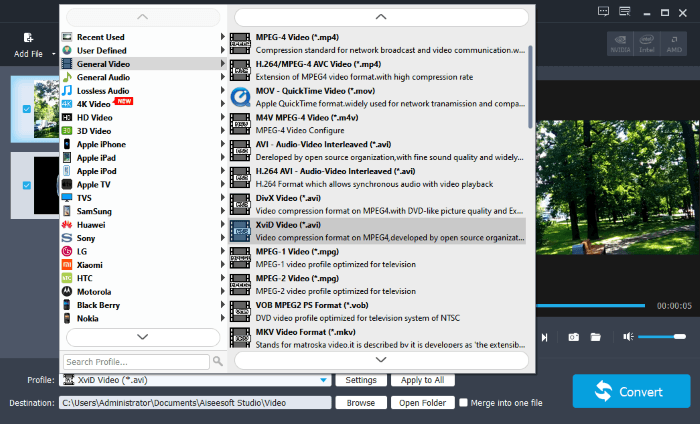 Further reading:
[Vlog Software] 11 Fantastic Vlog Editing Software
How to Transfer Videos from Computer to iPhone without iTunes? (5 Proven Approaches)
2. GoPro Studio
GoPro Studio is open-source software released by GoPro to enable users to solve their editing needs. This tool comes with superb features for presetting and easy trimming, speeding up, merging, and slowing down.
Also, you may upload directly any of your edited videos to social media platforms such as YouTube, Vimeo, UHD 4K, and many more. For those people who want professional outcomes with editing features still maintaining the quality of their videos, GoPro Studio is that app you shouldn't miss.
The best thing about this amazing video editor app is that it works fine on Windows and Mac platforms, and users may get it for free. With this app, you can get perfect synchronization between audio and video content.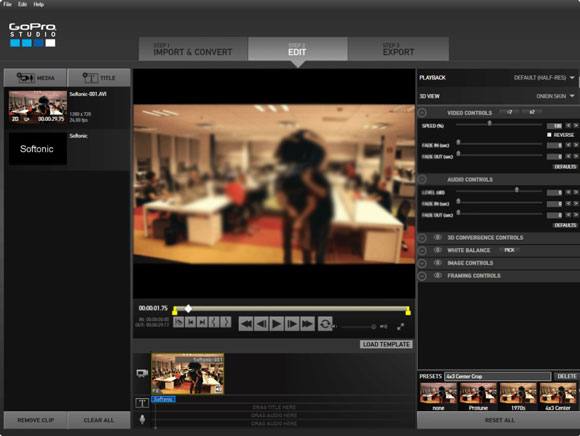 Pros:
* Import, trim, and export GoPro videos with ease.
* Add background music to videos.
* Export your GoPro video with the YouTube format for the best quality and compatibility with YouTube.
* Works for both Windows and Mac platforms.
Cons:
* Lag issues.
See more: You can follow this guide to move your photos from an iPhone to a Lenovo computer.
3. Windows Movie Maker
This is an intuitive and simple movie maker for the GoPro on the Windows platform. It's basic editing software that can offer superb outcomes for the edited videos. With this tool, you will capture good videos shared on YouTube, Vimeo, and many more.
It's advisable to use this tool as it is primarily made for editing purposes. It allows users to share their concerns across various platforms easily without any hassle. The only downside is that this app, the action camera, or GoPro can't be imported directly into the program. Due to this, you have to convert your video images first to the formats supported by the Movie Maker, like ASF, AVI, M1V, MP2, MPE, MPEG, etc.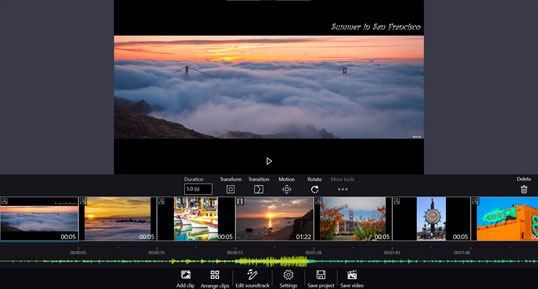 Pros:
* You can share your content on various platforms.
* Have more image filters, and support pan-zoom effects.
Cons:
* The action camera can't be imported into the program.
* Compatible with Windows only.
Learn more: Want to import MP4 to your iPhone? Let's check it out.
4. iMovie
This is among the simplest GoPro editing apps, mainly for Mac, that brings the most advanced video editing features. For those who wish to conduct editing functions that are just basic in the comfort of your home, the iMovie app is your option.
It comes with easier tutorials that one can easily follow, even if you're a beginner. So, editing your videos with this tool is likely to be very easy as you have a guide on how to edit them online with iMovie.
With its user-friendly interface, everything is made easier for any user. You may edit your videos with the 4K resolution and get amazing outcomes. Besides, the editing may even be continued on the devices such as iPhones and iPad. Users may easily choose the video file parts and merge texts or titles into them.
The iMovie tool features picture in picture and split-screen advanced screen, which can be accessed on the iMovie platform. But, when you don't own the new Mac, you have to purchase it for $15.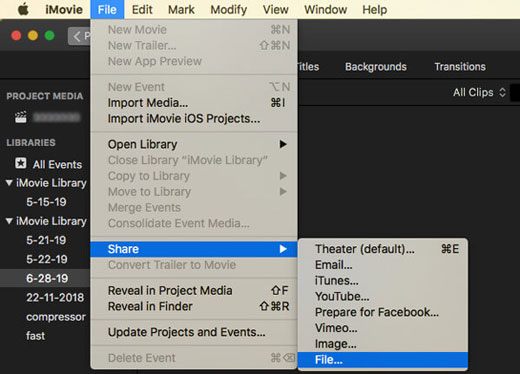 Pros:
* Allow you to split and trim your GoPro clips.
* Work on Mac and iOS devices.
* The storyboard video templates will guide you to capture footage, and learn different story structures.
Cons:
* No Windows version.
Maybe you like: Here are 4 simple ways to transfer videos from a PC to the camera roll on your iPhone.
5. WeVideo Online Video Editor
With this tool, you are sure to get excellent videos online. The WeVideo works well on all systems, and users may still benefit from its wonderful outcomes and advanced features. Even if you have an Android or Apple gadget, you may still install it and enjoy its video editing features on the go.
Its free version adds a watermark and a logo to your final video. To get full access to this tool, you must buy it. Since it's an online tool, sometimes, it may respond slowly if you do not have good network connection.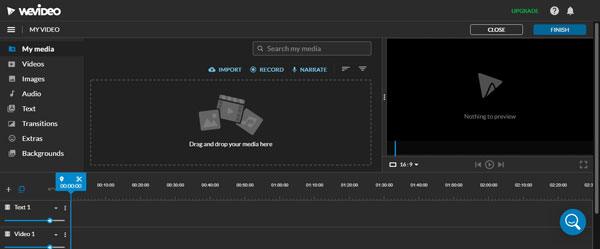 Pros:
* It is an online video editing program, so you needn't download it.
* There are a full-featured editor and a simplified editor that you can choose.
* You can learn to edit your GoPro video by following the prompts.
Cons:
* You must buy it to gain full access.
* Sometimes there is a slow response if you don't have a good internet.
6. Wondershare Filmora9
You may customize your videos seamlessly while still embedding their titles or text with Filmora9. The music library is one of the best additions, enabling users to edit audio content to video clips easily. Apart from that, some other great features are motion graphics and photos that are capable of making videos impressive and attractive.
After doing your recording using the Wondershare Filmora9, you'll be able to share your personalized videos directly on most social media platforms. This means that the Wondershare Filmora9 can serve most editing purposes.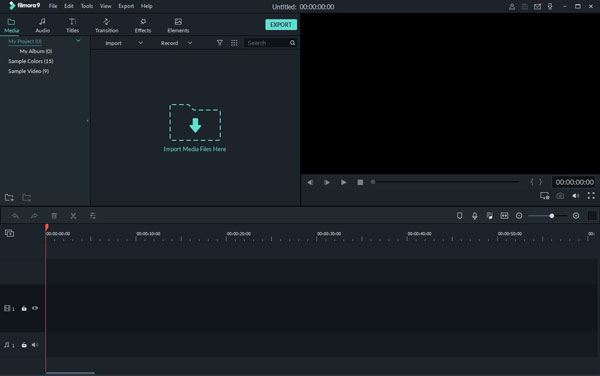 Pros:
* Support many video formats.
* Have attractive and impressive effects.
* Good video tutorials are suitable for beginners.
Cons:
* It should add some other creative options for titles and headings.
7. Magix Movie Edit Pro
If you want a great GoPro editing tool for Windows that comes at $70 with advanced features, then the Magix Movie Edit Pro is your choice. The good thing is that you will get more than 1000 templates with 32 unique editing tracks and motion tracking. What else do you want if not these features?
Due to this, the Magix is one of the ideal action camera editing tools people can use. Most people claim that this tool provides a great combination of advanced features and a good user interface.
The only bad thing about this app is that users have reported issues with the speed with an unfriendly interface for beginners.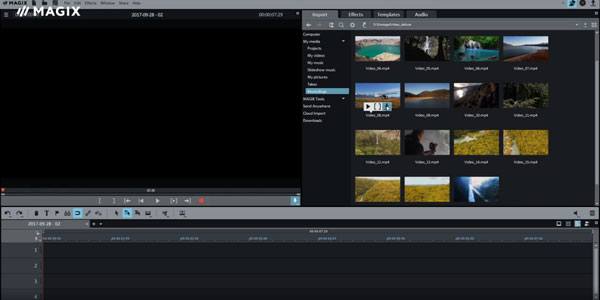 Pros:
* Arrange your GoPro video and audio on different tracks.
* Customize the sizes and positions to suit your workflow.
Cons:
* Cope with videos slowly.
8. Adobe Premiere Pro
This is among the famous GoPro video editing apps that meet any professional editing needs and is a good tool for beginners. You just pay $19.99/ to access the current editing tools.
The app has an interactive platform to help users share and publish their content quickly. You can use this tool on both Mac PC and Windows to achieve the best outcomes.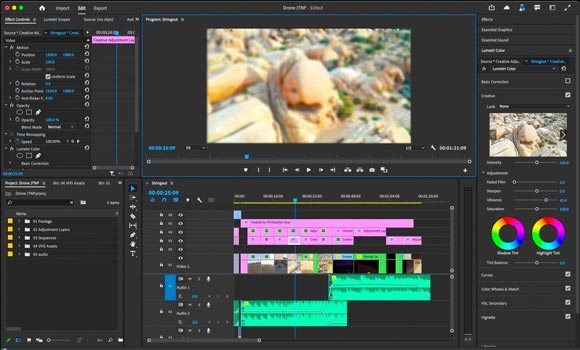 Pros:
* Help you edit your GoPro videos with more features in detail.
* The special effects make your video magic.
* More options for adjusting your video filter.
Cons:
* Sometimes, the autosave does not work.
* No free trial.
* Costly.
9. Sony Catalyst Production Suite
If you want freedom while editing your videos, then you shouldn't miss this app. It's known for its creativity, performance, and efficiency, and it can effectively work on most complex projects, thus giving out the best outcomes.
The recent update of this software is rated very high in terms of feature set. Therefore, many tutorials about its operations and quality have been updated on the internet. Some of the most common channels accessed by videographers via Sony Catalyst to publish their edited videos are YouTube, Facebook, Instagram, etc.
The customer support service provided by Sony Catalyst is appreciable. The intuitive tools and the advanced studio-perfect interface make everything suitable for action camera lovers.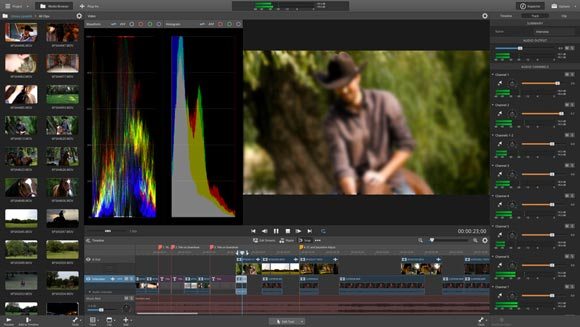 Pros:
* Support 4K, RAW, and HD videos.
* The side panes can be hidden.
* Higher feature set.
* Run smoothly on Windows and Mac computers.
Cons:
* Not easy for novices.
10. Final Cut Pro
Cut Pro is an ideal tool for professional video editors with a good user interface. It enables users to conduct various experiments while doing their video editing processes to get highly customized projects. You'll definitely obtain great solutions for your editing purposes once you pay $399.99.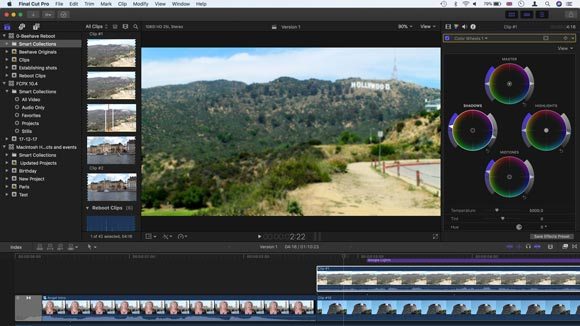 Pros:
* Allow you to adjust focus points and depth of field on your GoPro videos.
* Enable you to use color correction on the moving footage.
* Help you add dynamic texts to your videos.
Cons:
* Free to use within 90 days.
Conclusion
So far, these are the top 10 best GoPro editing tools you may use on your Windows, Mac, or mobile phones. For those searching for a great video editing app that's easy to use and powerful for your action camera videos, try using the Aiseesoft Video Enhancer app.
Related Articles:
7 Viable Ways on How to Transfer Photos from Mac to Android
3 Reliable Ways to Back Up iPhone to Windows 10/11 within 5 Minutes
The Best 12 AirDroid Alternatives You Can't Miss
3 Simple Methods to Download iCloud Backup for Android in Minutes
How to Quickly Transfer Files Between PC and Android Tablet?
5 Surprisingly Easy Ways to Transfer Videos from PC to Android [New Finding]