These days, most video recording gadgets like mobile devices and professional cameras produce MOV files. However, most individuals aren't yet aware of what MOV is.
MOV, also known as QuickTime File Format, is the container format mainly made and designed by Apple Inc. It can contain one or several tracks that store various data types such as video, subtitles, audio, and many more.
Since it is just a format container, the codes determine its compatibility with video editing apps. What is commonly used in the MOV files are H.264, MPEG-4, MPEG-3, and Apple ProRes.
You must have a MOV editor that works well with the codes used to edit any MOV files. And in this guide, we've carefully chosen the best 10 MOV editor tools. Let us check them out.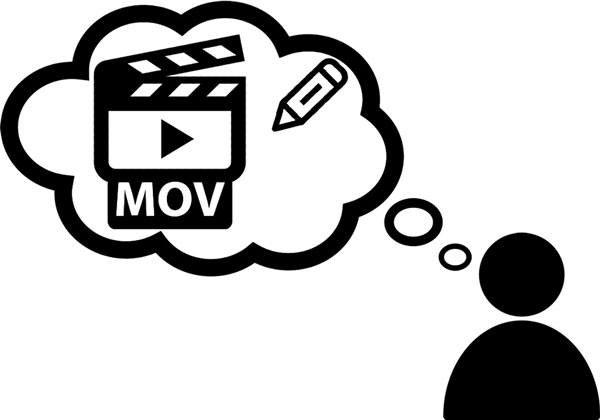 1. Aiseesoft Video Enhancer
2. VidCutter
3. VSDC Free Video Editor
4. Shotcut
5. Blender
6. iMovie
7. QuickTime Player X
8. YouTube Video Editor
9. Kapwing
10. Adobe Premiere Rush
1. Aiseesoft Video Enhancer
Aiseesoft Video Enhancer is an all-around video editor that supports MOV files from various phones. It comes with many editing tools which assist you in coming up with wonderful videos out of the MOV footage.
This is great support for all types of MOV files as it makes the files quickly. It can support HEVC, AppLE ProRes, and H.264, just to name a few. The best thing with this tool is that you can enhance the quality of your videos, and rotating and flipping them.
Supported OS: Windows 11/10/8/7, Mac OS X 10.7 or higher.
Main features:
* Help you edit your MOV files by upscaling video resolution, optimizing brightness and contrast, etc.
* Crop MOV videos area without effort.
* Enable you to add watermarks and texts to your videos.
* Stabilizer for shaky videos.
* Support the latest AI technology.
* Support not only MOV but also AVI, MP4, WMV, and more.
Pros:
* Supports both Mac and Windows.
* Fast enhance video quality.
* Easily merge several video clips into one.
Cons:
* No filters for videos.
Download this MOV editor software below.
How to edit MOV files with this video editor:
Step 1: Launch the Video Editor
After installing this MOV video editor on your computer, launch it, and click the Add Files button on the top left side.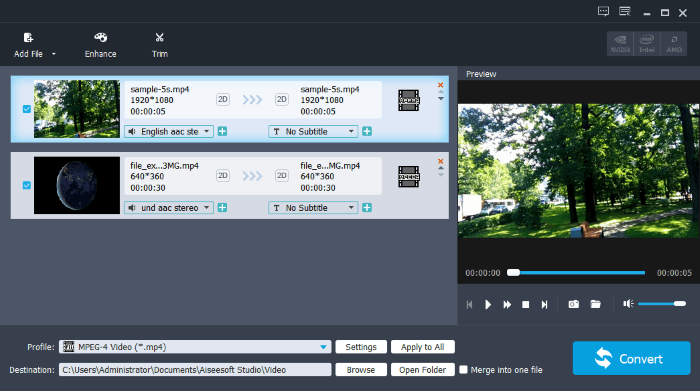 Step 2: Edit and Enhance the MOV Video
Tap the Video Enhance icon, and you will get multiple features for editing and enhancing videos, including the Rotate, 3D, Crop, Effect, Enhance, and Watermark. After editing, please tap the Apply icon.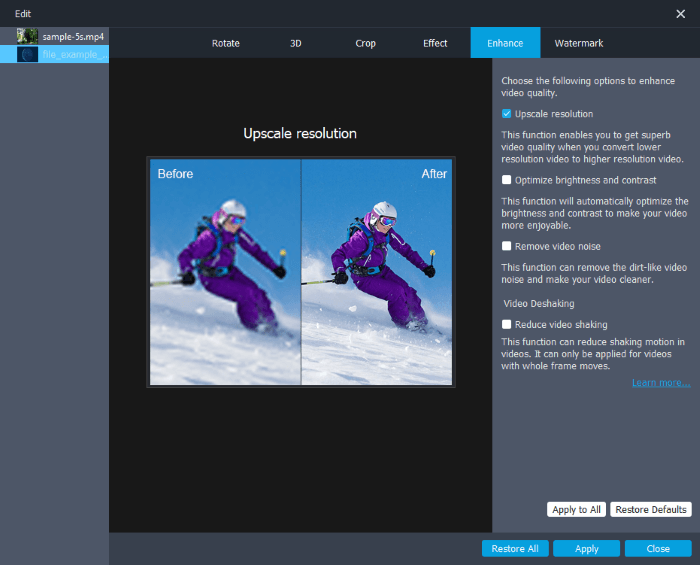 Step 3: Export the MOV Video
Now, you can choose an output format and destination for your MOV file, and click Convert to save it on your computer.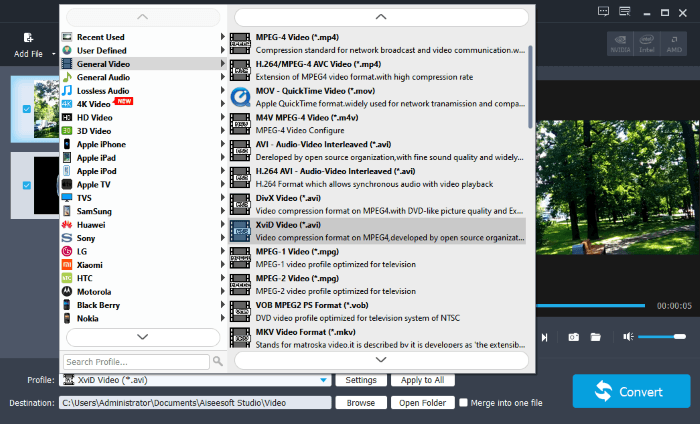 Further reading:
Select the Best GoPro Editing Software - 10 Excellent Options
9 Best Video Recovery Apps for Android (Free & Paid)
2. VidCutter
The VidCutter is an ideal balance of ease to use and power app. This tool is a cross-platform and an open-source MOV editor that cuts and combines video or audio edits. With this app, you can import various file formats, thanks to FFmpeg support.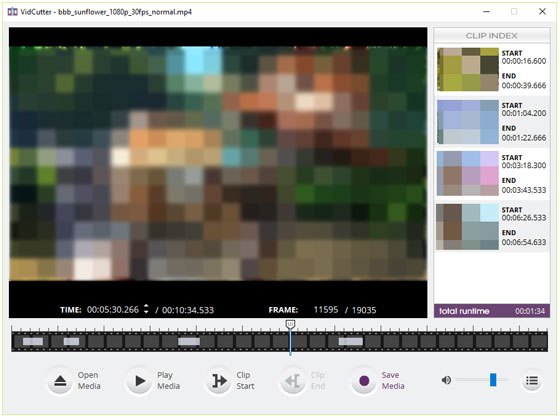 Pros:
* Cut the video frame with accurate cutting technology.
* Supported by FFmpeg.
* Supports Mac, Windows, and Linux OSes.
Cons:
* A quite tricky interface.
You might like:
This guide has shared 3 ways to recover deleted videos on Android.
How can you brighten your video on your iPhone? Here are useful methods for your reference.
3. VSDC Free Video Editor
This is not only a free but also a non-linear video editor that comes with many features. With the VSDC, you'll be able to create superb videos by cutting and cropping video files, joining video or music, adding filters, transitions, shapes, and text to video, etc.
Above all, you got the opportunity to save the edits with the VPROJ extension, which is a project file for saving your videos while still in the editing progress. But, it can't be read using the players or uploaded to any social media platforms since the file project doesn't save video data but rather save the links to the processed video. Thus, to make your videos easily accessible, you've to convert them to a common file format such as MP4 and MOV.
Pros:
* Support MOV and other popular video/audio formats.
* Support VPROJ extension.
* Free to use.
Cons:
* The interface is a little complex for beginners.
Bonus:
This is a guide to help you recover deleted videos from an iPhone with/without backup.
Want more info of PIP video editing? Then please don't miss this comprehensive guide. It has effective video editing tools and tricks.
4. Shotcut
This is among the best cross-platform and open-source MOV editors. With it, you can easily upload all the latest video and audio formats such as MOV, MP4, 4K, AVI, and many more, all thanks to the FFmpeg support.
To use this app for editing your MOV files, you should make simpler edits using cutting, trimming, appending, inserting, and creating video effects while making grading and color correction, video composition, adding audio effects, and video transitions, and many more.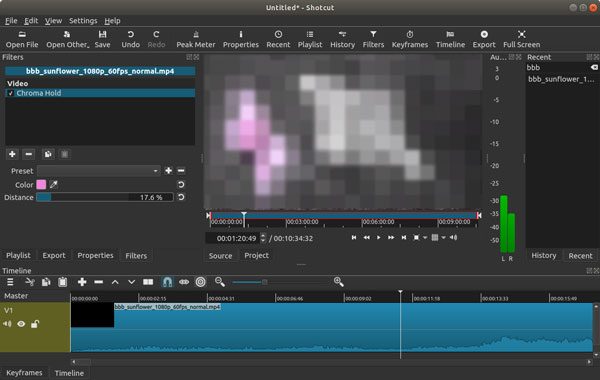 Pros:
* Support 4K resolutions.
* Cut, trim, inert and create video effects.
* Allow you to search for recent files.
Cons:
* Difficult to learn because of too many details.
Maybe you like: With this article, you can get 7 ways to convert iPhone videos to MP4 with original quality.
5. Blender
This is also a cross-platform and open-source MOV editor which can handle any professional 3D animation work. It's been used in movie production like Warcraft, Walking Dead, Jurassic World, etc., and in the gaming industry.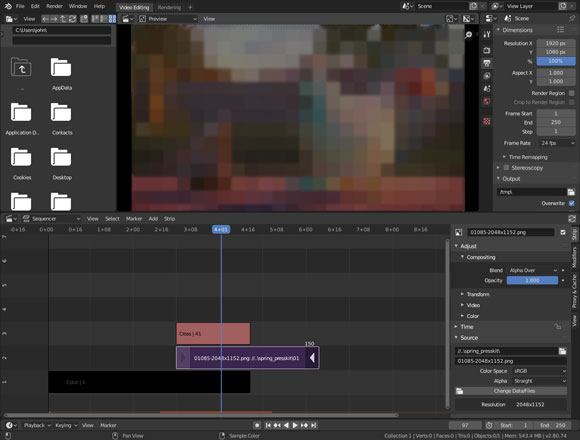 Pros:
* Do well in handling professional work.
* Come with a built-in video sequence editor.
* Contain 32 slots for editing MOV videos.
Cons:
* Need to learn its tutorial first.
6. iMovie
This is a free MOV editing tool developed by Apple. But, it only supports the Apple ecosystem, and the developers are not planning to introduce the app to Windows. iMovie software is fully compatible with the MOV files. Besides, it supports various file formats such as M4V, MP4, AVI, HEVC, JPEG, RAW, and many more.
In this tool, you're allowed to do various editing works such as merging, cutting, and adding visual effects. The only bad thing about the iMovie software is that you are allowed to only use two video tracks, and it might fail to edit the video frame by frame.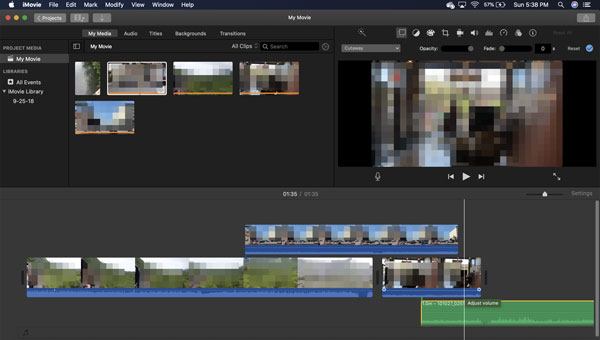 Pros:
* Compatible with MOV files and other common video formats.
* Edit your videos on Mac without effort.
* Some attractive templates for your choice.
Cons:
* Supports only Mac OS.
See also: Want to import your iPhone videos to iMovie without a hitch? Then you can utilize these methods.
7. QuickTime Player X
This free application that can help you trim, cut, split, rotate, and flip the MOV files. While using this tool, you have the ability to capture the display on your computer or on your phone together with record or sound only.
Pros:
* Trim your MOV video files without hassle.
* Fully support 4K HDR 60DFPS.
* Support Bluetooth handset control.
* You can use it on a computer and phone.
Cons:
* Work on Mac OS only.
* Few editing features for videos.
8. YouTube Video Editor
If you want a tool that can help you with your YouTube videos, then the YouTube Video Editor is what to look for. All you have to do is log into your YouTube account and then go to that video you wish to modify.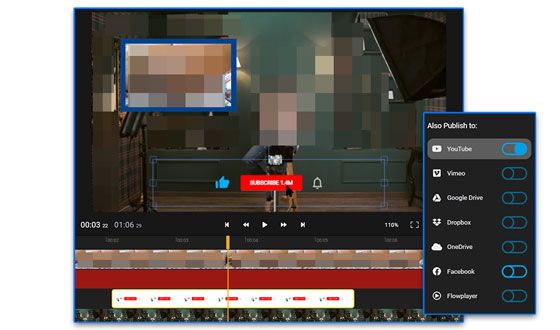 Pros:
* You can trim, and add blur, music to your videos.
* Great user interface to handle video clips.
* Edit audio files easily, including trimming, fade-in and out, loop, and voiceover.
Cons:
* It is not comprehensive enough to cope with video details.
9. Kapwing
Are you not a professional content creator that frequently makes videos and would not love to use an app that has a steep learning curve? Then Kapwing is the best MOV editor app you should go for. With Kapwing, you will be able to edit your videos online. With its user-friendly interface, you won't find any challenge navigating around.
Its free version has all the features you would want completely at no cost. You may trim, cut, crop, resize and do many more things with this tool.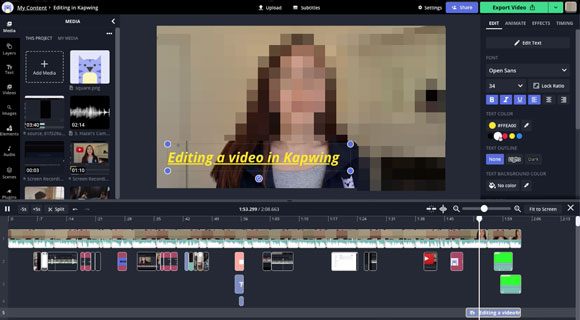 Pros:
* Great for non-professional content creators.
* Support lots of file formats, like MOV, MP4, PNG, AVI, WEBM, etc.
* There is a community of video creators that you can join.
Cons:
* Reported lag problems.
10. Adobe Premiere Rush
Apart from iMovie, you may also use the Adobe Premiere Rush to edit your MOV files on your phone, DSLR, action cam, etc., with just a tablet or a mobile phone. Even though it is somehow limited when compared to the Premiere Pro, it is still wonderful software for experts and beginners.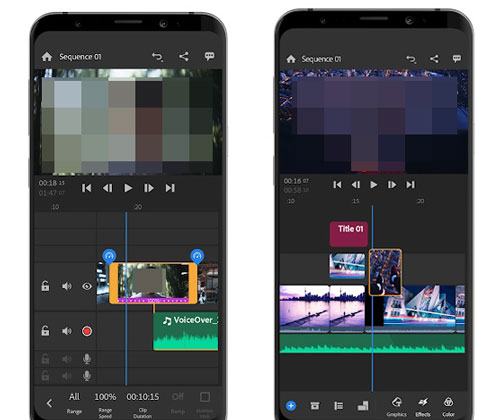 Pros:
* Good for both beginners and experts.
* You may use a phone to edit your videos.
* Have built-in professional camera functionality to help you catch high-quality content.
* Allow you to share your videos to TikTok, Instagram, and more social platforms in 1 click.
Cons:
* Rendering fails to work at times.
Conclusion
There you have the best MOV editor apps. Why not try them out? Moreover, the Aiseesoft Video Enhancer is the tool you shouldn't miss while editing your MOV files. It got everything you want to have a hassle-free editing process.
Related Articles:
How to Transfer Music from Windows Media Player to iPhone? (Top Two Methods)
How to Transfer Videos from Computer to iPhone without iTunes? (5 Proven Approaches)
Top 14 Best AVI Video Editors | Easily Eidt Your AVI Files
How to Transfer Music from iPod to a New Computer? [Solved]
12 Best Video Converter Software for Windows 11/10/8/7 (Free & Paid)