Multiple Ways to Add Videos to iPhone
Own an iPhone? You sure are looking to explore its true potential. We will help you know how you can put videos on iPhone in simple steps, without having to worry about anything else like going to iTunes each time to add in a video.
Also Read: How to Put Music on iPhone without iTunes

Why do you need to add videos to iPhone?
Viewing videos on your iPhone is an absolute delight. Having videos on your phone is a good way to kill time but with an iPhone it also becomes a nice experience with the iPhone's Retina HD display.
Unfortunately, putting videos in iTunes can be a complex task as iOS is a confined ecosystem on its own. You will need to go to the same computer you are using all the time, and access from the same iTunes account to add in your videos. It's time consuming as well since this is not a simple cut and copy procedure that we are talking about.
Quick Fix - How to Put Videos on iPhone
There are several ways to transfer videos into your iPhone from your PC, or another device. Several software are available that will help us facilitate the transfer.
- Put videos on iPhone via iTunes
An important thing to remember when you are syncing your iPhone with iTunes, is that iTunes will wipe out any existing videos while syncing new ones. When you are transferring your videos using iTunes all you have to do is:
1. Open iTunes on the computer and connect your iPhone to your computer.
2. From the iTunes library choose the files choose the files that you want to add to your iPhone.
3. Drag the selected files to the left sidebar where it says iPhone.
But as mentioned in the first part, there are some disadvantages of using iTunes to put videos on iPhone. So if you want to get another alternative ways, just continue the reading.
- Add videos to iPhone from your computer
iOS Assistant (Windows/Mac) software is one that allows you to transfer videos between your PC/Mac computer and iPhone/iPad/iPod without restrictions, as well as other different files like contacts, photos, apps and many more. It can be used with Mac OS and also with Windows XP, Vista, 7,8 and 10. It simplifies transferring videos into your iPhone into 3 steps.
Know More:
* How to Transfer Videos from iPad to Mac
* Sync iPhone Videos to USB Flash Drive
Now, just see how easy it is:
1. Connect your iPhone to the computer and run the software.
2. Preview the files you want to transfer.
3. Click Import to sync and navigate files from your computer to the iPhone.
- Add videos to iPhone from another device
This Mobile Transfer lets you transfer data from your old phone to your new iPhone without any hassle. All different mobile devices as long as they are running Android, iOS and Symbian systems. Also, different files can all be supported by this software.
Just follow the 3 simple steps to put videos on iPhone from another device:
1. Download and installed the software on the computer and get two devices connected to the computer via the USB cords.
2. Choose the mode of Phone to Phone Transfer and hit the Start option to continue the process.
3. Enter the Videos tab to preview more detailed file information and choose the wanted videos by ticking them out. After that, hit the right or left arrow direction to transfer videos from one device to iPhone.
Remember; do not disconnect either of the phones during the data transfer.
More Useful Articles:
* How to Move Music from iPhone to Android
* How to Sync Media Files from Android to iPhone
- Useful apps to help put videos on iPhone
You were obviously looking for the best there is, when you went out and bought that iPhone. So, have you done your research on the best apps for transferring videos to your iPhone?
Simple Transfer: You can't find an app that transfers videos as easily as Simple Transfer. With this app you don't need a cable, not even iTunes or any other software. It transfers files by using a private website which can only be accessed from devices connected to your local Wi-Fi.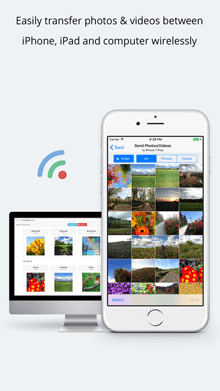 Infinit: Using a point-to-point technology, Infinit has the fastest transfer speeds. And like its name suggests, it can transfer videos of any length without compromising on resolution.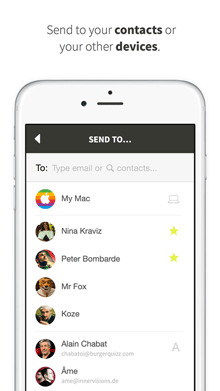 Make use of these apps and enjoy your iPhone to the fullest.
Related Articles:
Download Videos from Facebook to iPhone/iPad