After using the photo editors to modify your pictures, you may want to print these beautiful photos out and then hang them on your bedroom wall so as to create an intimate atmosphere. Today, this passage will tell you several useful photo printers for your iPhone, so as to print these marvelous photos into a piece of paper!
1. HP Photosmart 5520 e-All-in-One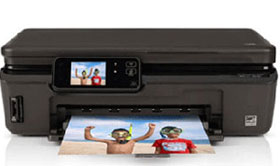 If you want to enjoy some of the finest photos on the market with high-quality appearance and the ability to retain their attractiveness for years to come, then this HP Photosmart printer is sure to be the best photo printer for you.
This photo printer is home printer yet it offers some sophisticated features, like printing through the cloud, Airprint, wireless printing. This HP ePrint feature lets you print from smartphone or tablet from virtually anywhere! With this photo printer, it is just a piece of cake to print out lab-quality photos from your iPhone without computer. This photo printer is able to print out high-resolution photos in a high speed, you don't have to wait for a long time. Its price is $79.95. Now, you can buy this photo printer from Apple Store.
2. Smartphone Photo Cube Printer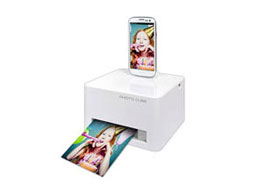 This Smartphone Photo Cube Printer is able to print high-quality color photos without a computer. With this printer, you are able to print out beautiful photos with high-resolution from your devices in a few simple clicks. This printer requires no computer at all. You just need to connect your device to the printer via the dock or USB port.
As all-in-one cartridges ink and photo cartridge, this printer is able to print borderless color photos. Moreover, different photo sized are available for your choices, such as 4"x6", 4"x11.2" and 4"x16.4". This portable photo printer is sure to be your best choice if you are planning to travel outside or simply for home use. With this powerful printer, you can easily convert your precious memories and moving moments from digital record to reality, since you can directly view these beautiful pictures via this almighty printer. However, the weak point of this printer is that you need to install application when using this printer. And also, the photo processing speed is relatively slower than other recommended photo printers. This printer is sold at $159.99. Now, you can buy it from Sharpimages.
3. Polaroid PoGo Instant Mobile Printer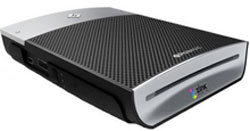 This photo printer is aimed at delivering better-looking, high quality larger photos. About the size of a deck of cards, this printer can print up to 15 photos on a full battery. You can use this printer by simply connecting any camera phone or a PictBridge-enabled camera to this printer by USB or Bluetooth.
Among the fun features of this device are sticky-backed prints and Zero Ink Technology. However, the disadvantage lies in this small printer is that you cannot expect lab-quality prints. Nonetheless, you can get a few decent characteristics with this product. For example, you can crop a photo, add a border and do some basic editing. By the way, the maximum color resolution is 300 x 300 dpi; it is the same for black and white photos. The price is $41.99. Now, you can buy it from Amazon.
4. Epson PictureMate Charm PM 225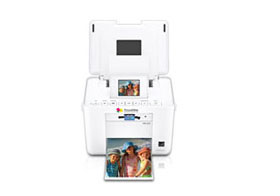 Epson is in the business of creating every type of imaging product you can imagine. From TVs and desktops to scanners and printers, Epson knows what they are doing when it comes to creating durable, long lasting printers. The Epson PictureMate Charm PM 225 is a perfect example of something different yet creative.
At 7.9 pounds, 9 inches wide and 5.7 inches high, the Epson PictureMate Charm PM 225 is light and compact, so you can easily take it along on trips to the lake, park or other outdoor place and be able distribute photos to everyone. The Epson PictureMate Charm PM 225 couldn't be more simple and straightforward for printing pictures. Like many of the other Epson printers, the Charm is designed not so much for speed but for quality prints.This photo printer is sold at $159.95. Now, you can have access to this powerful photo printer at Amazon.
5. Canon iP 100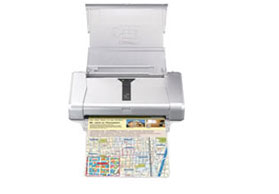 With this photo printer, you can get sparkling and clear color resolution of 9600 x 2499 dpi (dots per inch) with this photo printer. The black and white resolution is a healthy 600 x 600 dpi. You can use a computer to print your pictures if you want, but you are by no means limited to that option with this photo printer.
This printer can have interface with PictBridge, USB 2.0 Hi-Speed, IrDA, Bluetooth v2.0 and EDR4. So you can freely choose a way as you wanted and needed. Best of all, you can also have fun with this printer. When it comes to things like crafts. You can put it to work making greeting cards, helping with scrapbooking projects and even creating three-dimensional paper projects. This photo printer is sold at $249.99. Now you can click here to buy it!
6. Canon SELPHY CP910 Black Portable Photo Color Printer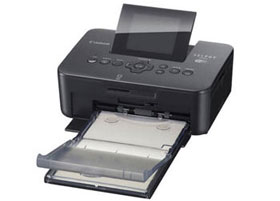 This Selphy CP910 is the Canon's latest thermal dye 4-by-6 dedicated photo printer that can print directly from your phone. With this photo printer, you are able to print borderless photos in credit card and postcard sizes. Moreover, this printer is able to strongly support mobile device printing, which enables you to print directly from compatible smartphone or tablet. All you need to do is simply connect your device to this printer via the USB cord or wifi. There is no need to install any driver on your device.
As a small-size compact photo printer, you can take this printer with you whenever you go and then print beautiful photos out from your device to memorize the meaningful moments in your journey. Most importantly, this printer is very easy-to-use, you don't need to worry that you may get puzzled by the complex steps on operating this printer. Just several simple steps, all beautiful photos will be printed out. This fantastic printer now is sold at $99.99. You can get this printer from Amzon.
Write in the End:
If you don't want to spend so much money in buying a photo printer, you are suggested to rely on Coolomuster iOS Assistant to transfer photos from iPhone to computer. And then connect your iPhone to a local printer to get them printed out. This software allows you to transfer iPhone photos to computer in a fast speed, regardless of the files quantity.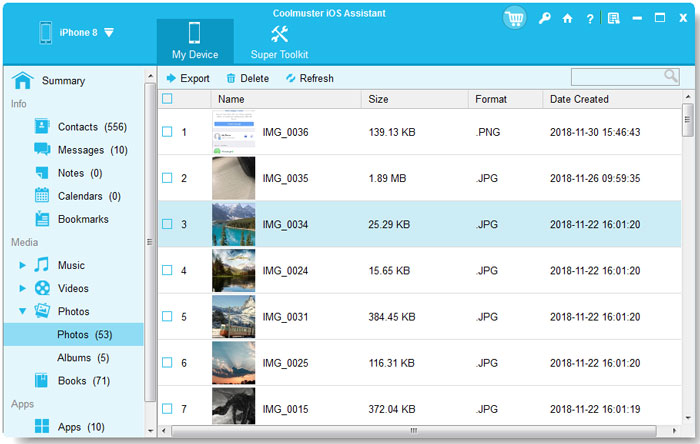 Below is the free trial version of this software:
Related Articles:
Best Security Apps for iPhone You Can't Miss