Although iPhone device ranks in the leading position in terms of mobile phones, one thing you can't deny is that it may also encounter network problems of this or that kind. In this passage, you will learn the common problems you may meet related to network in using your iPhone device. After that, you will learn how to reset your network settings in one click.
Part One. Common Problems Related to iPhone Network
* Situation One: When I upgrade my iPhone to the latest iOS 9 from the older iOS version. I find that sometimes I just can't connect my iPhone to the Wi-Fi as usual. Even when I successfully connect my iPhone to the Wi-Fi, the network condition is not stable.
Actually, this is the common case with those who installed new iOS systems on the same iPhone. To solve this problem, you need to reset iPhone network settings and then connect with Wi-Fi once again.
* Situation Two: This time when I connected my home Wi-Fi, it just failed. I have connected this Wi-Fi before and nothing has gone wrong. What's the matter?
When you can't connect your iPhone to a specific Wi-Fi network, the feasible solution is to select that network from the list and click forget. And then reconnect your iPhone with the Wi-Fi. If it can't work, then consider resetting your iPhone network settings!
* Situation Three: I want to connect my iPhone with Wi-Fi so as to watch online videos. But it appeared No Service on the top, I've tried several times. Still it failed!
In this case, you can first turn on your airplane mode and then turn it off after a few seconds. If your network setting hasn't gone back to normal. Then you may need to reset your iPhone network settings!
* Situation Four: What's wrong with my iPhone? Yesterday, it worked pretty well, but today it just failed to receive any calls, neither could it make any dialing calls or texting messages.
Well, first of all, you have to make sure that whether you have turned on your airplane mode. If you do, turn off the mode and try again. But if the problem still exists, maybe you should try to reset your network settings.
Possibly the situations mentioned in the above are not foreign to you. And judging from the above, it can be inferred, resetting network settings is the general solution to deal with these common problems. Now, let's learn how to reset your network settings on your iPhone.
Part Two. How to Reset Network Settings on iPhone
Resetting network setting on iPhone can be as easy as pie, since it requires no professional skills at all. Now, just follow the below two steps to reset iPhone network settings.
Step 1. Open your iPhone and then tap on the Settings app on your iPhone. After that, scroll down to the bottom until you see the General option. Click it to enter the nest interface.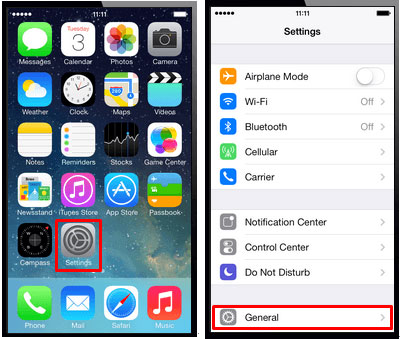 Step 2. In this step, you will see many options in the main interface. Again scroll down to the bottom and tap on the option of Reset. Then in the new window, select Reset Network Settings to confirm your action.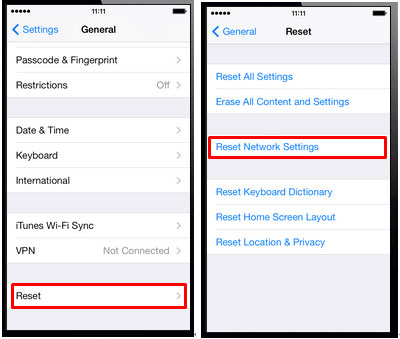 By Resetting Network Settings, all these problems can be easily settled, since this method will allow you to clear all the network settings, current cellular network settings, saved Wi-Fi network settings, Wi-Fi passwords, and VPN settings and bring back your iPhone Network Settings to factory default. Now, if you are still troubled by this kind of problems, just follow the steps mentioned in the above to fully enjoy your mobile phone!
Write in The End:
Just as iPhone network settings which could be out of service all of sudden, your important files saved on your iPhone can possibly be lost due to various unexpected reasons. Therefore, to make sure that such accidental events won't do any damage to your normal operation of your iPhone, you are suggested to rely on this Coolmuster iPad Computer Transfer to backup important files from iPhone. After that, there will be no need to worry about the sudden data losses of your iPhone files! Just get it and protect your vital files on your iPhone. As to iPad and iPod users, this software can also be the one to help transfer files from device to computer as a backup!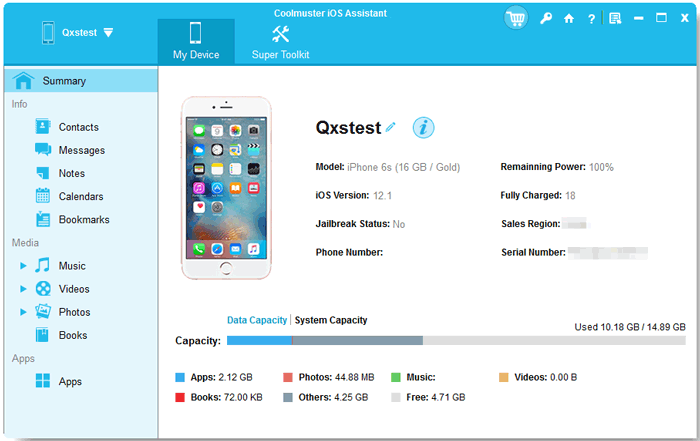 Related Articles:
How Can I Keep iPhone/iPad/iPod Healthy