Actually, now it is no exaggeration to say that all mobile users like iPhone users will receive or send at least one message every single day. And for those shy people, message texting within iPhone device provides a fantastic platform for them to venting out their emotions and feelings to their friends and families. Since this type of people prefer expressing themselves in non-verbal manner. But sometimes you may confront such problems when using your iPhone to chat with your friends. For example, what if you can't receive messages from your friends or send messages to your friends? Here, I will tell you possible solutions to these common texting problems.
Situation 1: What if iPhone Can't Send Messages to Other Phones?
If you find your iPhone messages won't send, and no matter how many times you try to send messages from your iPhone to other phones. It keeps popping up the below interface.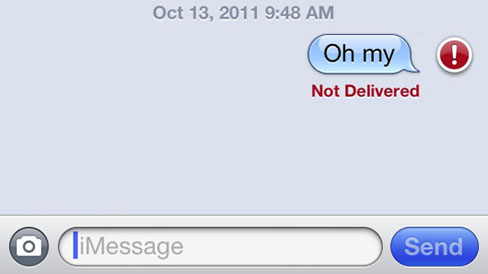 Now, you need to follow the possible ways instructed as below to fix this problem.
1. Check iPhone Signal
It may sound ridiculous, but sometimes the reason why your iPhone can't send messages to other phones is simply that your iPhone does not have a strong enough signal. Since if you have little or no cellular data signal, your messages will fail to send. In this case, just change the signal strength at the top left side of the screen and then resend your messages!
2. Check out Airplane Mode
Go to Settings tab on your iPhone, in order to make sure that the Airplane Mode on your iPhone has been turned off. Or otherwise, you can't send messages out in the Airplane Mode.
3. Power iPhone Off then Back On
If the iPhone signal is right and airplane mode is off, then you need to reboot your iPhone. First, power your iPhone off and then turn your iPhone on. This may be helpful in allowing you to successfully send messages to other mobile phones.
After trying the methods mentioned in the above, you may find your iPhone will be back to normal. Then you are once again to enjoy texting messages to your friends and families. Well, you may ask what if iPhone can send messages out but can't receive messages? Just read the following part!
Situation 2: What if iPhone Can't Receive Messages?
Sometimes when you friends have sended you messages to inform you something, but you simply had no idea since you didn't even receive any related messages. Now, it is time to check your iPhone lest such similar events should happen again. As to the potential reasons, you can have a check on your iMessage. If the iMessages option is kept on, then you need to disconnect it from your iPhone to ensure the normal operation of iPhone texting facility. Strange as it may sound, you have to turn off this service so as to secure the smooth function of your iPhone. Just go to the Settings option and turn off the iMessages.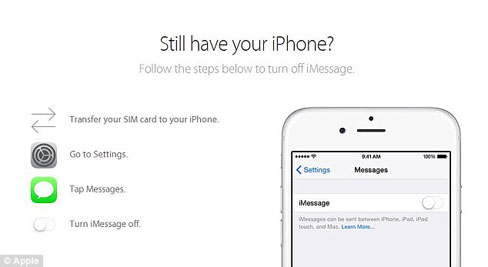 If these tips can't solve your problems related to iPhone messaging, then you might as well update your iPhone software. Sync your iPhone to computer to see if there is new update available for your upgrading. After that, just open the iTunes and check the Summary tab to access the newest iOS version. After finishing the latest iOS system on your iPhone,examine the messaging service again to check it out. If this doesn't help either, you may need to turn to the carrier for help!
Bonus: Just as you may encounter iPhone texting problems by accident, it is also possible that you lose your important files from your iPhone without any precaution due to various reasons. You can predict when such tragedies may happen. but you can prepare for the worst and take precaution against such accidental events. You can rely on this Coolmuster iOS Assiatnt to back up your iPhone files to a safe place!
Related Articles:
How to Unlock and Reset iPhone Password