Scheduling and tracking appointments are easy when you have a synchronized application for that purpose. It is natural to use yahoo calendar for official scheduling. It will be much easier if you can carry your scheduler with you wherever you go. It is now possible to sync your Yahoo calendar with your iPhone so that you have one seamless application for all your appointments and meetings.
Related: Professional Calendar Apps for iPhone/iPad
User Guide: How to Sync Yahoo Calendar with iPhone
iPhone provides an inherent way to sync your Yahoo calendar directly. You have to re-sync your phone every time you upgrade your iOS because sometimes, new upgrades can change the sync settings. The step by step guide to sync your Yahoo calendar with iPhone is as follows:
Step 1 – Open iPhone settings by tapping on "Settings" on the home screen.
Step 2 - Tapon Mail -> Contacts -> Calendars.
Step 3 – Now, you have to select your Yahoo account for synchronization. Tap on Accounts and then choose Yahoo mail account. At this point, you should add your Yahoo account with which you want to sync the calendar. If you haven't already added your Yahoo account, tap on Add Account. Then tap on Yahoo and enter the details of your Yahoo account. Once you enter your yahoo name, email address and password, tap on Next to sync your Yahoo mail first.
Step 4 – Once you have synchronized your Yahoo account, go to Calendar settings. Here, tap on On to enable iPhone synchronization with Yahoo calendar.
Step 5 – Go back to the native calendar app by pressing the home button and clicking on Calendar iPhone native app.
Step 6 – In the calendar settings, ensure that the Yahoo entry has a check mark. If it doesn't, tap on Yahoo to check the entry. After this step, you should be able to view your Yahoo calendar on the iPhone app.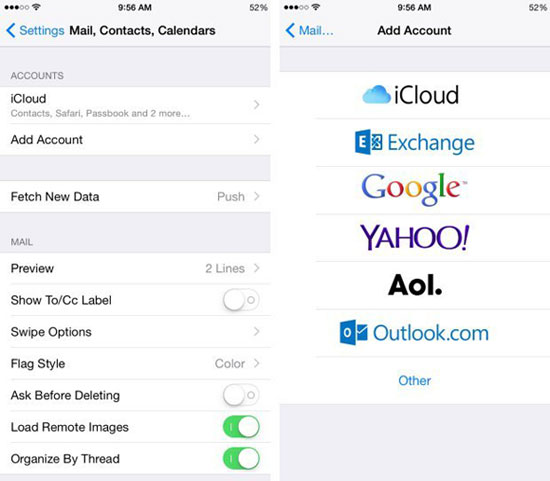 In a similar manner, you can also enable synchronization of contacts and email so that you can completely access your Yahoo account from your iPhone. To delete synchronization, you have to delete the Yahoo account completely. Open Settings on your iPhone. Then tap on Calendars or Contacts. Choose your Yahoo account and simply choose Delete Account to delete the account and cancel synchronization.
Extra Bonus: Powerful tool for avid iPhone users
When you have a lot of information on your iPhone, ensuring its protection is important. Sometimes, you may accidentally delete important data. Without proper synchronization with your iPhone, you may forget about important meetings and appointments. Coolmuster iOS Assistant is an excellent calendar manager software for iPhone that helps you to recover lost calendar details.
It is a powerful data recovery tool for iPhone that is useful to recover all types of deleted files. You can download this software to your computer and forget about data loss on any iDevice. You can save all the files you need and back it up. You can even transfer data between two Android and iPhones and it can be anything between apps to contacts to media. This professional tool makes it all easy, and all you need to do is to connect both the smart phones to your computer through a USB cable.
The Bottom Line
It's easy and it is fun. Add to it the fact that it can store up all your smartphone data on the computer itself, so that you can retrieve them as necessary and it doesn't matter if your phone data got deleted or if you even lost the phone. This professional software has got you covered, in a simple few clicks.
Related Articles:
Fix iCloud Link Not Working or Loading | Effective Solutions