It is a good bet that you are already taking advantage of iCloud if you are using an Apple device. This cloud storage service allows users to synchronize photos, documents, emails, calendars, and more across all their iOS devices, making life a little easier! iCloud has made sharing data, such as photos between friends and family, more fun. You can easily share data with your friends through an iCloud link.
At times, iCloud users complain about encountering the "iCloud link not working" error. Are you an iPhone user tired of the iCloud link not working? This issue has become increasingly common among Apple customers. To resolve the iCloud link photos not loading issue, you need to follow the troubleshooting methods discussed in this article.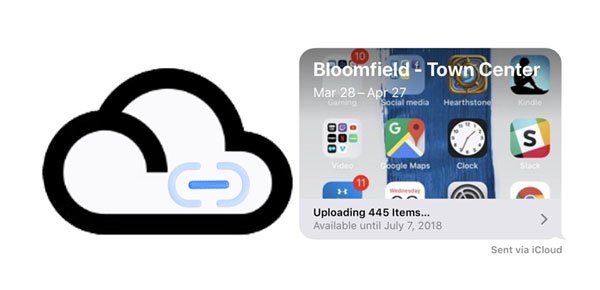 Part 1: FAQs about iCloud Links
Q1. What is an iCloud Link?
Apple allows users to share their photos and videos via an iCloud link, and others can view the files after opening this link with a network. Every iCloud link is accessible within 30 days. When you want to stop the sharing, you can go to the Photos app or iCloud website to do it.
Q2. Why Doesn't iCloud Link Work?
The iCloud link not working issue can be due to several reasons. The most common causes of this error are mentioned below:
* The iCloud Link is Expired
An expired link is usually the cause for iCloud photo links not uploading. The links are valid for 30 days when sent from an iOS device. As a result, a link sent more than 30 days ago will not work.
* The iOS Gadget Running on Power Mode
iOS power mode helps conserve battery life. However, this feature can sometimes be the culprit behind the iCloud link stuck uploading issue.
* Network Issues
A poor network connection can lead to the iCloud link not working. You need stable internet to access the content of the iCloud link.
* The Photo Sharing Feature is Disabled
If the photo-sharing feature is disabled, you won't be able to access the content of the iCloud link. You need to enable it first before using the iCloud link.
Q3. Why do iCloud links take so long?
Due to different reasons, like the causes mentioned above, sometimes, you will find that iCloud links load too long or even not work. But it is not difficult to solve. Go on reading the following solutions, and you can share your images and videos via iCloud links smoothly.
See more: How Can I Transfer Files from PC to iPhone without iTunes? [5 Ways]
Part 2: How to Solve iCloud Link Not Working [6 Solutions]
Are you encountering an iCloud photo link not working problem while trying to view the content of the iCloud link? Follow the below steps to troubleshoot the iCloud link not working issue:
Solution 1: Ensure iCloud Server is Running
Since iCloud is a web-based service, it depends on its servers for content and features. If you are having trouble utilizing iCloud photo sharing, Apple's servers may be down, or there could be an issue with their services. Begin the troubleshooting process by visiting Apple's dedicated status page and viewing the status of your iCloud server, as shown in the diagram below.
If iCloud's servers are offline, it is best to wait until they come back up since the issue cannot be resolved on your end. Conversely, if there are no server problems and services appear normal, you need to move to the next solution.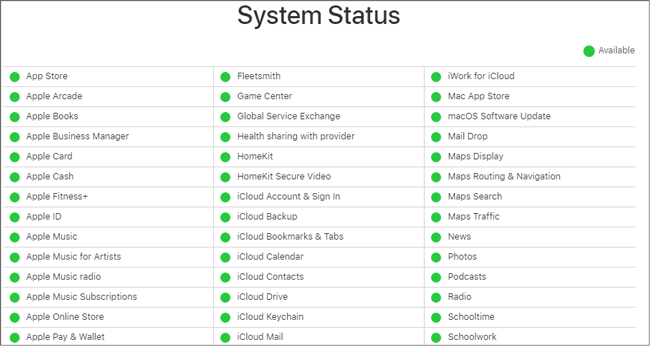 Read also: How to Transfer Data from Broken iPhone to New iPhone? (4 Ways Out)
Solution 2: Try Restarting Your Device
"Someone sent me an iCloud link, but the photos sent via the iCloud link are not loading." This case is common in daily life, But it is easy to solve it by restarting your iOS device or Mac. Restarting is a useful measure when something isn't functioning correctly.
Below is a simple guide on how you can restart your iPhone:
For iPhone 14, 13, 12, 11, or X:
Step 1: Hold the "Side" and "Volume Down" buttons until the "Slide to Power" prompt appears.
Step 2: Drag the slider to your right side and wait for some time. Turn on your gadget by pressing the "Side" button.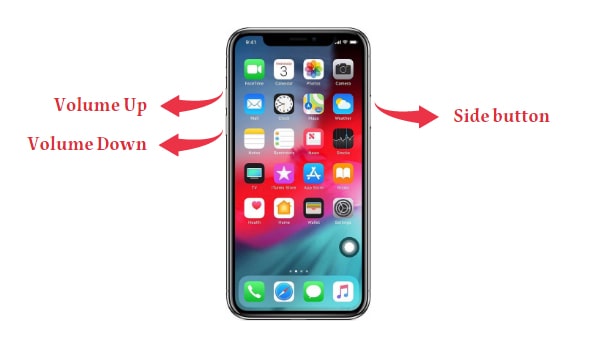 For iPhone 8,7,6, or SE:
Step 1: Press the "Side" button until a "Slide to Power Off" prompt appears.
Step 2: Drag the slider toward the right side and wait for some seconds.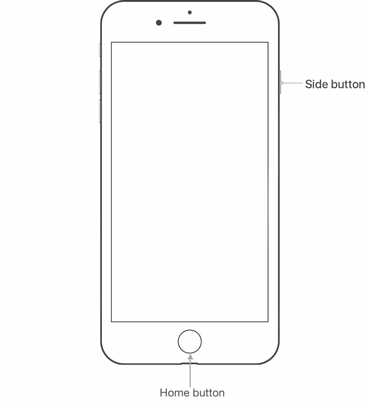 Once you finish, use iCloud photo sharing to confirm if the issue is resolved.
Learn more: Want to view your iPhone backups on a Windows or Mac computer? Then you can try these ways.
Solution 3: Check iCloud Link Expiry
iCloud photo links have a maximum validity of 30 days. Consequently, if the iCloud link you are trying to access was sent more than 30 days ago, it won't be accessible. Ensure that the iCloud link hasn't expired, else move on to other solutions.
Solution 4: Enable iCloud Photo Sharing
The iCloud photo-sharing feature must be enabled for iCloud links to work correctly. Below is a simple guide on how you can enable iCloud photo sharing from your iPhone:
Step 1: Open the "Settings" app from your home screen.
Step 2: Tap on your name and select "iCloud". Then tap on the "Photos" button and enable "iCloud Photos" and "Shared Albums".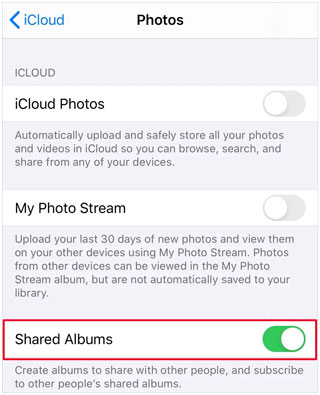 Try accessing an iCloud photo-sharing link once more to determine if the issue has been resolved. Go to the next solution if the problem still exists.
Solution 5: Ensure You Have a Stable Internet Connection
Is the iCloud link stuck uploading? If you are having difficulty accessing iCloud photo-sharing links, it's likely due to an unreliable or sluggish internet connection. After all, for a web-based platform to operate properly and deliver its features and services reliably, a fast and dependable internet is essential. Testing your network's upload and download bandwidth is an easy way of determining if a poor network is the source of the issues. Just use Fast.com for a simple, quick assessment.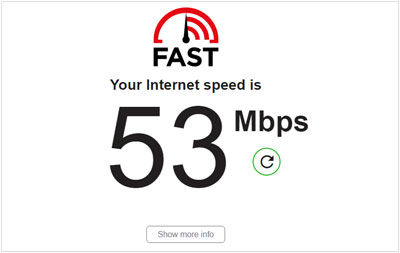 If the results flag any issues with your connection, resetting your device will help reconnect it to your ISP's servers. Restart your router by removing the plug from the wall outlet and wait for 5-10 seconds before connecting it again.
To ensure the issue is resolved, run a follow-up test. If you're still having difficulties, reach out to your service provider and request assistance in resolving this problem.
Solution 6: Log Into Your Apple Account Again
Refreshing your Apple account is a great way to resolve any iCloud photo-sharing issues. If you haven't given this approach a try, now is the time to do so. It might be the fix that you need! Follow the steps below:
Step 1: Launch the "Settings" application from your device's home screen.
Step 2 : Tap on your name and then scroll down, hit the "Sign Out" button, and follow the prompts that appear.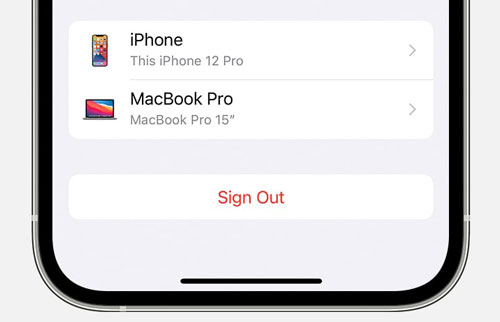 After taking a brief break, log back into your Apple account and determine if the issue has been successfully resolved.
Check it if needed: You can also restore your contacts from your iCloud backup files without losing your current data.
Bonus: View and Restore Data from iCloud via Coolmuster iCloud Backup Recovery
Do you want to view and restore your iCloud backup data? If so, Coolmuster iCloud Backup Recovery is the perfect solution for you. This user-friendly tool allows you to easily achieve these tasks with just a few clicks. With it, you can extract your photos, contacts, notes, note attachments, reminders, and calendars from your iCloud backup files.
It also supports Two-Factor Authentication, so there is no data leakage when you use this software. Besides, it allows you to save your photos and other files with the original quality.
Highlights of this iCloud backup data extractor:
* Enable you to recover iCloud backup files directly on your computer.
* Restore notes, photos, reminders, calendars, and more from iCloud backup files.
* You don't need to reset your iOS device.
* Require your iCloud account only to restore your data.
* Display detailed backup files on the interface.
* Easily transfer your files from your iCloud account to your computer.
Download this recovery software below.
Follow the guide to learn how to restore iCloud backup files with this software:
01Launch the iCloud Backup Recovery Software
Begin the process by downloading and installing Coolmuster iCloud Backup Recovery to your computer. Then launch the software and sign in with your iCloud account.
02Verify Your Account
Carry out the two-factor authentication. You will need to enter the verification code on the interface for confirmation. Once done, simply tap "Verify" to continue.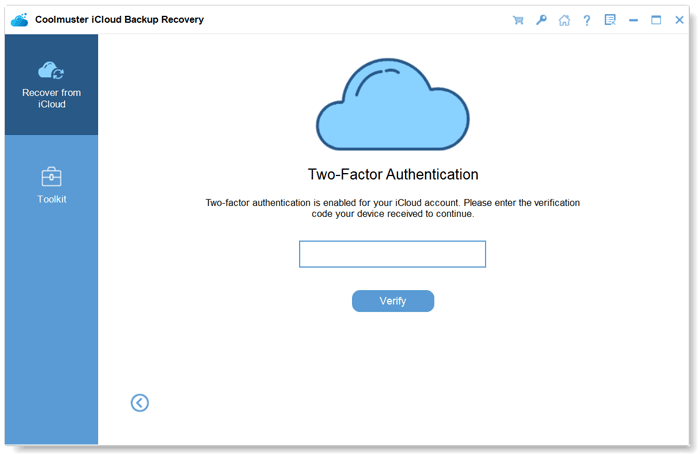 03Select and Restore iCloud Backup Files
Select the iCloud backup files you wish to view or restore and click "Next". After the scan is complete, the iCloud backup data will be displayed in their respective categories.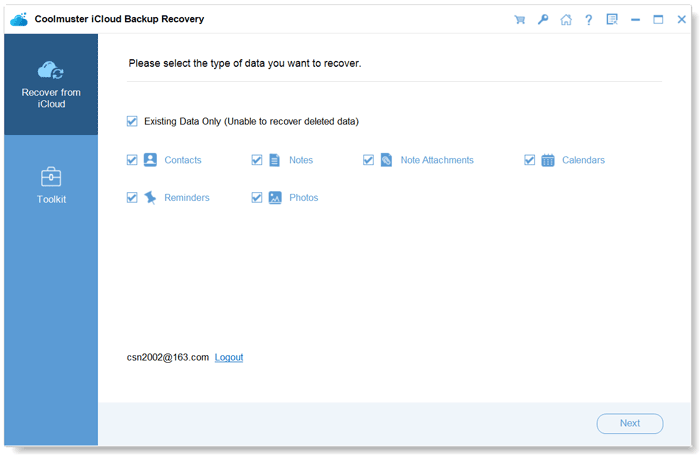 Preview the iCloud content before selecting the data you'd like to restore to your computer. Finally, hit "Recover to Computer" to download iCloud backup files onto your PC.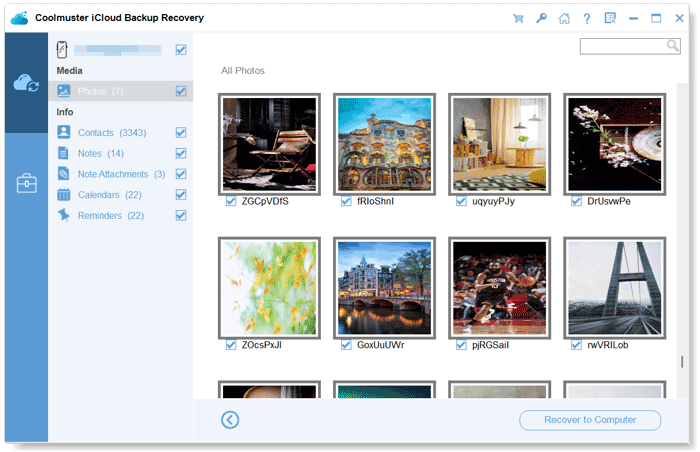 Conclusion
You now have the answer to why do iCloud links take so long and how to get iCloud link photos to load. iCloud links not working can be due to iCloud storage issues, expired iCloud links, and more. iCloud backup files can be restored with the help of Coolmuster iCloud Backup Recovery. This iCloud backup manager helps users view iCloud content and restore iCloud backups to their computers easily and quickly.
Related Articles:
Top 7 Solutions to Fix iCloud Photos Stuck at 1%
Fix the iPad Touch Screen Not Working Problem in 12 Pro Ways(All iPad Series Supported)
10 Ways to Fix the iPhone Migration Not Working Error without Trouble
Why Is Screen Mirroring Not Working? Repair It with Easy Methods
What If OnePlus Switch Not Working Occurs? (Troubleshooting & Alternative)
Troubleshoot: Comcast Email on iPhone Not Working [Full Steps]