Almost every iPhone user has a huge music collection. The last thing you want is to lose the playlists you have labored on for years to be lost. This can happen due to a system bug, damage due to water or other accidents. A smart option is to backup all your data on the cloud.
Also Read: Common Causes for Data Losses of iPhone/iPad/iPod
All iOS users know about iCloud. It is one of the best ways to back up all your data online. Whether it be pictures or data files or other media, you can use iCloud to ensure that all of it remains safe even if your device malfunctions, which serves the purpose of backing up your settings and data, including your music. However, it can only backup music purchased from iTunes.
Easy Steps to Backup iPhone Music to iCloud
Step 1: Go to "Settings" from your the homescreen of your iPhone.
Step 2: Tap on "iCloud" option to continue the process.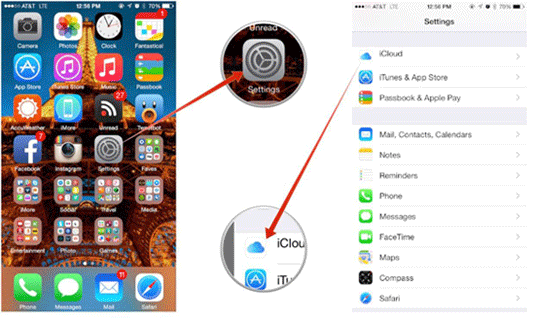 Step 3: Enable the "iCloud Backup" button from the Backup screen.
Step 4: Click on "Back Up Now".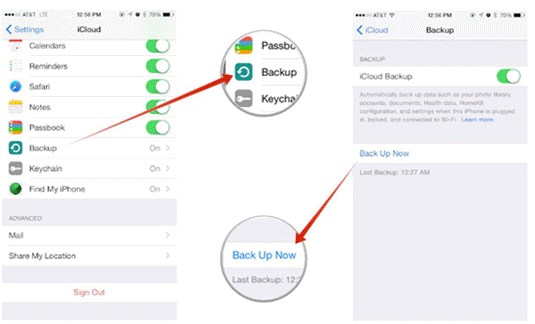 Seems pretty easy? However, there are several problems you can't ignore within iCloud:
- Like iTunes, iCloud only deals with music purchased from iTunes, though you can download it later for free only if it is still available.
- The task of downloading the music all over again is a long and tiring one.
- You will need a speedy Wifi connection for the entire process.
So, if you want an easier and more efficient way to backup your data, you need to look at good third party software.
Editor's Choice: Best Way to Backup iPhone Music
One such software is the Coolmuster iOS Assistant. This allows you to backup all your data on your Windows or Mac computer without using iCloud or iTunes, no matter they are downloaded from iTunes library or not. It deals with a variety of data like movies, messages, videos and most importantly, your favorite music. Its super easy interface helps you to preview your files before backing them up.
All your files will be neatly divided according to file types, so you won't have any trouble finding your favorite music. It is compatible with all generations of iOS devices, including your iPhone. Also, it is safe for your system so you don't have to worry about any virus or adware. All you need is a data cable and you're good to go.
How can you backup iPhone music to computer?
Step 1: Download the software and open it. Below are the download links of the free trial versions:
Step 2: Connect your iPhone to the PC using a USB cable. The interface will detect your device and show its information.
Step 3: On the left panel, you will see a list of the type of data available on your iPhone. Click on the "Music" tab.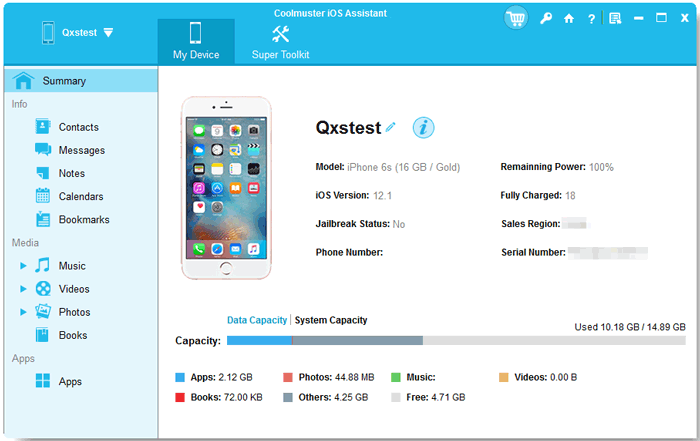 Step 4: You will then see all the music files on the interface. Select the files you wish to backup.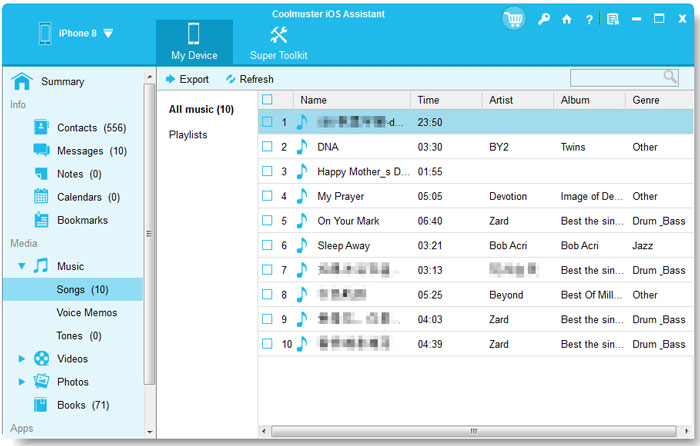 Step 5: Click on the "Export" button on the top of the interface. A pop up window will appear once the transfer is finished. Click on "Yes" to view your files in the destination folder.
Summary
This Coolmuster iOS Assistant software makes the entire process easy and all it takes is a few clicks to get all done. You can backup your favorite music to iCloud and can listen to it from any iOS device without a worry, even if you do not have your iPhone with you all the time.
Related Articles:
iCloud Alternative to Backup iOS Devices
How to Download iCloud Backup to Computer
6 Methods to Transfer Music from Computer to iPhone without iTunes
How to Transfer Music from iPhone to Computer Effectively? (4 Tips)
[Solved] How to Transfer Music from CD to iPhone 14/13/12/11/X/8/7 Easily?