"I dropped my iPhone in water; how to dry it out and rescue the data?"
"I dropped my iPhone in the toilet. Can an iPhone survive being dropped in the toilet?"
"My iPhone fell in a pool. Can an iPhone recover from being dropped in water?"
......
I recently received many similar messages on the background of the website asking me how to deal with an iPhone falling into the water. Therefore, I deliberately organized this topic, hoping that it can be helpful to you.
If you have also accidentally dropped the iPhone in water, you can try the emergency methods mentioned in this article to rescue your iPhone quickly.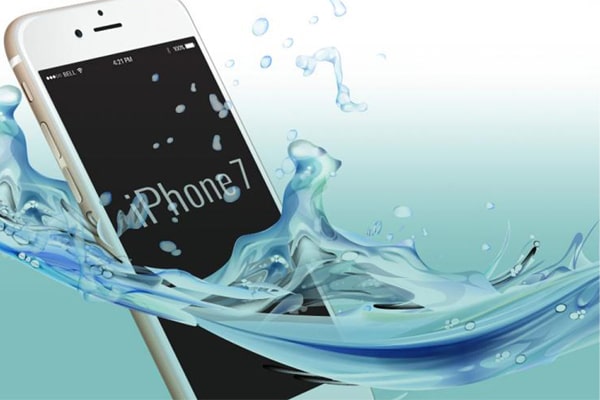 Part 1. What to Do if you Dropped iPhone in Water?
Part 2. How to Fix an iPhone that Fell in Water If the Above Tips Don't Work?
Part 1. What to Do If you Dropped iPhone in Water?
Many people will ask: Can an iPhone survive from water damage? Well, it depends. We cannot guarantee that your iPhone will survive after falling in the toilet. However, if you can quickly react and reduce its exposure time in the water, it will less saturated and less likely to suffer from permanent damage.
Besides, according to Apple's controlled laboratory tests, the iPhone 7 and later models are water-resistant under the specific depth of water for up to 30 minutes:
iPhone 12 Pro Max/12 Pro/12/12 mini can survive the maximum depth of 6 meters;
iPhone 11 Pro Max/11 Pro can survive the maximum depth of 4 meters;
iPhone 11 can survive the maximum depth of 2 meters;
iPhone XS Max/XS can survive the maximum depth of 2 meters;
iPhone SE (2nd generation)/XR/X/8/8 Plus/7/7 Plus can survive the maximum depth of 1 meter.
If you can take emergency actions when the iPhone is resisting water, you can significantly reduce the risk of damaging your iPhone. But what to do and what not to do when your iPhone fell in the water? The following tips will help.
8 Tips to rescue a water-damaged iPhone:
Tip 1. Don't panic.
If you dropped your iPhone in the toilet, please calm down. And take it out of the water as soon as possible.
Tip 2. Power it off right away.
After you pull your iPhone out of the water, you must turn it off straight away to avoid the water damaging the circuit inside. You can press and hold the Side + Volume Up button to activate the power-off menu and slide the bar from left to right to power it off.
Tip 3. Remove the protective case
If you are using a protective case on your iPhone, it will be hard to flow the water away. Therefore, you can take away the case and other accessories from your device to prevent it from water immersion any longer.
Tip 4. Drain the water away from the ports
If there is water around the lightning, speaker, or earphone ports, slant your iPhone slightly to place the ports downward and rock it to drip water out. This operation helps dry out your iPhone on the surface.
Tip 5. Take out the SIM card
You also need to remove the SIM card from your iPhone since you don't know whether there is still liquid inside. Just use a SIM card pin, a needle, or a stiff paperclip to eject the SIM tray and take the SIM card out of it.
Tip 6. Dry out your iPhone with silica gel or a dry towel
Using a packet of silica gel is a better choice than uncooked rice to dry out your iPhone. You can get enough of them from a craft store, handbag parcel, shoebox, etc., and put them on your iPhone for more than 48 hours. If you cannot buy enough silica gel, you can use a dry towel instead.
Tip 7. Ask a technician to dismantle your iPhone
Make this solution your last resort. If the above tips cannot save your iPhone, you can try to dismantle your device to dry it out inside. Dismantling may harm the device and invalidate the warranty coverage. If you are uncertain about DIY, you can ask a technician to help you do this.
After dismantling, you can remove the back cover, take out the battery, use a dry cloth piece to remove the water, and air the components for a couple of hours.
Note: Please don't expose your iPhone or its components in direct sunshine. Or, the sunlight may corrupt the components.
Tip 8. Visit the Apple Maintenance Center
The safest way to rescue a water-immersed iPhone is to take a safety check in the nearby Apple Maintenance Center. If any parts go wrong, Apple's serviceman will fix it for you.

7 Things you cannot do for an iPhone in water:
Don't heat your wet iPhone with a hair dryer, microwave oven, or other heating devices.
Don't press the keys or buttons on your wet iPhone.
Never dry your iPhone with compressed air.
Avoid blowing your iPhone.
Don't charge your iPhone when it is moisture.
Don't put your iPhone in a freezer.
Don't bury your iPhone in a bag of uncooked rice.
Tip:
Dropping your iPhone in water may cause data loss. But don't worry. Here's a detailed guide on how to recover data from a water damaged iPhone.
Want to back up an iPhone to a USB drive? Then, you might need this guide.
Part 2. How to Fix an iPhone that Fell in Water If the Above Tips Don't Work?
What if the above methods don't work for your water-immersed iPhone or you don't have the patience to try the tips one by one? Are there any other ideas to fix an iPhone dropped in water? Of course, you can try iOS System Recovery to repair your water-damaged iPhone with ease.
As the name implies, iOS System Recovery is a professional iOS repair tool that can fix your iPhone to normal under various scenarios. Whether your iPhone is disabled, water damaged, or gets stuck in Apple logo/DFU/Recovery mode, it can quickly repair your iPhone in several clicks. And everyone can handle it without difficulties.
Key features of iOS System Recovery:
* Repair your iPhone, iPad, or iPod to a normal status on a computer.
* Support all scenarios: Water-damaged iPhone, disabled/locked iPhone, iPhone activation problem, battery drain, no service, charge issue, frozen screen, blue/white/black/red screen of death, iPhone stuck in Apple logo/DFU/Recovery mode, iTunes errors, etc.
* Two repairing modes: Standard (no data loss) and Advanced mode.
* Easy to use for tech novice.
* Safe, reliable, and fast.
* Work for all iPhone models (iOS 16 supported), such as iPhone 14/13/12 Pro Max/12 Pro/12/12 mini/SE/11 Pro Max/11 Pro/11/XS Max/XS/XR/X/8/8 Plus/7 Plus/7/6S Plus/6S/6 Plus/6/5S/5C/5/4S/4, etc.
After your water-damaged iPhone is completely dry, you can use iOS System Recovery to fix it briskly.
1. Connect your iPhone to the computer.
Install and open iOS System Recovery on your computer. Next, connect your iPhone to the computer with a USB cable and click More tools > iOS System Recovery on the interface.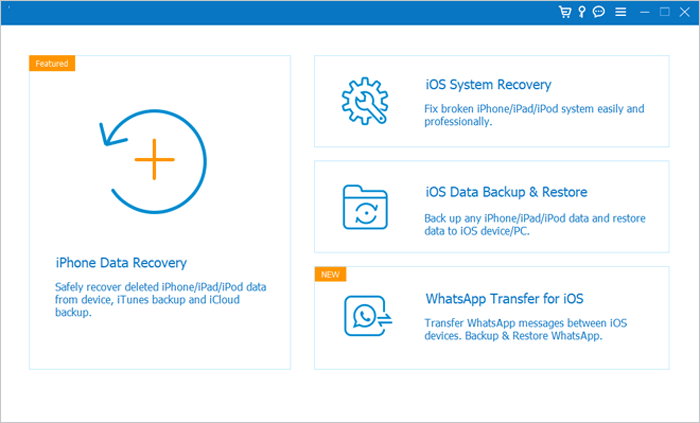 2. Detect the iPhone problem.
This program will automatically detect your iPhone and show the problem on the interface. When it finishes detection, click the Start button to continue.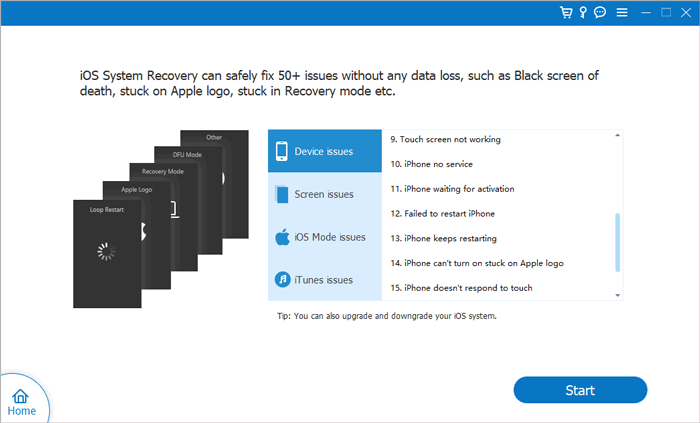 3. Fix the water-damaged iPhone to normal.
Confirm the device information and select the correct one from the drop-down lists if necessary. After confirmation, tap the Repair button to start repairing your iPhone. Please keep your device connected and don't use your device during the repairing process.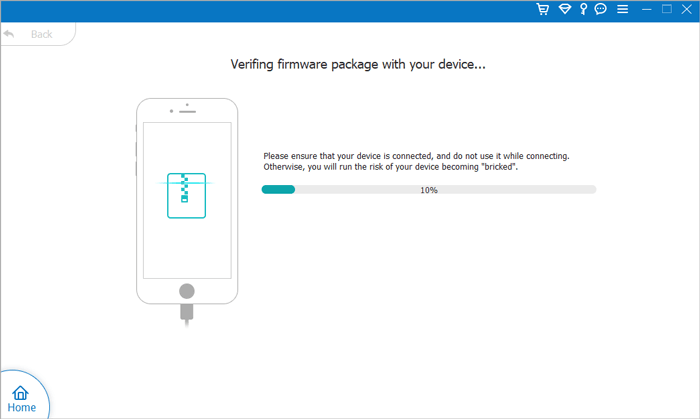 You may like:
How to Back Up iPhone without Passcode [Simple Guide]
How to Recover Data from Broken iPhone with or without Backup? (iOS 16 & iPhone 14 Supported)
Final Words
Don't be depressed when you dropped iPhone in the water. After reading this post, you will find it easy to wipe out the physical moisture on iPhone and repair the iOS system as long as you follow our instructions. Before you fix the iOS system with iOS System Recovery, I recommend you dry out your iPhone first, and then you can successfully repair the device system without trouble.
Anyway, no app can guarantee you can rescue your iPhone at a 100% success rate. Thus, when you fail to fix your iPhone by yourself, you can go to the nearest Apple Service Center for help. Also, remember to take good care of your new iPhone the next time.
Related Articles:
How to Fix Android Phone Blue Screen of Death?
9 Best iPhone Repair Software to Fix All iPhone System Problems with Ease (2023 Review)
How to Retrieve Text Messages from a Broken Phone Effortlessly? (Intelligent)
How to Recover Data from Broken or Dead Samsung Galaxy S/Note?
How to Control iPhone with Broken Screen Effortlessly? (6 Proven Ways)
How to Retrieve Deleted Call Logs on iPhone 14/13/12/11/XS/XR/X Easily and Quickly?