You may be stuck at the "Checking for Update" screen when you're trying to update your jailbroken iPhone, iPad or iPod touch to the latest iOS 9 operating system, right? We all know that the purpose of jailbreaking your iDevice is always to be able to get access, download and install apps on your iDevice without restrictions, especially apps that are not available in Apple store. However, after jailbreaking your iOS device, it also means you may lose the chance to freely update the operating system, that is mainly because most of the modern jailbreaks like TaiG do not work well with OTA updates. Then, is it means there is no opportunity to upgrade jailbroken iPhone, iPad or iPod touch to iOS 9? The answer is absolutely No. In this page, we'll provide the best solutions for jailbroken iPhone or iPad to upgrade to iOS 9 systematically.
First of all, let's have a brief look on the list of devices that can be updated to iOS 9:
- iPhone 4S, iPhone 5C, iPhone 5/5S, iPhone 6 and iPhone 6 Plus;
- iPad mini 3/2, iPad mini, iPad Air 2, iPad Air, iPad 4/3/2;
- iPod touch 5G
First of All, Back up Your Device
Before updating your device, you need to ensure all data on your iDevice are safe. Since there are so many reasons will make the data losing during the updating process, so it is very important for you to backup your iDevice data before you start the process.
Generally speaking, for iDevice users, the direct way for backing up is using iTunes. iTunes can backup everything you have on your device, including the secure information such as passwords well. Thus, if you want to have a entire backup of your iDevice, iTunes is probably the best way to go.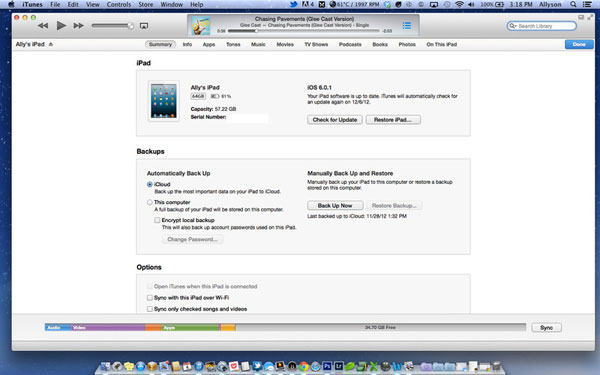 In addition to iTunes, another option for backing up from Apple is also available - iCloud. Using iCloud, you're also allowed to backup the whole data of iPhone, iPad or iPod touch under a wireless network. To do it, you only need to open "Settings" on your device and find the "iCloud" option. Then click it and select "Backup", turn on "iCloud Backup" here, and finally tap on "Back Up Now" button.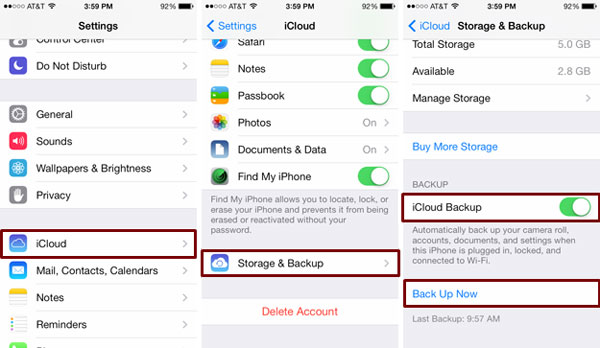 However, if you only wish to backup sections of your iDevice data, then it could not be a nice option to use the iTunes or iCloud because it is too time-consuming. Here, we'd like to recommend you to do this job with other applications. Coolmuster iOSRescuer could be one of the best among these apps on the Interent.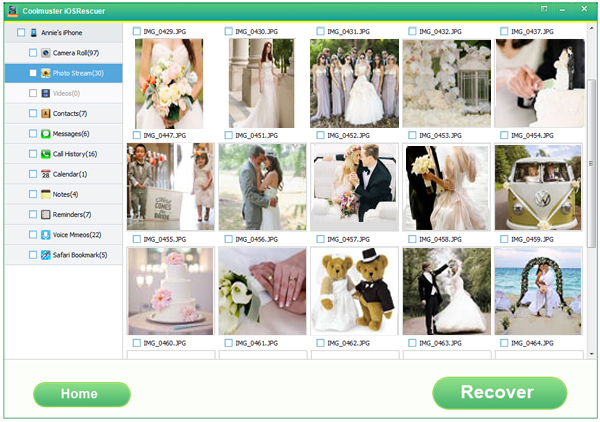 Can't Miss:
How to Backup iPhone Data with or without iTunes
How to Download and Install iOS 9 on Jailbroken iOS Devices?
To be simple, you can reach the goal with iTunes. Below is the detailed steps for your reference:
Step 1. Updating your iTunes to the latest version on your computer, then connect your iPhone, iPad or iPod touch to your computer by using USB cable.
Step 2. Launch iTunes on your computer, and on the top right corner, find the device button and click on "check for updates", then the available update will automatically downloaded and update on your device. Here, you can see a pop-up window that shows you a message of the available update. You can directly click on "download and update".
When the whole settings have been done, iTunes will inform you that the new iOS version is available on your device soon. And during the whole process, it is really important for you to keep the phone connected to your computer well. The whole update requires your iDevice have at least 2.1GB free space, so you may need to know something about solutions while there is no space to download iOS 9.
Related Articles:
Tutorial on How to Recover Lost Photos from iPhone