LINE, a free messenger service developed in Japan, is something that all of us have become immensely accustomed to. Much like WhatsApp or the Facebook Messenger, this application created right after the 2011 earthquake and Tsunami, offers a variety of interactive methods to connect us with our friends, loved ones and colleagues amongst an assortment of people.
Fun stickers, games to play with your friends and other utilities to download, LINE knows how to keep its customer base! It already has a list of 35 or more related applications available at your service and the user base is growing in unimaginable proportions.
Read More:
How to Transfer Photos from Laptop to iPhone? 4 Methods to Fix It
How to Transfer Music from Laptop to iPhone? (Proven)
Why do you need to back up Line Chat history?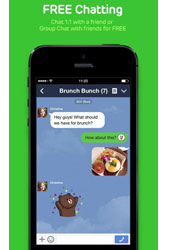 In the age of WhatsApp and Facebook Messenger, we depend on LINE a lot to help us connect with people. All iOS users who have used this application know how the free calling system in LINE is significantly better than anything else in the market! Private conversations ranging from problems in your love life to many serious discussions about your next office meeting are kept safely in this product.
It has been a steady prediction that the moment your phone is damaged or accidentally tampered with, all or a large chunk of your data is bound to be lost! That time when water got to your phone, or you accidentally hit factory reset, or that time when you did hit factory reset on purpose without realizing that it jeopardizes some amount of data stands testament to the truthfulness in this prediction! All of this also endangers the data you have on your LINE messenger accounts.
User Guide: Backup & Restore Line Chat History on iPhone
What do you do so that in the future you do not find all the blame coming to you for being irresponsible or careless the moment hours and hours of valuable and precious conversation in lost?
Do you take steps now, or do you wait till it happens and you have to cry your eyes out? Is it something that is avoidable in the first place? If so, then how?
All of these questions will be answered! You can absolutely avoid a scenario where all data is lost. Please have some faith. You do not wait for it to happen but take precautionary steps instead to prevent that!
- Backup Line Chat History
To backup and restore the LINE chat history on the device itself:
1. Sign in to the iCloud account.
2. Go to More – Settings – Chats and Voice Calls.
3. Select Chat History Backup – Back Up now.
- Restore Line Chat History on iPhone
The back up will be made on iCloud. Once this is done, and you do change your phone or something happens to the one that you've had, follow the steps to restore:
4. Open LINE.
5. Log in and use the registered email-id to carry over your account.
6. Tap Restore Chat History from Backup, when prompted.
Simultaneously you can also save chats as text files by selecting the Export Chat History.
Easier Way to Backup and Restore Line Chat History on iPhone
To Backup with LINE chats on your iOS device with a third-party tool you will be required to do the following. Here, just have a try of this Coolmuster iPhone Data Recovery software, which enables you to easily backup and restore line chat history within 1-2-3 steps.
1. Download the right version of this software.
2. Open the program and connect your device to the computer.
3. Select the "more tools" option.
4. After the application has finished detecting your device, click on the back-up LINE chat option.
5. Wait till the back-up process gets over and then review the files that have been saved.
Once all of this is done and you do need to restore them when time comes, these steps will make you sail through that confusing procedure:
1. After selecting the "iOS Line Backup and Restore", toggle the "View Previous Backup File".
2. A list of Line Backup files will appear on the screen.
3. Choose files and view them if you want to.
4. Select the chats that you want to be restored on the device.
5. After you are done, click on the "Restore to Device" option.
The Bottom Line
Done! Now you have learnt how to backup and restore line chat history on iPhone. Just give it a go if this is what you are looking for!
Related Articles:
How to Recover Deleted Kik Messages from iPhone
Easy Way to Unlock iCloud Locked iPhone
How to Save Instagram Videos to PC/Mac?
Full Guide on How to Access iPhone Files on PC without iTunes
How to Transfer Photos from iPhone to Laptop Easily? (Top 6 Ways)
[Fixed] How to Transfer Photo Albums from iPhone to PC with Ease?