Too many phone data like photos, videos, music, contacts, text messages, calendars, notes and more, can take up a lot of storage space on your iPhone. And except these files, many user storage files can be generated with our daily use, for example, every time that we connect to the internet, download a new app, listen to music on YouTube, or just to Facebook message a friend – a thousand little pieces of information about your visit are stored, in order to make your return visit more efficient. Whilst some of these can be useful, the majority very quickly become waste files, or pose a threat to your security.
The cache stores on your iPhone will fill up quickly, if you use it a lot, and the vast majority of the files have no real worth. For example, a lot of room is taken up by duplicate copies of synced data from software like iTunes. Any way, they are occupy many storage space on your iPhone and we must clean them as soon as possible. Here, we would like to introduce Coolmuster iOS Cleaner, which is a third-party tool to help you clear iPhone user storage completely and permanently. Why we need a third-party tool? Well, it is hard and impossible to find all unnecessary and junk files in iPhone, but iOS Cleaner can!
Why choose the Coolmuster iOS Cleaner?
Coolmuster iOS Cleaner is specially designed to delete internet browser history, caches download temp files, unneeded Safari cookies, call logs, email outboxes and many more private and junk files on iPhone. The best part is that it will never erase data without giving you the chance to confirm that it is junk first. In other words, it takes the effort and fuss out of freeing up space on your iPhone, without introducing any risk or danger to valuable files. It is also one of the few third party removal apps which eradicates every trace of your sensitive data.
Free download the iOS Cleaner to have a try. Read the following guide to see how to use it.
Solution of Deleting iPhone User Storage Files to Free up More Space
Step One: Launch iOS Cleaner and connect iPhone to computer
After you download and install the Coolmuster iOS Cleaner software, you can launch it directly and connect your iPhone to the computer via a data cord. The iOS Cleaner will detect the connected iPhone and show it on the program interface.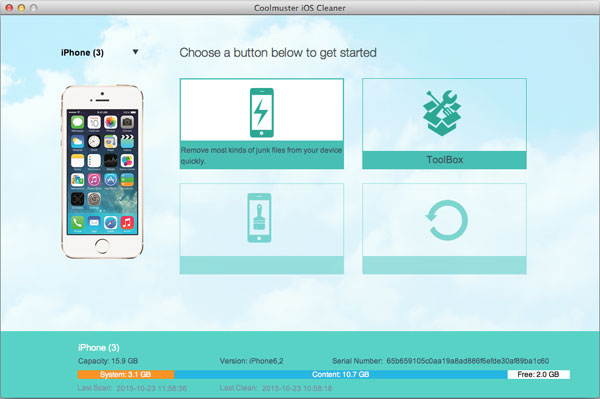 Step Two: Choose the user storage files to delete
The iOS Cleaner will scan your storage and show all cleanable junk files and private data in different categories, which you can check the files you want to delete and uncheck other files you think important.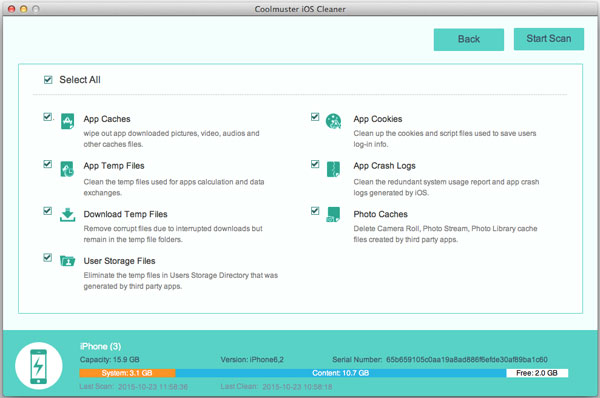 Step Three: Erase user storage files on iPhone instantly
After you selected all the storage files you want to erase from your iPhone, you can simply give a click on the big CLEAN button, and wait for the Coolmuster iOS Cleaner to complete the erasing process for your iPhone.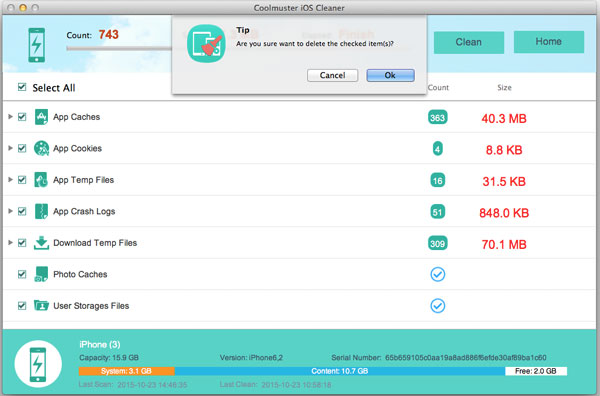 Quite easy, isn't it? If you are interested in this iOS data cleaning software - Coolmuster iOS Cleaner, you can download the free demo version in the below to give it a shot!
Related Articles:
How to Delete iPad Data before You Sell It
How to Retrieve Deleted Songs from iPod
A Full Guide to Recover Deleted Photos from iPhone