Protecting your iPhone data is paramount, particularly your contacts. When you have a backup readily available, you may easily restore your phone numbers if your device gets lost or damaged. Backing up your contacts is easier than you think. You can store all your contacts in the cloud without hassle. Are you curious about how to make this happen? We'll show you how to back up contacts on iPhone. Check out the different methods listed below to back up your iPhone contacts efficiently.
Part 1. How to Back Up iPhone Contacts Without iCloud
When it comes to backup iPhone contacts, the first method most people think of is iCloud. But, how do I back up my iPhone contacts without iCloud? Below are some methods you can try.
Way 1. How to Back Up Contacts on iPhone with Coolmuster iOS Assistant
Coolmuster iOS Assistant is the perfect tool for iPhone contact backup to the computer. It's powerful software that simplifies the task of managing all data on your iOS device. With easy one-click operations, you can easily transfer all kinds of data between your iPhone and PC/Mac, such as contacts, photos, videos, music files and much more. Regardless of the size or format, this professional software has made it easier to keep all your valuable content safe and sound to the PC.
It also provides users with other handy features: they can preview the data details before starting the transfer. On top of that, Coolmuster iOS Assistant allows users to add, edit or delete contacts freely on a computer. All in all, it brings ease of usability and efficiency. If you want to manage your iPhone data effortlessly, Coolmuster iOS Assistant is the perfect app for that.
Key Features:
Back up and restore everything on iPhone/iPad/iPod with 1 click.
Transfer data between an iPhone or iPad and your computer effortlessly.
Widely compatible with all generations of iPhone, iPad and iPod.
Support different files like contacts, messages, photos, videos, music, notes, bookmarks, books, calendars, apps and many more.
Here's how to back up iPhone contacts through Coolmuster iOS Assistant:
01Download and install Coolmuster iOS Assistant and connect the iPhone to the computer using a USB cable. Tap Trust to continue.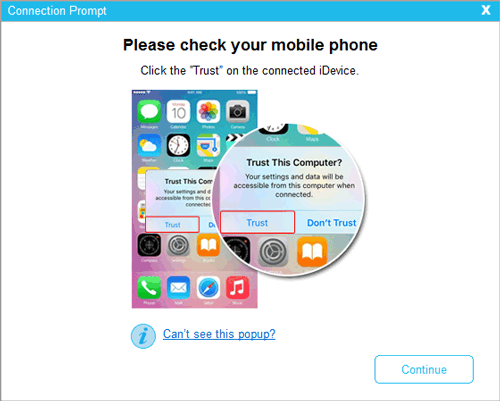 02When successfully connected and detected by the software, you'll see information about your device on the interface.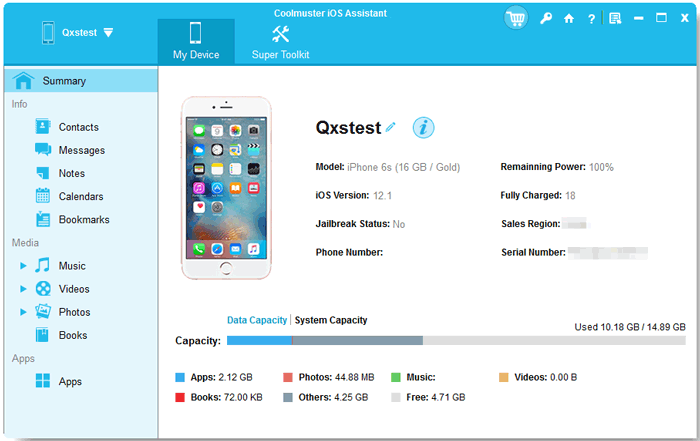 03Select the Contacts option from the left window. Preview the files and check those contact lists you want to back up. Afterward, hit the Export icon at the top of the interface to save your contacts list to the computer.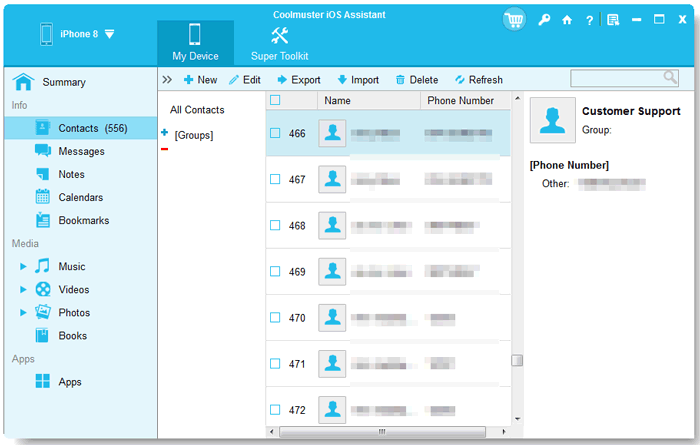 Learn More:
How to Back Up iPhone to Laptop in Minutes: A Complete Guide
How to Back Up Text Messages on iPhone Without iCloud? [6 Proven Ways]
Way 2. How to Back Up Contacts on iPhone with iTunes
iTunes is the default program that can help you backup an iPhone, but it isn't the ideal choice when you only need to back up your contacts only. Instead of syncing all iPhone content, you can use other methods mentioned in this guide to target only your contacts.
But if you are okay with backing up all of your iPhone contents, including contacts, then here is how:
Step 1. Start by installing the latest version of iTunes on the computer and connect the iPhone to the computer using a lightning cable.
Step 2. Immediately you connect the phone, iTunes will launch automatically. If not, you can open it manually.
Step 3. Locate the Device tab and choose the option of This Computer, then tap Back Up Now. Your valuable contact info will be securely stored in iTunes.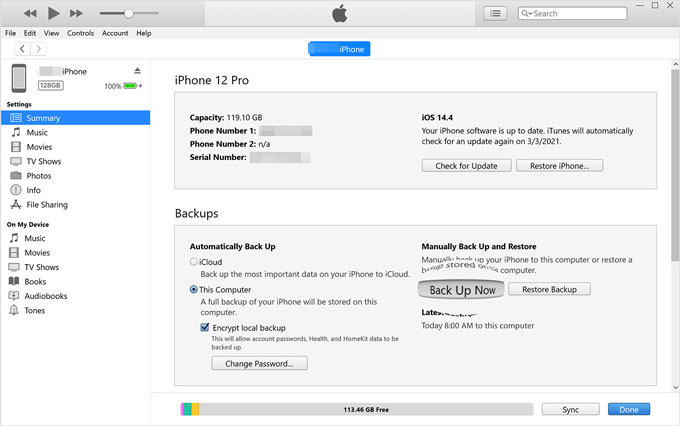 Way 3. How to Back Up Contacts on iPhone via Google Drive
How do I back up my iPhone contacts without iCloud? You can use Google Drive. It makes the backup process a breeze. No more manually entering contact information and simply syncs with Google Contacts. As long as the contacts aren't from third-party apps, you can back them up without a problem. After just a few clicks, you can view your backed-up info across devices.
Here's how to back up contacts on iPhone with Google Drive:
Step 1. Download and install Google Drive on your iPhone.
Step 2. Now it's time to start backing up your contacts to Google Drive. Open the app on your iPhone and click the menu icon in the top left section.
Step 3. Open the settings page by tapping the menu icon, and you will be brought to a section of options. Choose Backup and press on Start Backup.
You May Like:
4 Ways to Transfer Contacts from iPhone to Computer? [Fast]
How to Copy Contacts from iPhone to SIM (4 Feasible Ways)
Way 4. How to Back Up Contacts on iPhone via AirDrop (Mac)
AirDrop is a great feature that allows users to share content between Apple devices. You can effortlessly share crucial contacts and memorable photos with a loved one in seconds. Just ensure both devices have their WLAN and Bluetooth features on, and they should be closer to each other. However, be aware that only some devices are compatible with AirDrop, so check beforehand. Also, you can only share one content at a time. Here' s how to save contacts on an iPhone:
Step 1. For Mac users, open Finder and navigate to AirDrop. Make sure Bluetooth and Wi-Fi are turned on before setting the Allow me to be discovered by field from Contacts Only or by Everyone.
Step 2. To transfer contacts to your Mac from your iPhone, locate the individual's profile and select Share Contact. You will be prompted with another window asking you to choose the name of your Mac.
Step 3. Go to your Mac and choose Accept to receive and save iPhone contacts.
Part 2. How to Back Up Contacts on iPhone via iCloud
It's wise to back up your iPhone contacts to keep them safe. For iOS users looking for a cloud storage solution to save your contacts to, consider using iCloud. It is the most convenient cloud storage service for Apple users. Although Google is another alternative option, iCloud may be the optimal solution for Apple enthusiasts. Here's how to save contacts on an iPhone with iCloud:
Step 1. Open your iPhone and head to Settings. Tap on your name, then choose iCloud.
Step 2. Activate the iCloud Backup option by moving the switch to On. If you see a dialog box asking if you would like to merge or cancel, click on Merge for your iPhone contacts to be backed up safely in iCloud.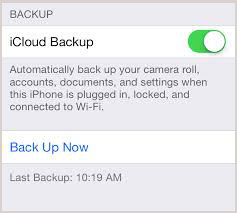 If you want to only back up contacts instead of all content available on your iPhone, you should sync them with iCloud. Here are the steps:
Step 1. Open your Settings app and click on your name.
Step 2. Next, access iCloud and then to turn on Contacts. This will ensure all iPhone contacts are backed to a secure iCloud server.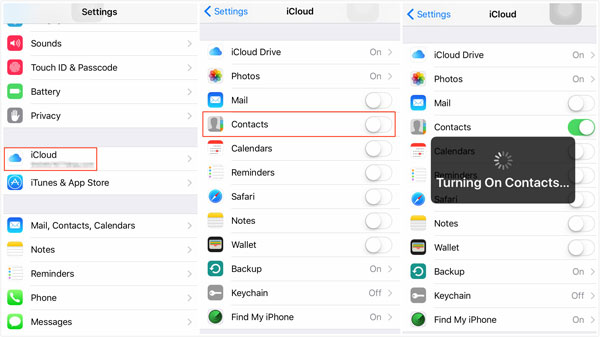 Furthermore, if you have used the same Apple ID on other Apple devices for contact storage, those contacts will be seamlessly synced and merged with your iCloud backups.
Further Reading:
5 Ways to Sync Notes from iPhone to Mac in 2023
[3 Ways] How to Transfer iBooks from iPhone to PC
Bonus: Back Up Your Data Regularly to Prevent Data Loss
Keeping a backup of your iPhone files is essential. This ensures that your important information will be safe and secure. Besides, when you decide it's time for an upgrade, you won't have to worry about losing those essential contacts. Here' s what to consider when making a backup of your contacts and other files:
1. At least have two copies of your contacts
To protect your iPhone contacts, it is paramount to make two copies. One in the cloud and the other stored offsite. This guarantees that you can access all contacts remotely with an internet connection and adds security levels if a data breach, hack or malware occurs on your device.
2. Make sure you have enough storage
No matter the storage plan you currently have, whether cloud or offsite, make sure the capacity is enough to accommodate all your files. Consider adding extra capacity, if needed, to make your backup successful.
Creating multiple backups may seem time-consuming. However, the effort put in will be worth it if a disaster strikes. It is advisable to back up your data regularly such that whenever you switch to a new device, you will easily find your data safely stored either in iCloud, computer, or even iTunes. All you will do is to restore them to your new device.
Final Words
Don't leave your precious contacts to chance; protect them against unexpected data loss with multiple backups. From Coolmuster iOS Assistant, iCloud and iTunes, right through to Google Drive, there are myriad ways to safeguard your iPhone's contact list, just in case disaster strikes. Coolmuster iOS Assistant is the most efficient way to back up contacts from your iPhone to your computer. It's a professional software for managing iOS devices, which allows you to export contacts and other data like photos, videos, music files to your computer to keep it safe. Backup your iPhone from now on.
Related Articles:
How to Back Up iPhone without Passcode [Simple Guide]
How to Back Up Viber Messages on PC? (Fixed)
How to Back Up an iPhone Directly to an External Hard Drive on Windows or Mac?
Top 8 Ways on How to Transfer Files from PC to iPad (Step-by-step)
How to Do SMS Backup and Restore for iPhone? (Best SMS Backup Apps)