It can be depressing if you accidentally delete photos from your iPhone. And if you have yet to make a backup, it becomes a disaster. This means you will lose them permanently. But, if you act fast, you can be lucky to get back your precious photos. In this guide, we'll uncover all possible ways to recover permanently deleted photos from iPhone without backup. So, if you discover your pictures are missing from your iPhone, this guide has the solutions. These workarounds will surely save the day. Read on to learn about them.

Method 1. How to Recover Lost Photos from an iPhone Without Backup via a Professional Tool
Thought recovering deleted photos without a backup isn't possible? Not at all. But, to do this efficiently, you need a professional tool that can scan your iPhone to extract the deleted files. iPhone Data Recovery is the best choice.
With this tool at your disposal, you will recover your lost photos, regardless of the time of the deletion. Its ability to restore deleted data without data loss and at a surprisingly fast speed sets it apart. The tool is popular with millions of users worldwide. This is your option if you need to restore your photos quickly without a hitch. Apart from restoring files from iOS devices, it can also be restored from iTunes and iCloud. It is an expertly crafted tool that offers different data recovery modes.
It recovers deleted files in just three simple steps without much hassle. You don't need to be tech-savvy to use this tool. Besides photos, you can also recover messages, calls, videos, etc from iPhones without data loss, lags, or virus risks. It supports most iPhone models, including the latest iPhone 14 and the latest versions.
Main Features of iPhone Data Recovery
Scan the iPhone for deleted pictures and restore them with no backup.
Restore more than 35 data types from iPhone, including photos, videos, calls, contacts, etc.
Allow data preview before recovery.
Quick and easy to use in 3 easy steps.
Support iPhone 14/13/12/11/XS/XR/X/8/7 and newer versions.
No data loss when restoring the deleted files.
Here's how to recover photos that were not backed up on iPhone easily:
01Install iPhone Data Recovery on your computer. Run it and link your iPhone to the PC with a lightning cable. Unlock the device and hit the Trust option on the phone.
02Select Recover from iOS Device mode from the screen, then tap the Start Scan tab to initiate the scanning of deleted files.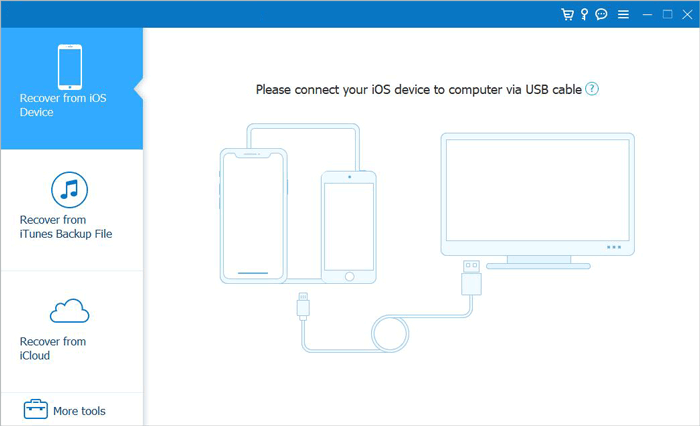 When the files have been scanned successfully, they'll be displayed on the interface in categories. The scanning procedure may take a long time if your files are too large. Just wait patiently.
03Click on the Media category on the left panel to open the images on the right. Preview as you select the photos to restore.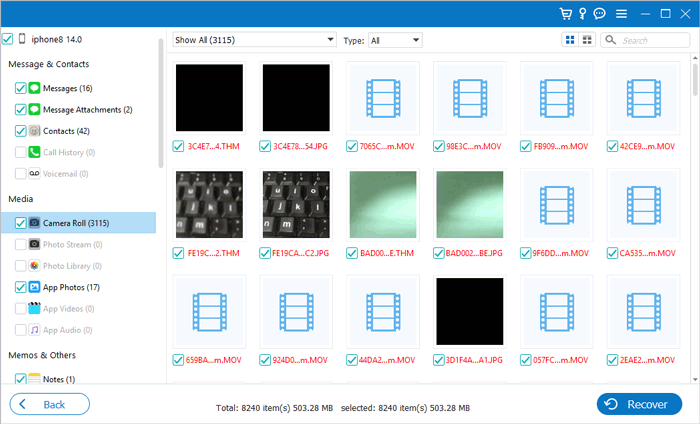 Select the photos you want and hit the Recover tab. All your deleted photos will be transferred to the computer.
Read more:
13 Best iPhone Recovery Software in 2023 (Detailed Reviews)
WeChat Recovery|Recover Deleted WeChat Photos/Videos/Audios from iPhone
Method 2. How to Recover Permanently Deleted Photos on iPhone Without Backup via iPhone Feature
Did you know that when any file is deleted from your phone, it doesn't get deleted permanently? Instead, it is stored in a folder on your phone for some time. The Recently Deleted folder only keeps deleted files for 30 days, after which they are deleted permanently. So, you can try your luck and see if your photos can be recovered. Remember, when a file is deleted from this folder, it won't be easily recoverable unless you use a professional data recovery tool.
Here are steps on how to recover permanently deleted photos from the gallery without a backup of iPhone:
Step 1. Click on the Photos application, locate the Albums option, and click on it.
Step 2. Choose the Recently Deleted option and click Select, then tap on the pictures you wish to restore.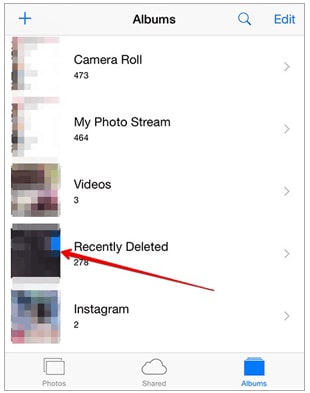 Step 3. After selecting, click on Recover and Recover Photos. All the deleted photos will be restored to their original location on your iPhone.
If you've been wondering how to recover iPhone pictures without backup for free, you have a way. If you act quickly, you can get back your files. However, remember, it should be no more than 30 days.
Read also:
[Fixed] How Can I Get Pictures Off A Broken iPhone?
[Lost iPhone Data Recovery] How to Recover Data from Lost iPhone Easily?
FAQs
Are my permanently deleted pictures on my iPhone gone forever?
It depends on how the photos were deleted. Generally, if you delete images from an iPhone, they will be stored in the Recently Deleted album for 30 days. So, it's still on the phone unless you remove it. Even when you empty the folder, it will still be available on the device. The phone's system marks these files useless until new files overwrite it.
When you delete a picture from your iPhone by mistake, do the following:
Do not add new files to the phone since the deleted photos can be overwritten and thus not easily recoverable.
If you never create a backup, find reliable recovery software to avoid the risk of data being overwritten and recover them instantly.
What to do to prevent data loss?
Data backup is a crucial step in preventing data loss. Often, your precious photos hold sentimental value. Losing them due to accidental deletion, device failure or any other unforeseen scenario can be disheartening.
To lessen the chances of data loss, it is necessary to back up all your precious files, especially pictures. You can save them on a computer or a cloud storage service.
To save iPhone photos to the computer, take a USB and link the iPhone to the PC. Unlock the phone and tap the Trust option to trust the PC.
Next, head to This PC and tap on your iPhone's name. Open the Internal Storage and open DCIM to find the 100APPLE folder. You will find all your photos in this folder. Choose the images to copy to the computer.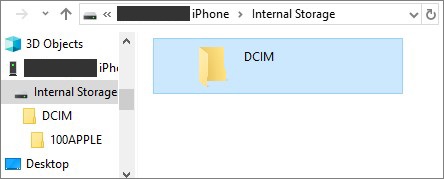 Conclusion
Can permanently deleted photos be recovered without backup? Yes. This article has outlined various ways to do that. However, using a professional data recovery tool could be the only option to restore permanently deleted pictures from the iPhone without a backup. iPhone Data Recovery is the most recommended tool as it can help you recover your precious photos without a back in a snap. Overall, its ease of use and efficiency make it a dependable tool.
Related Articles:
How to Recover Deleted Songs from an iPhone with or without a Computer? (4 Practical Methods)
4 Ways to Recover Photos from Dead iPhone (All-inclusive)
iPhone App Data Recovery: How to Restore App Data on iPhone
[Stepwise Guide] How to Recover Voice Memos from iTunes Backup?
[Answered 2023] How to Restore without iPhone Backup Password?
[Simple Guide] How to Recover HEIF (.heic) Images on iPhone and iPad?