When you newly bought an iPad and used it, you just found it could load web pages on your browser app and conduct searches faster than your friend's Android tablet so you would always have the answer to that trivia question first. However, as the use time is becoming longer and longer, the running speed of your iPad also becomes slower and slower. You just don't know why that happens because you haven't downloaded that many apps, so you still don't understand why it plays video so reluctantly and why its performance is not what it used to be. To tell you the truth, there are a lot of invisible junk files on your iPad when you surf the Internet, play apps and even upgrade the iOS.
It is no time to lose in cleaning those junk files from your iPad. Using a self-cleaning app from the App Store often means you have to deal with advertising from that developer's company and are bombarded with ads and offers for other apps they're trying to sell you. And often their interface makes it easy for you to erase or delete data that may be vital to the operation of your phone by misidentifying it as superfluous content that can make your phone faster if removed. Coolmuster iOS Cleaner is such kind of tool to clean junk files, app caches, app cookies, temp files, app crash logs, photo caches, user storage files and more useless data from iPad Pro, iPad Air, iPad mini, iPad 9/8/7, etc.
In addition to erase all types of junk files from Apple iPad, Coolmuster iOS Cleaner is also able to delete junk files from your iPhone and iPod. All in all, this software is specially designed for iOS users and you can feel free to download it on your computer, no matter you are using Windows PC or Mac machine. The following tutorial will guide you through the process of erasing your iPad's junk files by using this iOS Cleaner on Windows platform. Mac owners follow the same way.
How Do I Delete Junk Data from iPad with iPad Data Cleaner?
Step 1: Connect your iPad with the computer
Simply download this iPad data cleaning software for free on your computer, install and launch it to get ready. Then, connect your iPad to this computer and after the connection, the iOS Cleaner will detect the device and you will see its window pops up. Just click "Quick Clean" to go to the next step.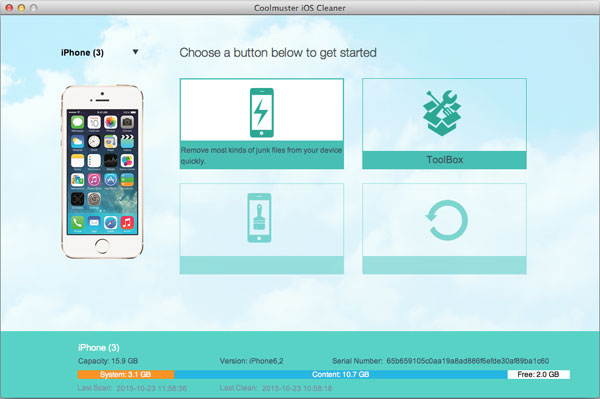 Step 2: Scan your iPad for junk files
You'll see all the types of junk files iOS Cleaner can remove. Mark the junk files you want to clear. If you don't want to remove a particular kind of junk file (for example if you want to keep the cache file cookies that enter user passwords for you on certain websites), simply click on the blue switch button on the right to turn it off so it won't be deleted.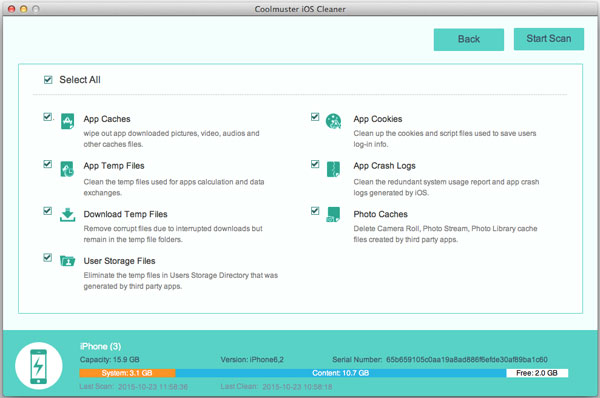 Step 3: Clear junk files from iPad
When you are ready, give a click on the "Clean" button and the iOS Cleaner will begin to erase all the selected junk files from your iPad. There will be a progress bar appears, showing you how much data has been deleted.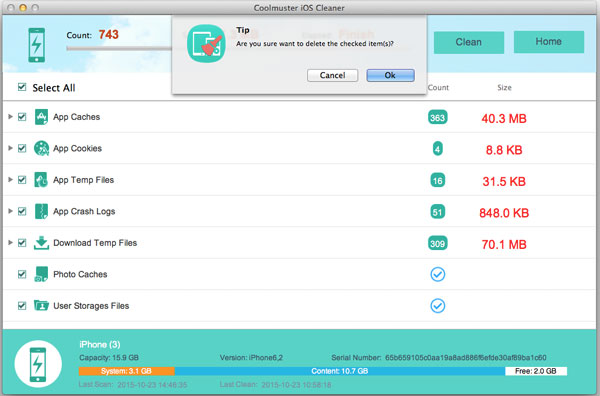 Have a lot of junk on your iPad? Let Coolmuster iOS Cleaner tell you how easy it is to clear all junk files on iPad and how much room you can spare on your iPad.
Related Articles:
How to Erase App Cookies on iPhone
How to Retrieve Deleted Songs from iPod
Back Up Text Messages on iPhone Without iCloud?