If you are one of the many millions of iPad users who could not live without its rather handy camera function, you probably have a lot of great image galleries stored on your device. In fact, the remarkable popularity of selfie sticks has got us all snapping pictures – on our holidays, at work, on nights out with friends, at family dinners, and on special occasions. The only downside to iPad and iPhone cameras becoming so advanced is the fact that the more sophisticated the images get, the more space they inevitable take up on our devices. Therefore, many people choose to backup iPad photos on computer.
However, every time that you transfer an image from an iPad to a computer, the iOS constructs another photo cache store. If you want to stop these duplicate images from taking up precious space on your iPhone, you need to use a third party app like the Coolmuster iOS Cleaner tool to get rid of junk files safely and securely. This tool is a third party app which will help you clear photo caches on iPad with the minimum of fuss and effort. This resource is a great way to erase lots of images or other forms of data in an instant, so that you do not need to spend a lot of time deleting files one by one.
As it is 100% secure and erases data completely (so that it cannot be recovered), you do not have to worry about keeping sensitive or private content safe. With the help of the Coolmuster iOS Eraser tool, any photo caches that you choose to clear will be gone for good – nobody can trace, recover, or access them once they have been deleted. It also remove app caches, webmail caches, temp files and other junk files from iPhone, iPad and iPod.
Plus, the entire process takes just a couple of minutes and will leave you with a rejuvenated iPad, full of extra life and free space. If you want to clear photo caches on iPad Pro/Air/mini/9/8/7, there is no better tool than this one.
3-Step Guide to Delete Photo Caches from iPad Permanently
Step 1 - Connect your iPad to your computer
Install the application on a computer and then launch the software. This should be easy to do, as a Coolmuster interface will appear and invite you to start the clearing process. Now, connect your iPad to the computer with a USB cord.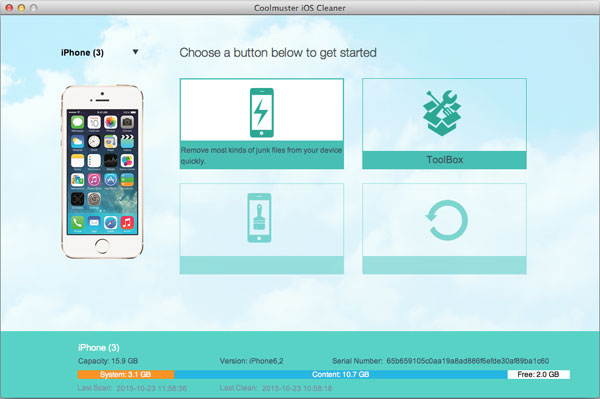 Step 2 - Choose the data cleaning mode you want
After the iPad has been recognized, hit the CLEAN UP button within the Coolmuster interface. You should now see another smaller window appear and give you an estimate of how much storage space there is left on the device.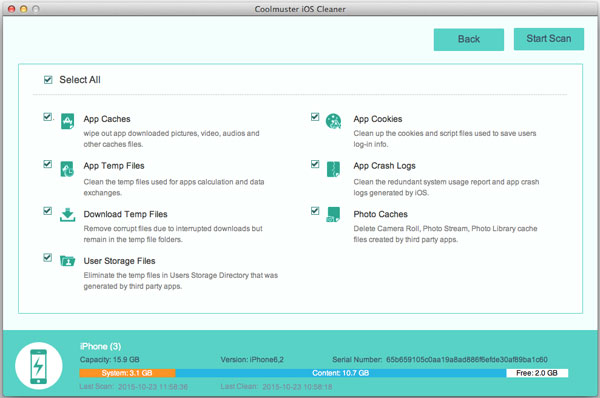 Step 3 - Start to clear iPad photo caches
Now hit the START SCAN function and the Coolmuster iOS Eraser tool will locate all duplicate photo caches on the iPad. It will display them in a list within the Coolmuster interface, so that you can decide which ones are to be kept and which are to be cleared. Once you are ready and have checked the unwanted files, hit the ERASE button. The removal should take just a minute or two.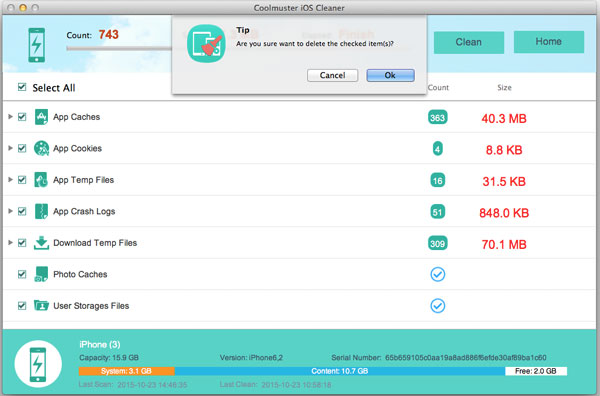 Conclusion
With the help of Coolmuster iOS Cleaner, clearing photo caches on your iPad is a quick and effortless process. It can ensure that all photo caches you choose to delete are permanently erased from your iPad, leaving no trace behind.
Related Articles:
Recover Deleted Voice Memos on iPhone via 4 Methods