Voice Memos application plays an essential role for many iPhone users. It's a simple, intuitive way to capture and share voice recordings. Those people who are singers, composers, etc., can use the application very well. Other than that, they can generate voice notes to document some class content, talks, ideas, and occasionally bits of exhibits that might be utilized in settling disputes.
However, unexpected things happen, and we find that what we've long thought was secure and precious to us is gone. Fortunately, there is a way to recover your voice memos that were deleted from the iPhone. Continue reading this article to learn how to recover deleted voice memos.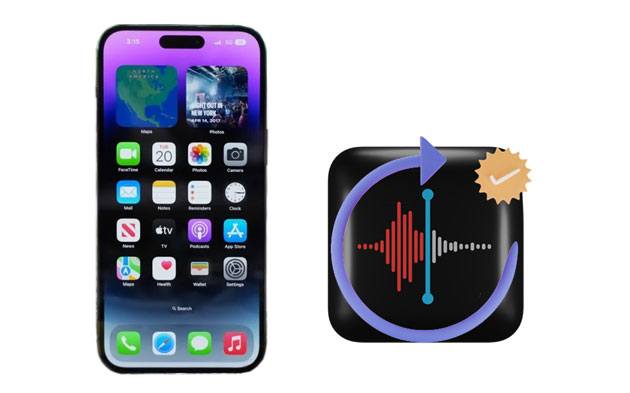 Part 1: Where Did My Accidentally Deleted Voice Memos Go on My iPhone?
Once you delete your iPhone's voice memos, they are not removed from the gadget immediately. All iOS devices use SQLite databases. Before erasing the data on the SQLite database, it's kept in the "Allocated" data memory space.
After the data is erased, it is swapped from "Allocated" memory space to "Unallocated" memory space. Thus, any time you erase anything from the iPhone, it's not immediately removed from the storage system. Obviously, you cannot view deleted data, but you can recover it.
Other than that, one major concept you are obliged to know is when new information is formed and occupies the memory in "Unallocated", the erased data becomes overwritten and eliminated. Thus, it would help if you ceased using your gadget after clearing the voice memos. If you continue using the device, you risk overwriting and permanently losing them.
Part 2: How to Retrieve Deleted Voice on iPhone via Recently Deleted Folder
When you accidentally delete voice memos from your iPhone, they are taken to the folder known as Recently Deleted. The recently erased voice notes are stored in this folder for about one month and then erased forever.
Find erased voice memos in a folder called Recently Deleted:
Step 1: Access Voice Memos from the iPhone, and click on the folder for Recently Deleted.
Step 2: Choose the memo you desire to retrieve, and click on the button called Recover.
Step 3: Click the Recover Recording tab to get the voice memos back.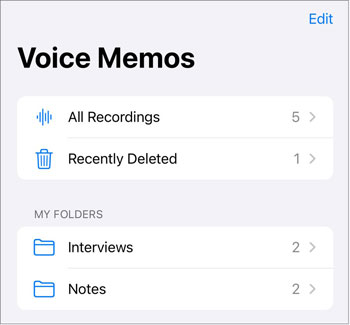 See also: Can you recover photos from an iPhone without iCloud? Yes, open this guide and you will know how to do it.
Part 3: How to Get Voice Memos Back Using iTunes Backup
You can use your iTunes backups to restore your iPhone's lost data. But this way will restore all the backup data to your iPhone, so the current data will be replaced.
Follow the below step-by-step guide to get back your voice memos from iTunes backup:
Step 1: Open the iTunes application on your laptop and connect your iPhone to the computer using a USB cable.
Step 2: Tap the iPhone icon and click on the Summary button.
Step 3: On that menu, tap on Restore Backup, and choose the backup you want to restore from the drop-down menu. Then click on the Restore button.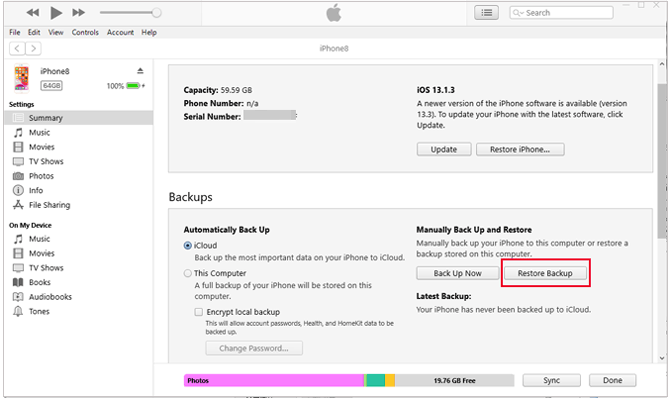 Learn more: Want to restore your contacts from your iTunes backup to your iPhone? Then you can use these proven solutions.
Part 4: How to Restore Deleted Voice Memo on iPhone Using iCloud Backup
If you did not successfully restore your voice memos from your iPad or iPhone via iTunes or the Recently Deleted folder, you could still recover them using iCloud. iCloud is Apple's formal cloud storage account, which allows you to back up your messages, voice memos, contacts, photos, and other information and get them back to your iPhone when needed.
You can recover your voice memos via iCloud more easily if you regularly make backups on your iCloud. However, to recover your data using iCloud, you will need to delete all the settings and content on your iPhone. And it is good to know that data not included in the backup cannot be restored. As such, it is prudent to back up all your essential data.
Here's how to restore and access old voice memos on an iPhone via iCloud backup:
Step 1 Open the Settings application on your iPhone and click on General > Reset.
Step 2: Click the Erase All Content and Settings option, and allow the erase everything option when prompted.
Step 3: Follow the on-screen instructions to set up your iPhone. Click on Restore from iCloud Backup on the Apps & Data screen.
Step 4: Sinto to your iCloud account using your Apple user ID and password. After that, begin the restoring process by clicking on the backup that has your voice memos.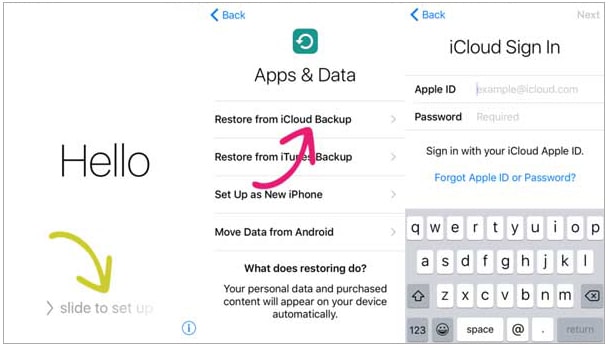 Perhaps you like: How to View My iTunes Backup Files with or without Restoring Data? (Solved)
Part 5: How to Recover Deleted Voice Memos on iPhone without Backup
The iOS system is perceived as the strongest of all other systems in many users' minds. Let's say it fails, and your essential voice memo gets lost. Or, you remove the voice memo by mistake. At the same time, you don't have any memo backup on iCloud or iTunes. Then how to complete your iPhone voice memo recovery? A trustworthy choice is to use this iPhone Data Recovery software.
This iPhone memo recovery software is a professional and powerful tool used to recover iOS data without backup. In addition to voice memos, it can recover deleted iPhone contacts, photos, text messages, WhatsApp data, etc. Of course, you can restore your iTunes backup data to your iPhone selectively. In a word, it is a simple way of recovering your iPhone's data with or without backup.
Key features of this recovery software:
* Retrieve lost voice memos back to your iPhone without effort.
* Recover deleted pictures, text messages, call history, contacts, and other files on your iPhone.
* Easily restore data from iTunes and iCloud backup.
* Fully scan your iPhone memory.
* Support many iPhones, iPads, and iPod touch, like iPhone 14 Pro, iPhone 14, iPhone 13, iPad Pro, iPad Air, iPod touch 7, etc.
Download this iPhone voice memory recovery tool.
How can I retrieve a deleted voice memo on my iPhone via this software:
01Download and Install the Recovery Software
To begin, you need to download and install the software on your computer. Launch the application and connect your iOS gadget to your computer using a USB cord. You must unlock your device and tap on the Trust pop-up if you use iOS 11 and above devices.
02Recover from iOS Device
Select the Recover from iOS Device option and tap on the Start Scan to begin scanning for your files. All the files available on your device will be listed in categories.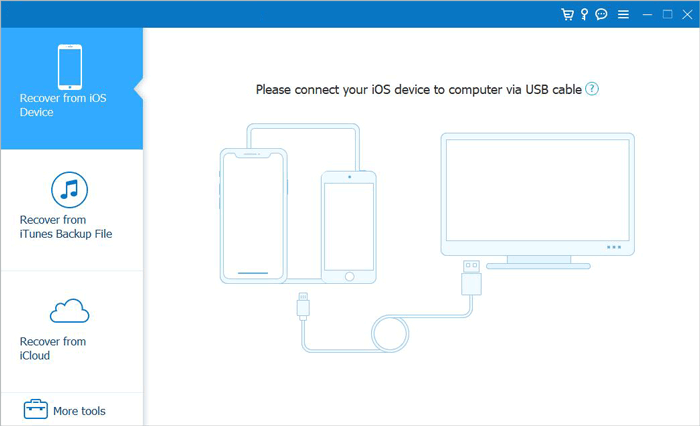 03Recover Voice Memos on iPhone
After the scanning process is completed, all your files will be listed on the main interface. Click Voice Memosn to see all the recoverable voice memos. Select the voice memos to restore and click the Recover button.
Guess you need: How can you recover deleted text messages from your iPhone? Read this full guide to get effective recovery methods.
Bonus Tip: How to Prevent Your Voice Memos from Getting Lost?
It could be a nightmare if you misplace important voice memos or other information from your iPad or iPhone. Perhaps it can be an expense in terms of the time of locating the voice memo. Thus, we ask that you stick to the following easy tips to prevent such unforeseen challenges:
* Safeguard your gadget from malware or virus attacks.
* Ensure you have the latest backup of the iPhone.
* Make sure that all the memos have been backed up.
* Before you begin documenting the voice memo, ensure that a lot of unused space on your phone is available.
* Prepare an identical copy of all main voice memos at all times, then keep them on various gadgets.
Conclusion
You should not panic whenever you discover that you have deleted one of your crucial voice memos since you can retrieve them via these easy approaches. If, by any chance, you delete your voice memos from your iPad or iPhone in less than 30 days, the initial method shall work for you efficiently. Nevertheless, suppose you didn't do a backup. In that case, you can only use the iPhone Memo Recovery software as it is a suitable solution to get your deleted data back without backup. Thus, please don't wait! Attempt it right now.
Related Articles:
How to Transfer Files from Android to iPhone [Full Solutions]
5 Ways to Sync Notes from iPhone to Mac Seamlessly
11 Ways to Import Contacts to iPhone [Full Guide]
How to Restore Reminders on iPhone Swiftly: FAQs and 3 Easy Solutions
How to Recover Data from Broken iPhone with or without Backup?