Sometimes iPhones are assigned to employees of businesses and people put lots of personal information on a work phone. When they move on to another employer and the times comes for them to turn in this work iPhone, they run the risk of having a lot of private data and information accessed by a total stranger due to the simple fact that their new boss gave a stranger their old iPhone. Furthermore, while restoring your iPhone to its factory settings may delete this information, it's not permanently erased. There are plenty of programs that can retrieve data that is not hard wiped from any mobile device. This is why is can be essential to completely erase all privacy info from an iPhone without the possibility of retrieval by anyone.
This is why Coolmuster iOS Cleaner is a must own for anyone who foresees switching to a different mobile device when they already have private information stored on their current iPhone. This third party software lets users delete junk files like app caches, cookies, app temp files, crash logs, downloaded temp files, photo caches, user storage files, iTunes radio history as well as private data such as call history, browsing history, Safari cookies, Safari caches, iOS notifications, and app orphaned files. This has the added benefit of speeding up this mobile device that gets slowed down due to excess memory use by all that data. This software can be downloaded to any PC or Mac desktop/laptop computer.
Coolmuster iOS Cleaner works for all iOS devices such as the iPhone 14 Pro Max/14 Pro/14, iPhone 13 Pro/13/12/11/X/8/7/6, iPad Air, iPad mini, standard iPads 9, 8, 7, 6 and iPod touch 7/6/5/4. Erasing privacy info from your iPhone with iOS Cleaner is dazzlingly simple. First, download the software from the link below onto your PC or Mac while your iPhone is connected to it via USB cable. Then, follow these three easy steps to erase privacy information from your iPhone:
Tutorial: How to Completely Erase Visible&Hidden Privacy Info on iPhone?
Step 1: Launch iOS Cleaner on your PC
Launch the software. You will see an icon at the top of the app's window displaying your iPhone as well as a bar displaying how much data is on your iPhone as well as differentiating between system and content data. In the main window, you will see four larger function icons (Quick Clean, Deep Clean, Toolbox and Restore). Click on the Quick Clean icon. It will display the kinds of data that function can erase.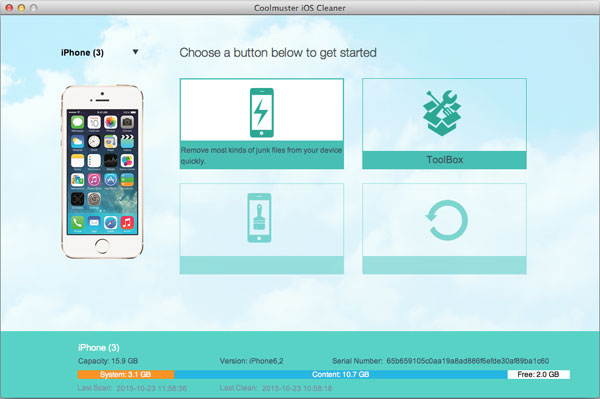 Step 2. Connect your iPhone with computer
Connect your Apple iPhone to your computer. Go to the program window and hit the button marked "Start Scan". After iOS Cleaner has scanned your device, it will display all the scanning results and the kinds of data you can remove. It will even organize this data into subcategories and allow you to inspect and check each category to make sure you only erase data you no longer need or have saved elsewhere.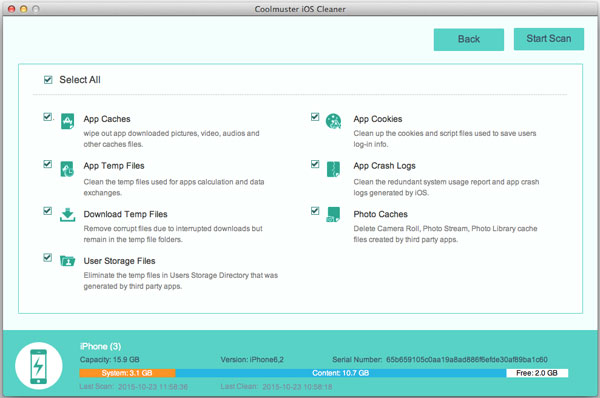 Step 3. Start to erase privacy information from iPhone
Finally, hit the button marked "Erase" to erase the desired data from your iPhone. After it's done, a display showing how many items were removed and how much space has been saved will pop up.
Conclusion
Your iPhone is now ready to got back into the world, free from any trace of your private information. With Coolmuster iOS Cleaner, you can confidently switch to a new mobile device, knowing that your personal data is securely erased.
Related Articles:
How to Clear Google Search History on iPad
How to Clear iPhone User Storage Files
Practical Android Phone Cleaner Apps