"I'm stuck and frustrated. My iPhone 7 is stuck zoomed in on my lock screen! I have tried the three-finger double-tap, held down the Power button to power it off, and pressed down the Power and Home buttons to reset it, but it doesn't do anything. I went to go onto iTunes to reset it. However, I need to have my phone unlocked to do anything with it. I'm at a loss and need some help."
- Excerpted from Apple Discussions
Get your iPhone stuck in zoom mode accidentally? Don't worry. Try the eight troubleshooting solutions below to get it fixed to normal.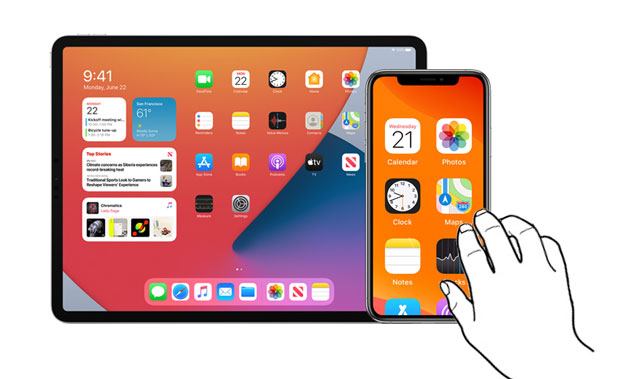 Part 1. Why Does My iPhone Get Stuck on Zoom?
Part 2. How to Get Rid of Zoom on iPhone/iPad
Part 1. Why Does My iPhone Get Stuck on Zoom?
You may wonder why your iPhone/iPad screen zoomed in stuck before getting it repaired. Many common scenarios may cause the problem of iPhone home screen stuck on zoom, such as:
You have enabled the zoom mode. One reason for the magnified screen is that you or someone else have turned on the Zoom mode feature on your iPhone or iPad. If you didn't disable it, it might cause this issue.
Software glitches. The iPhone magnified screen stuck when a minor bug or glitch appeared on your device, especially one of the core files altered or corrupted.
Other system issues. If the iPhone's operating system went wrong, the iPhone screen stuck in zoomed in. Besides, it might also cause other errors on your iPhone.
Part 2. How to Get Rid of Zoom on iPhone/iPad?
Now that the iPhone screen zoomed in, how to fix it to normal size? The following solutions will help you swiftly get out of zoom mode on your iPhone.
Way 1. Triple-finger Tap
The easiest way to get your iPhone out of zoom mode is using a touch-screen gesture. Here's how to exit zoom mode on iPhone.
Double-tap the iPhone screen with three fingers simultaneously.
The iPhone screen will immediately return to the normal view mode if successful.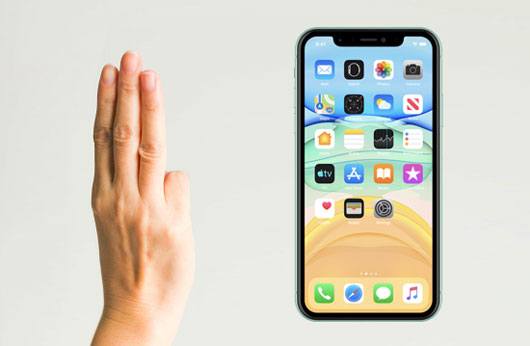 You might also need:
Your iPad won't restore via iTunes? To solve this issue, you can browse these tips.
Why can't the messages on an iPhone be synced to Mac? You can find out the reason and fix it without a hitch.
Way 2. Reboot iPhone or iPad
If the triple-finger tap does not work for exiting zoom mode, you can restart your device to solve the problem.
Let's check how to get out of zoom on iPhone?
To reboot iPhone X or later:
Press and hold either one of the Volume buttons and the Side button together.
Drag the slider from left to right to turn off your iPhone.
Press and hold the Side button to power your iPhone on.
To reboot iPhone SE (2nd generation)/8/7/6:
Press and hold the Side button for a while.
Drag the slider to turn off your device.
Press and hold the Side button to power it on.
To reboot iPhone SE (1st generation)/5 or earlier:
Press and hold the Top button for several seconds.
Drag the slider to power off your iPhone.
Press and hold the Top button to turn your iPhone on.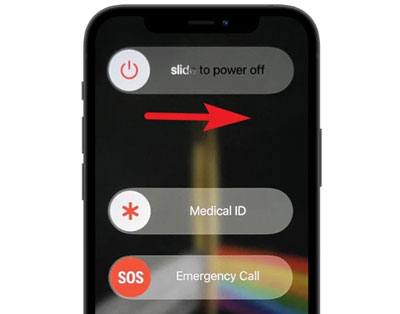 Way 3. Disable the Zoom Feature on Your iPhone
If you can access iPhone's Settings, follow these steps to switch off the Zoom mode feature.
Open iPhone's Settings > Accessibility.
Select Zoom > disable Zoom.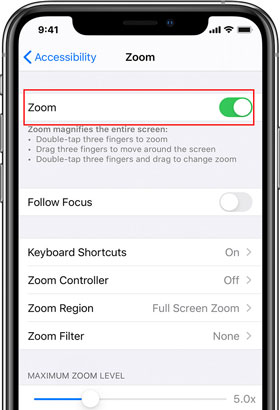 Read also:
You can fast put your iPhone into the DFU mode with this guide. Let's check it out.
This article can help you bypass iPhone passcode without a computer.
Way 4. Press the Home Button
Another way to fix the iPhone stuck on zoom issue is to exit zoom by tapping the Home button three times. You can refer to the steps below.
How to undo zoom on iPhone?
Go to the device Settings > General > scroll down to Accessibility.
Tap Accessibility to set triple-click Home for zooming in and out.
Once set it correctly, triple-tap the Home button to exit zoom mode.
Way 5. Use iTunes or Finder
You will need a computer and an official Apple lightning cable to use this method.
How to remove zoom in iPhone X?
Plug your iPhone into the computer via a USB cable. We suggest you use the computer previously paired with your iPhone, so you don't need to enter the passcode or tap Trust on your iPhone.
On a Windows PC or macOS High Sierra or below: open iTunes, select your iPhone at the upper-left corner of the screen, and click Summary; on macOS Catalina or up: open Finder, choose your iPhone on the sidebar, and tap General.
Pick the Configure Accessibility option under the Options tab and deselect Zoom on the popup.
Hit OK.
To confirm the Accessibility settings you set up just now, click Sync to sync it with your iPhone/iPad.
Way 6. Reset All Settings on Your iPhone
An improper configuration may cause the iPhone stuck on zoom problem. Therefore, you can reset all settings on your device to get rid of the issue.
Navigate to Settings > General > Reset on your iPhone or iPad.
Touch the Reset All Settings option.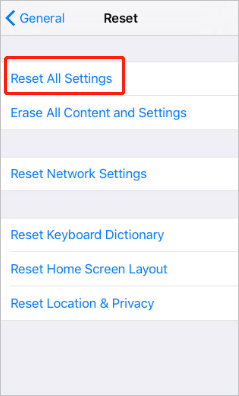 Way 7. Check Other Accessibility Settings
Assume you don't need to zoom in to read texts on your iPhone. You can turn off the Accessibility feature on your device completely. Besides, you can also disable other features like Assistive Touch or VoiceOver to avoid potential errors in the future.
Way 8. Professional Way to Fix iPhone Stuck on Zoom
Suppose all the above tricks cannot solve the iPhone stuck on zoom problem. In that case, the professional software iPhone System Repair will help you out. With this powerful program, you can fix many iOS issues, such as iPhone being stuck in zoom mode/DFU mode/recovery mode/shuffle mode, etc.
Why should you choose iPhone System Repair?
* Three steps to fix iPhone screen, device, mode, and iTunes issues.
* Work for different issues, such as iPhone stuck on zoom mode/DFU mode/Apple logo/recovery mode, iPhone black/white/red/blue screen of death, loop restart, iTunes error 4005/4013, etc.
* Safe and easy to use without data loss.
* Widely compatible with all iPhone or iPad models (iOS 16 & iPadOS 16 supported), including iPhone 14/13 Pro Max/13 Pro/13/13 mini/12 Pro Max/12 Pro/12/12 mini/SE/11 Pro Max/11 Pro/11/XS Max/XS/XR/X/8, the new iPad mini/iPad 2021, iPad Pro 5/4/3/2/1, etc.
How do I unzoom my iPhone in one click?
1. Install and launch the software on your computer. Then connect your iPhone to the computer via a USB cable and select More tools > iOS System Recovery on the interface.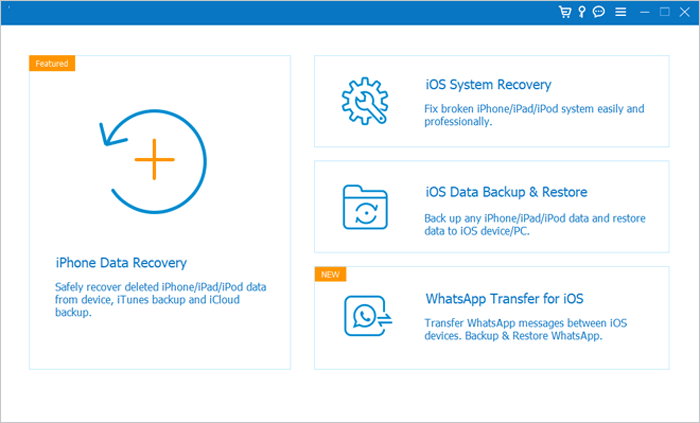 2. The program will detect the device system problem automatically. When it displays it on the interface, tap Start to continue.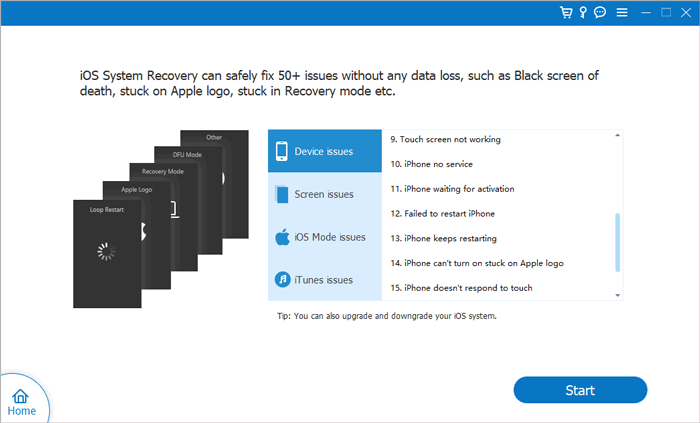 3. Confirm the iPhone/iPad information on the interface. If incorrect, select the correct information from the drop-down menu. After that, tap the Repair button to fix the iPhone stuck on zoom issue immediately.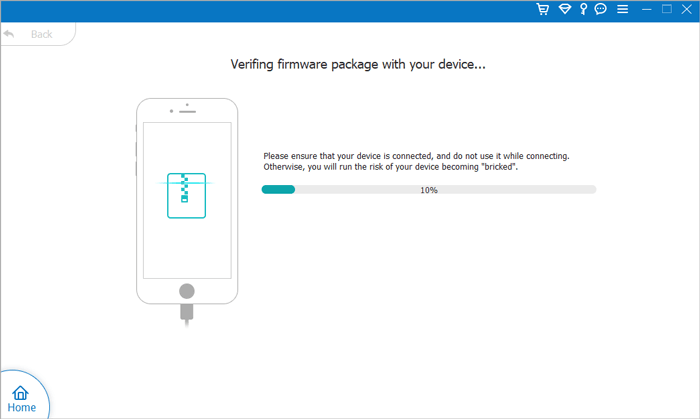 Further reading:
How to Fix an iPhone Stuck on Loading Screen? (iPhone 14 and iOS 16 Supported)
iPhone Stuck in Boot Loop? How to Fix Boot Loop on iPhone in Ten Methods?
Final Verdict
When your iPhone or iPad is stuck on zoom mode, try the eight methods above to help yourself out. Generally, the common tricks will fix minor glitches easily. If the problem continues to exist, I recommend you try iPhone System Repair. It's easy, safe, and fast for resolving the problem without data loss.
If you encounter any problems during use, don't hesitate to let us know in the comments.
Related Articles:
Troubleshooting for iPhone Stuck on Preparing Update (Reasons Mentioned)
iPhone Stuck on Restore Screen? 6 Easy Methods Here
How to Fix the iPhone Stuck on Apple Logo Issue?
9 Best iPhone Repair Software to Fix All iPhone System Problems with Ease (2023 Review)
How to Bypass iPhone SIM Not Supported Issue? (Top 11 Methods)