Have you ever been in a situation where you accidentally deleted all the messages that had pictures from your phone? Or maybe you're clearing the useless data from your iPhone, but you end up deleting essential photos from text messages? Mistakenly deleting text messages with pictures is a common thing that many people go through, and it can be pretty devastating. More significantly, if you treasure those pictures a lot.
But, just because something is lost does not mean it cannot be found. You may not want to recover the text info, but the attachments like images and pictures came with it. Therefore, how to recover pictures from text messages on iPhone? Don't worry, as you are in the right place. Recovering the deleted pictures from your iPhone text messages can be tricky if you don't know what to do. There are various means of doing that. So, keep reading to find out!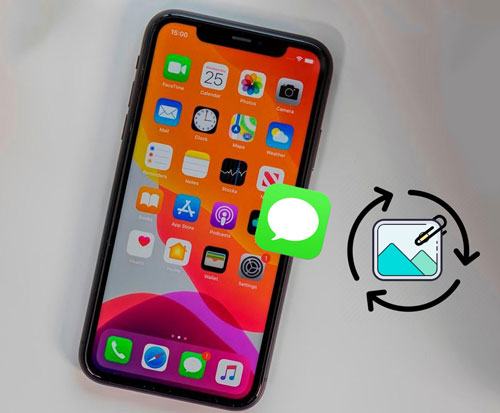 Part 1. How to Recover Pictures from Text Messages on iPhone via Coolmuster iPhone Data Recovery
Part 2. How to Recover Deleted Pictures from iPhone Text Messages with iCloud Backup
Part 1. How to Recover Pictures from Text Messages on iPhone via Coolmuster iPhone Data Recovery
Losing the texts messages that had important photos can happen to any person. Despite the rapid growth of social media platforms such as Twitter and Facebook, text messages are still an essential part of our lives. You may take your text messages with photos for granted until the day you lose them.
Thankfully, whether it is because of an iOS update, factory reset, or deleting them accidentally, you can know how to recover deleted pictures from iPhone text messages with Coolmuster iPhone Data Recovery. Besides, it can also recover message content, other attachments in messages, and contacts from your iPhone.
The highlights of Coolmuster iPhone Data Recovery:
* Recover data from the iOS device - Your deleted messages and contacts from the iPhone are done effectively and placed on a computer.
* Recover the iTunes Backup files - Restoration of the deleted contacts and messages and the attachments are done, and the iTunes backup file sends to a computer. Exports call history, voice memos, photos, calendars, etc., from the iTunes Backup files to the computer.
* Preview the existing and also the deleted messages and selects the essential files to restore or back up.
* The recovery process is fast, and no data will be damaged during the process of recovery.
* Recover data without changing file formats.
* Coolmuster iPhone Data Recovery software works well with all types of iPhones, iPods, and iPad, such as iPhone 14/13/12 Pro/12/11/X/8/7/6, iPad Pro, iPad Air, iPod Touch 7/6/5, and more.

Steps on how to recover deleted text messages and pictures on iPhone without the hassle:
1. Select the iTunes Backup File
Launch the recovery software on your PC, and click the Recover from iTunes Backup File option on the left side.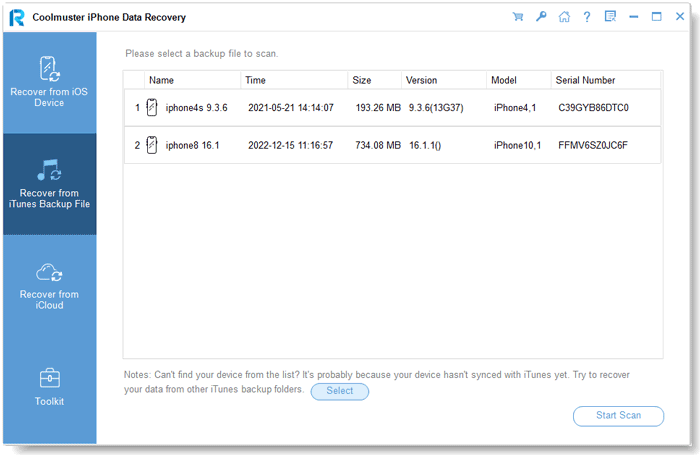 2. Choose the SMS Attachments
You should then select the SMS Attachments, and tap the Start Scan button to start the scan, which is located at the bottom right. Here, you will be able to preview the text messages you previously had.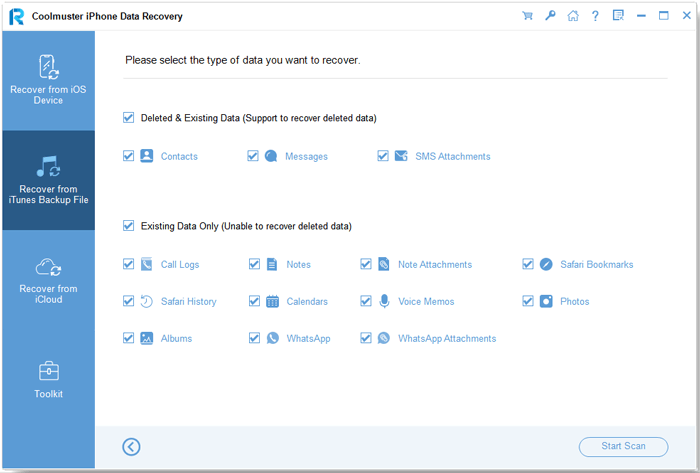 3. Recover iMessages Photos from the iTunes Backup
To recover photos from deleted text messages, click on the SMS Attachments category and choose the deleted photos you want on the far right. Next, tap the "Recover to Computer" icon to save your photos.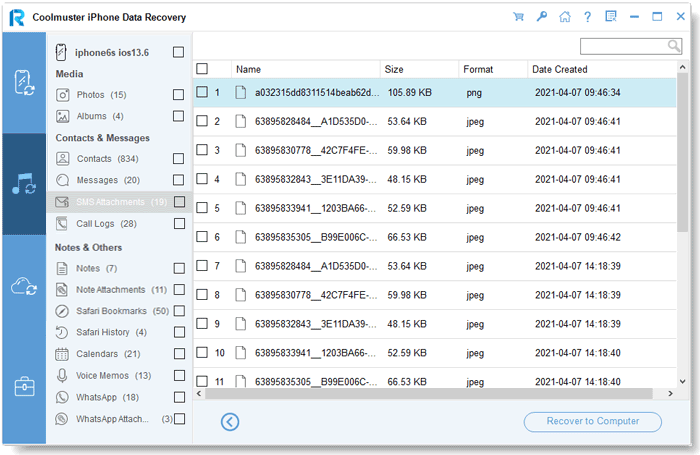 These three steps will help recover deleted iMessage photos with iTunes backup. Thus, it is ideal to use it if you do not want to erase some of your essential photos in your iPhone.
People also like:
Effortlessly Restore Contacts from iTunes Backup to iPhone (Top 3 Ways)
A Full Guide to Recover Deleted Photos from iPhone without Backup Easily
14 Amazing Tricks to Fix iPhone Contacts Missing Names (Comprehensive Guide)
Part 2. How to Recover Deleted Pictures from iPhone Text Messages with iCloud Backup
If you recall saving your pictures from text messages in your iCloud backup before deleting them, it will be very easy to restore them. You will only be needed to reset your iPhone then restore it from iCloud backup. Thus, how to retrieve deleted photos from text messages with iCloud backup? It can be done in three steps. Keep reading to know.
1. Check Your iCloud backup.
To check on your iCloud backup, open the iCloud and go to Settings, Storage, then manage storage. You will be able to see the saved backup. Ensure you get the saved backup that contains all text messages photos to be recovered.
2. Restore the iPhone to the Factory Settings
Here, you go to the Settings, General, Reset, Erase all content & settings. Confirm, then wait for iPhone to be retrieved with factory settings.
3. Recover Deleted Photos and Text Messages on iPhone
After restarting the iPhone with factory settings, you can then restore the deleted messages and photos. Make sure you set your iPhone and retrieve the SMS messages from iCloud backup. Log in to your iCloud account first, then go to the saved messages. Just wait for some time, and you will see the restoration procedure complete.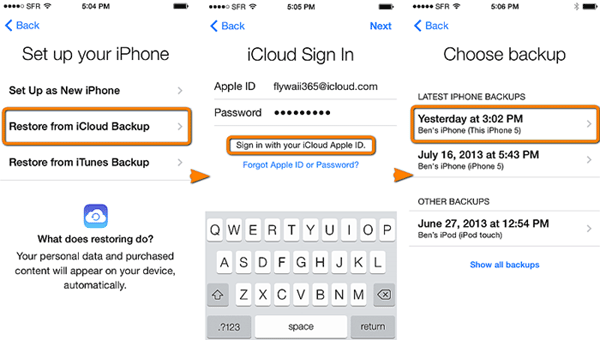 Bonus:
Want to save your iMessages to PDF? This post will teach you stey by step.
My Apple music is gone out of a sudden. How can I restore them on my iPhone?
Final Thoughts
That is all on how to recover pictures from text messages on iPhone. You can recover photos from deleted text messages on iPhone with Coolmuster iPhone Data Recovery or iCloud backup successfully. If you choose this recovery program, you can also recover other iOS files with ease. After going through all that, you will surely know how to recover deleted picture messages on your iPhone.
Related Articles:
[Lost iPhone Data Recovery] How to Recover Data from Lost iPhone Easily?
4 Effective Ways to Recover Deleted Text Messages on iPhone without Backup (iOS 14 Supported)
6 Fantastic Ways to Recover Deleted Instagram Photos on iPhone without Pain
11 Best iPad Data Recovery Software Reviews of 2023
iPhone Notes Disappeared? 6 Methods to Recover Lost Notes on iPhone
How to Recover Deleted Contacts from iPhone with Ease? (4 Easy Ways)