Every time you download or run an app on your tablet, your iPad creates a temporary file that it stores in your device's memory. Over time, these temporary file can accumulate and take up space in your iPad. There are iOS apps on the App Store than you could download to help manage and erase these temp files, but those are just as problematic and come with a sneaky side effect. Downloading such apps and using them actually takes up more space in your memory storage than all the data it wipes for you put together. So now the app that you downloaded to help free up space on your iPad takes up more storage space than all those temporary files ever did. What you need is third party software that you can use from a computer and connect your iPad to help you erase data from your tablet without using up any memory space on your iPad to do it.
This is where Coolmuster iOS Cleaner comes in handy. This is third party software that you can download to any computer, whether it be PC or Mac, locate and delete temporary app files from your tablet. Not only that, it can locate and erase junk files and private data from your other Apple devices like your iPhone and iPod touch. This simple and effective process can free up extra storage space on your smart device and help it run more smoothly and swiftly. Coolmuster iOS Cleaner can manage and wipe app caches, app cookies, app temp files, app crash logs, downloaded temp files, photo caches, user storage files or any other kind of tablet junk files. And it also can help you delete personal data on your iPad that you might not want the next person who uses your iPad to access.
To wipe out all app temporary files on iPad Pro/Air/9/mini9 safely and easily, first download the iOS Cleaner software from the following downloading button to any PC or Mac desktop or laptop computer. Then connect your iPad to that same computer via a USB cable. Now, all you have to do to wipe those pesky temp file is to:
One-Click to Wipe out All App Temporary Files from iPad Pro/Air/mini/9
Step 1 - Download, install and launch iOS Cleaner for Mac
Launch iOS cleaner for Mac on your Mac machine while your iPad is connected to it. When you do, it will scan your tablet and a window will pop up with an icon represented your iPad displayed. Click on the button marked "Quick Clean" and it will display all the types of data on your device in categories.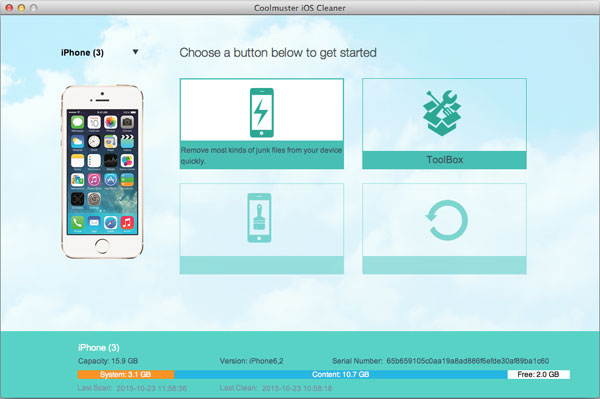 Step 2 - Scan and choose the app temp files to delete
All removable file types will be displayed at this point, including app cache data, app cookies, app temp files, app crash logs, downloaded temp files, photo caches, and user storage files. Tick the boxes next to the file types you would like to clean and press on the "Start Scan" button in the top right corner.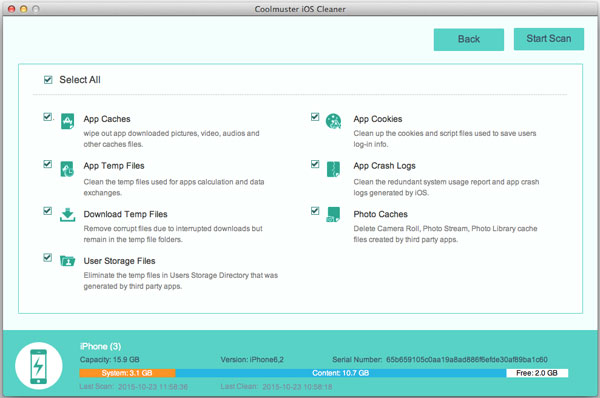 Step 3 - Start to wipe out iPad app temp files
iOS Cleaner for Mac will display all the individualized data for the categories you selected and display them for you. All you have to do now is tick the boxes next to the individual temporary app files you want to wipe from your iPad and click the "Clean" button, verifying on the "Are you sure..." pop up that follows.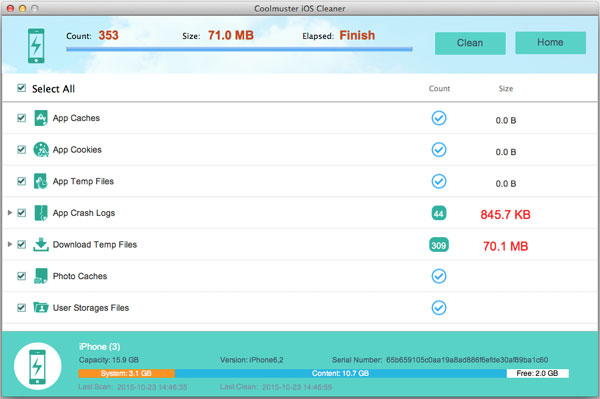 Now all those unwanted temp app files are erased from your iPad and it should be running smoother and more responsively.
Final Thoughts
The process of wiping out app temporary files using Coolmuster iOS Cleaner is straightforward. By following the three-step guide provided above, you can easily scan your iPad for unwanted temporary files, and remove them forever.
Related Articles:
Transfer Songs from iPhone to iPhone 14 Using AirDrop