Ways to Transfer Music from iPhone 4/4S to iPhone 7 Plus/7/6S Plus/6S/6 Plus/6/5S/5C/5
I was wondering if anyone could help me with an issue that has bugged me for a very long time. Is there anyway you can transfer your personal music collection on your iPhone to your new iPhone say 6S or 6 Plus/5S? I know iTunes can do this but I prefer the drag and drop option. If anyone has a easy solution for this or even an external program that can do this. I will be very grateful!
I cannot agree more with you! Although iTunes always has done with transferring files from one iDevice to another, anyone who has ever used the iTunes knows that it is really time consuming and complicated to syncing files with iTunes. It is too large program to run and your computer running would be substantially slowed down. Apart from suffering from sluggish transferring process, there would be various problems occur before or during the file transfer.
Most of all, iTunes only allows users to transfer the music files you purchased from iTunes. Other data in the old iPhone, such as internet downloaded music, pictures, movies, playlists and other important files can not be transferred to new iPhone 6S Plus/6S/6 Plus/6/5S/5C/5 by using iTunes. What a pity it is to lose these valuable data! Luckily, there are still some workarounds to transfer iTunes purchased music, as well as music you get from other sources from iPhone to iPhone without a hitch. Read on to learn the details.
Is it possible to perform without iTunes?
The answer is yes! In this article, we would like to strongly introduce the best iTunes alternative tool Coolmuster iPad iPhone iPod to Computer Transfer or Coolmuster iPad iPhone iPod to Mac Transfer, a little nice tool to help you transfer not only iTunes purchased music, but also Internet downloaded music and other files, such as videos, photos, eBooks, playlists, voice memos and more from old iPhone like 3GS/4/4S to new iPhone models, like 6S Plus/6S/6 Plus/6/5S/5C/5 with only 3 simple steps. The program is equipped with advanced technology and intuitive interface, which will certainly provide you with an enjoyable file transferring process. Below is the step by step guide showing you how to copy pictures from old iPhone models to new iPhone models.
Tips: If you have already lost precious music files from your iPhone, you can read the tutorial on how to recover lost data from iPhone.
Free download the program to experience it personally because there is no way better than to try it on your own. Practice always can say everything.
Steps: Transfer Any Music from Old iPhone to A New iPhone without iTunes
Windows and Mac versions of Coolmuster iPad iPhone iPod Transfer are both available here. You can install the proper one on your computer according to your own situation. In this page, we'll insert the Windows screenshot into the steps below for your reference. And the operations are almost the same on the both systems. Let's begin!
Things you'll need: Two iPhones (the old one and the new one), Apple USB cable, computer, iPhone to Computer Transfer.
Step 1. Connect your old iPhone to computer
Download and install the iPhone Transfer on your computer. Run the program and then use Apple USB cable to connect your old iPhone 3GS, 4 or 4S to the computer. Once the connection is successful, the program will automatically detect your connected iPhone and show its detailed info in the main interface. If your iPhone is not detected by the program, you can click the button of Refresh or re-connect your iPhone to the computer.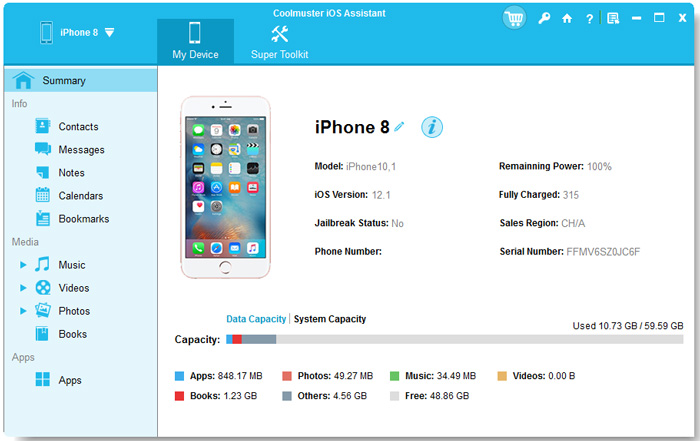 Step 2. Select iPhone music and transfer to computer
As you can see, all your iPhone contained files are well categorized in the left sidebar. You should go to choose the category of "Music" and preview the contained songs in the right window. Mark those you want to transfer to your new iPhone and navigate to the top menu to click the Export button. Then, there will be a Path dialog box popped up, asking you to choose an output folder where you would like to save the exported photos. Just select a location from your computer and then the transferring process will begin.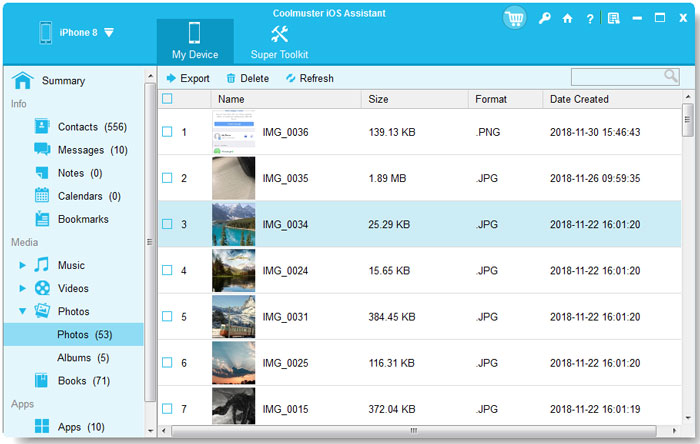 Step 3. Sync exported music to your new iPhone
When the transfer finishes, you can eject your old iPhone from your computer and go to the output folder to view the exported music files. Now, you can drag and drop these music files to iTunes and sync them to your new iPhone 6S Plus/6S/6 Plus/6/5S/5C/5.
Learn More about the iPhone File Transfer
In addition to transfer files from iPhone to iPhone, it also support transferring from iPad to iPad, iPod to iPod, and even iPhone to iPad, iPhone to iPod, iPad to iPod, etc. All in all, transferring between any iDevice is fully possible. It offers with versatile preview and search built-ins that enable you to find your exactly desired files quickly and correctly. It is also a good way to backup all your iPad, iPhone and iPod files to computer by using this program to farthest ensure the safety of your crucial data.
Other Options:
1. Use iTunes to Transfer Music from iPhone to iPhone
If you have purchased music from the iTunes Store, you will be able to instantly download it to any iOS device you own by following these steps:
> Open the iTunes Store app on the targeted iPhone.
> Tap More > Purchased > Music.
> Tap All Songs > Download All.
Then all the wanted music songs will be transferred from one iPhone to another iPhone. However, you have to know that iTunes only allow you to transfer music purchased from iTunes store from iPhone to iPhone. And, stable internet connection is required to ensure the smooth music download from iPhone to another.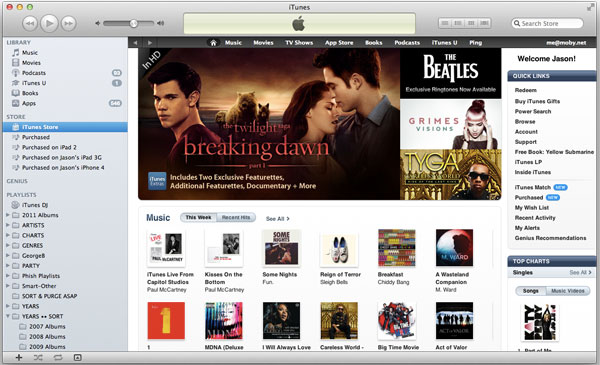 2. Use Mobile Transfer to Sync Music from iPhone to iPhone
This Coolmuster Mobile Transfer (for Windows) or Coolmuster Mobile Transfer for Mac is a professional software allowing you to directly transfer music from one iPhone to another iPhone. With it, you don't need to bother yourself to save files on the computer for other purposes. And using it is just a matter of a few simple steps:
> Open the installed software on the computer and then get two iPhone devices connected to the computer via the USB cords.
> Enter the Music folder to preview more detailed file information and select the wanted music songs.
> Click on the right or left arrow to transfer music songs from iPhone to iPhone.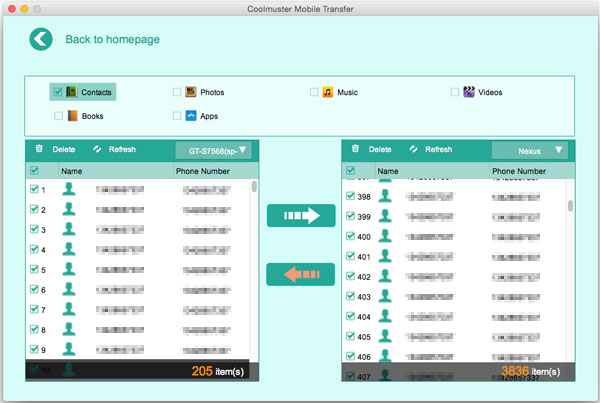 Within a little while, all the wanted music songs will be copied from one iPhone to another iPhone. Also, you can use iCloud Photo Sharing to transfer music from iPhone to iPhone. Several ways have been listed for your reference, with advantages and disadvantages displayed. Now, you are free to choose either way to transfer iPhone music to another as you needed!
Related Articles:
Easy Way to Transfer Podcast from iPhone to iTunes or Computer
How to Backup Your iPhone 6S Plus/6S/6 Plus/6/5S/5C/5/4S/3GS to Computer