In the digital age, the importance of efficient document management cannot be overstated. Whether you're an office professional, a student, or simply someone who frequently deals with PDF files, you've likely encountered the need to reduce the size of a PDF document. Adobe Compress PDF is a powerful tool designed to simplify this task and streamline your document-handling process. We will explore the benefits of using Adobe Compress PDF, its pros and cons, and how it can make your life easier when working with PDFs in this article.
Part 1. Understanding the Need for PDF Compression
PDFs are incredibly versatile and widely used for various purposes, such as sharing documents, forms, and reports. While their compatibility and consistency across different devices and platforms are undeniably advantageous, PDFs often come with large file sizes, which can be a hindrance. Large PDF files can be challenging to send via email, consume excess storage space, and may lead to slow document load times. This is where PDF compression comes into play.
Read More:
Stop Struggling with Large PDFs: Learn How to Compress PDF in Minutes
Effortless PDF Integration: How to Combine Multiple PDFs into One
Part 2. An Overview of Adobe Compress PDF
Adobe, a renowned name in the world of document management and software solutions, has developed Adobe Compress PDF to address these issues. This tool is designed to help you easily reduce the size of your PDF files while maintaining the quality and integrity of the content.
2.1 Pros and Cons of Using Adobe Compress PDF
Here are some pros and cons of using Adobe Compress PDF:
Pros:
High-quality compression.
Offer various compression settings.
Compatible with various platforms and devices.
Maintain the formatting, layout, and structure of the original document.
Support Optical Character Recognition (OCR).
Enable users to add password protection to their PDFs.
Available for both Windows and Mac users.
Cons:
Adobe's software products can be relatively expensive.
Adobe software can be resource-intensive, which might slow down older or less powerful computers.
Adobe software has a significant installation size, which could take up a considerable amount of storage space on your device.
Can't Miss:
How to Convert JPG to PDF with Adobe and the Best Alternatives
Unlock PDF Documents Offline and Online Using Top Strategies
2.2 How to Compress a PDF in Adobe
Adobe provides three methods for compressing PDFs. Let's learn how to reduce PDF size through Adobe Acrobat one by one.
Method 1. How to Compress a PDF in Adobe Using the Built-in Feature
Adobe Acrobat Pro simplifies PDF file size reduction with its built-in feature. It's perfect for users who want a quick and straightforward method to shrink PDFs without dealing with intricate settings. Whether you have one PDF or a batch of documents, this tool is a valuable addition to your PDF optimization toolkit. Here's how it works:
Step 1. To get started, open Adobe Acrobat Pro on your computer and then access the PDF file you wish to compress by using the "File" and "Open" options.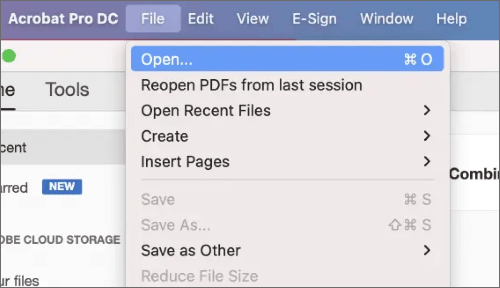 Step 2. Once you've opened your PDF, navigate to the "File" menu, select "Save As", and then opt for "Reduced Size PDF". This selection will take you to the compression settings panel.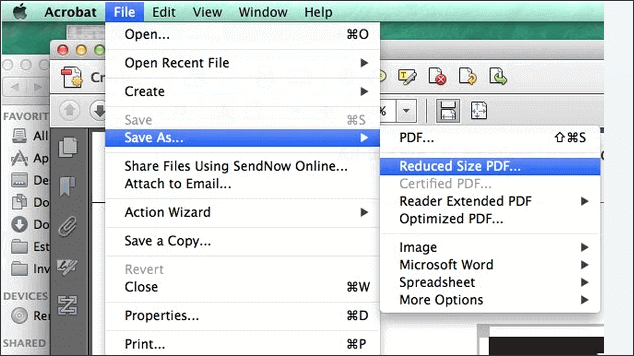 Step 3. In the compression settings, customize your PDF file's compression preferences. Choose from options like "High Quality" or "Smallest File Size" to match your needs.
Step 4. Once you've adjusted the compression settings to your liking, simply click "Save". Adobe will generate a compressed PDF file using your chosen settings.
May Like:
Retain PDF Layout: How to Separate Pages in PDF Effortlessly
How to Combine PDF Files Without Adobe Acrobat [Windows & Mac]
Method 2. How to Reduce PDF File Size in Adobe Acrobat Using the Optimize PDF Tool
For those who want more control over compression and wish to balance file size reduction with document quality, Adobe Acrobat Pro offers the "Optimize PDF" tool. This tool allows you to customize compression settings to meet your specific needs. Here's how to use Adobe Acrobat to compress PDF:
Step 1. Launch Adobe Acrobat Pro on your computer. Access the "Tools" tab from the top menu bar, and within this tab, find and select the "Optimize PDF" option.
Step 2. Within the "Optimize PDF" tool, click "Open" to access a file browser. Choose the PDF file you want to compress by navigating to its location and opening it.
Step 3. In the "Optimize PDF" tool, select "Reduce File Size" and click "OK" after adjusting the settings. Adobe Acrobat Pro will begin optimizing the PDF file's size.

Method 3. How to Reduce PDF File Size with Adobe Acrobat Online PDF Compressor
Moving beyond its desktop version, Adobe offers an online PDF compression tool that enables users to efficiently reduce the size of their PDF files for easier sharing, storage, or email. Here's how to reduce PDF file size using Adobe's online tool:
Step 1. Navigate to the Adobe online PDF compression website. You can either click the "Select a file" button or simply drag and drop your PDF file to upload it for size reduction.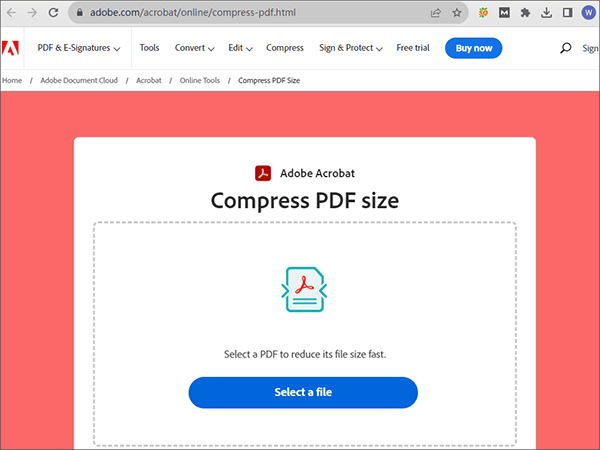 Step 2. Choose a compression level (High, Medium, or Low) that fits your needs. Click "Compress" to start the process. The tool will then reduce the file size accordingly.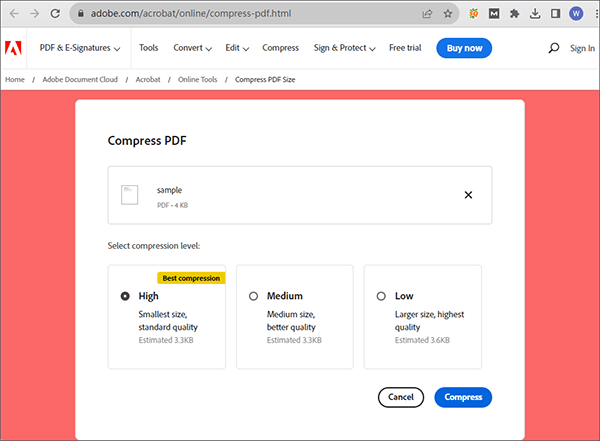 Step 3. Upon completion of the compression process, you'll usually receive a download link for the smaller PDF file. Click the link to save the compressed PDF onto your device.
Part 3. The Best Alternative of Adobe PDF Compressor
When it comes to compressing PDF files, Adobe Acrobat Pro and Adobe's online tools are popular choices due to their reputation and feature-rich capabilities. However, they are not the only options available. In this section, we will explore the best alternative to Adobe PDF Compressor - PDF Compressor. PDF Compressor stands as a versatile software solution tailored for server-based environments, offering an automated and efficient means to reduce PDF file sizes while preserving visual quality and readability.
This application is a game-changer for organizations and businesses grappling with a high volume of PDF files. It helps save storage space, boost document transfer speeds, and streamline workflow efficiency. PDF Compressor simplifies PDF compression, making it a must-have tool for those aiming to optimize document management, cut costs, and enhance PDF accessibility in server-based setups.
Key features:
Reduce PDF file sizes efficiently while preserving the visual quality and readability of the documents.
Support batch processing.
Protect sensitive data during compression.
Manage both scanned and text-based PDF documents.
Tailor the destination folder to match your requirements.

Free Download for PC
Follow the steps to reduce PDF file size without Adobe Reader:
01Download, install, and launch the software on your computer.
02Select the "Add" icon to upload the PDF files you wish to compress.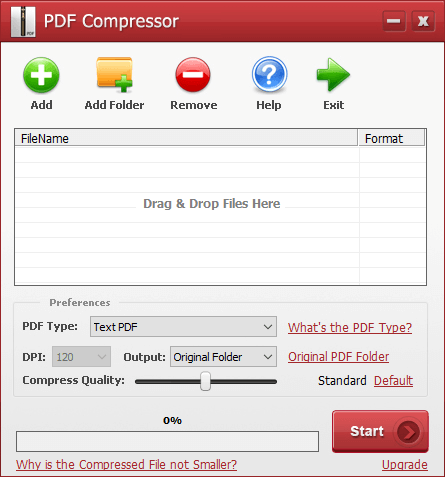 03Choose a PDF format from the PDF Type drop-down menu. Adjust the file compression settings to your preferences. Afterward, begin the process of monitoring and compressing the added files by clicking the "Start" button.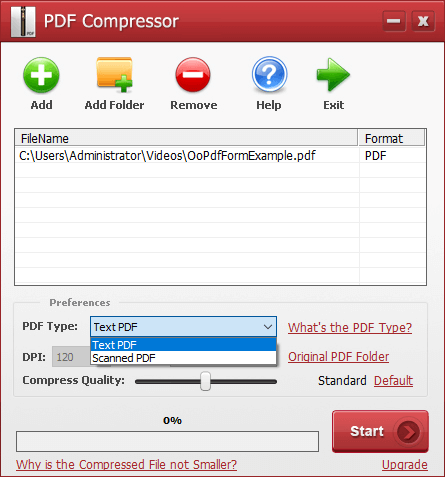 See Also:
How to Split PDF Pages? Solve It Using Top Recommended Methods
How to Remove Metadata from PDF Efficiently? [Online & Offline Tips]
Conclusion
Adobe Compress PDF is a valuable tool for anyone who deals with PDF documents regularly. Its ability to reduce PDF file sizes while preserving document quality simplifies document management, making it easier to share, store, and work with PDF files. In conclusion, Adobe Compress PDF is a powerful tool for efficiently reducing the size of your PDF files. Whether you're looking to save storage space, speed up file transfers, or optimize documents for online sharing, this software offers a comprehensive solution. Of course, Adobe has its shortcomings. Therefore, we highly recommend an Adobe alternative - PDF Compressor. This tool is fast, secure, and user-friendly. Give it a try by downloading it now.
Related Articles:
Simplify Document Management: Adobe Merge PDF in Action [Updated]
From Pixels to Pictures: The Art of Adobe PDF to JPG Conversion
How to Convert JPG to PDF with Adobe and the Best Alternatives
Say Goodbye to Restrictions: Adobe PDF Remove Password Solutions
Say Goodbye to Lengthy PDFs: Adobe Split PDF for Enhanced Productivity