The size of large PDF files can slow down sharing, consume precious storage space, and hinder efficient document management. In this article, we will explore how to compress large PDF files with various methods - it will cover both techniques allowing you to compress multiple files in bulk and those for single-file compression. By the end of this article, you'll be equipped with the knowledge to effectively reduce the size of your PDF.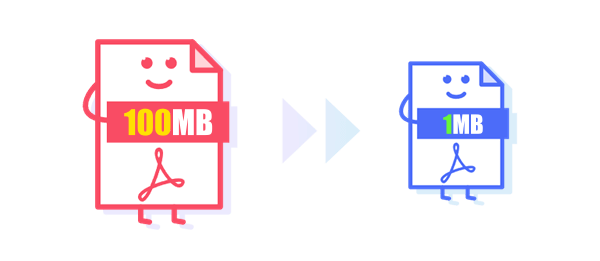 Part 1. How to Compress Large PDF Files [In Bulk]
Got some large PDF files taking up too much space on your device? You can use dedicated PDF compression software to easily reduce the size of your PDF files, freeing up valuable storage space on your device. In this section, we will introduce 3 convenient online and offline tools, all capable of compressing multiple PDF files simultaneously, enabling you to work more efficiently.
Method 1. Compress Large Files to Small Size PDF via a Large PDF Compressor (Windows)
PDF Compressor (Windows) is a compact PDF compression software for Windows. Unlike some feature-rich PDF editors, it offers a simple design that allows you to effortlessly obtain the desired quality PDF files. With this software, you can easily choose your preferred DPI and compress scanned PDFs. This software simplifies the PDF compression process, making it accessible to a wide range of users, from beginners to experts.
Here are the key features of PDF Compressor:
User-Friendly Design: Extremely user-friendly, making it suitable for both professionals and those without experience.
Easy to Use: You can import files by simply dragging and dropping them into the window.
High Efficiency: It can compress multiple PDF files at the same time, significantly saving you time.
High Compression Ratio: Typically, it can compress large PDF files (≥30MB) to smaller sizes (1~3MB).
How to Use
01Download, install, and open PDF Compressor. Next, use the "Add" or "Add Folder" button to import your files. Alternatively, you can directly drag & drop your PDF files into the application's window.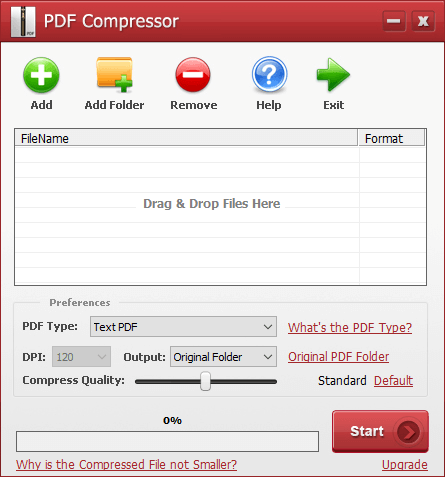 02Customize your compression settings to your preferences and then click the "Start" button to begin the PDF compression process. A progress bar located at the bottom of the window will provide real-time updates on the conversion progress. When the compression is finished, PDF Compressor will automatically open the output folder.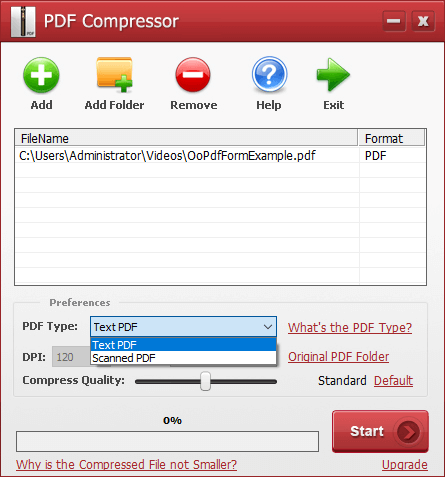 Method 2. Compress Large PDF File to Small Size via Neevia PDFcompress (Windows)
Neevia PDFcompress is a specialized software designed to optimize the size of PDF files. This tool offers efficient compression capabilities, allowing users to reduce the file size of their PDF documents without compromising on quality. Whether you're dealing with large PDFs for business purposes or personal documentation, Neevia PDFcompress provides a convenient and effective way to enhance storage efficiency and streamline document sharing.
Here are the steps for compressing a large PDF using Neevia PDFcompress:
Step 1. Download, install, and open Neevia PDFcompress. Then click the "Add File(s)"/"Add Folder" option to import your PDFs.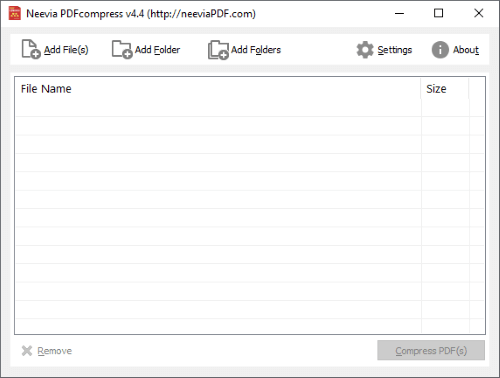 Step 2. Customize your compression details and click the "Compress PDF(s)" option.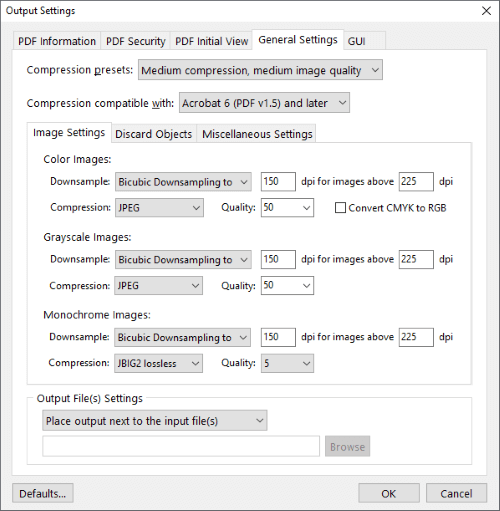 Method 3. Compress Large PDF File Size Online Freely on pdfcompressor.com
If you prefer not to download software for occasional needs, there are numerous online tools available for your use. However, for large PDF files, the upload speed might be relatively slow. We recommend using websites like pdfcompressor.com to compress your large PDFs for free, as such sites allow batch compression, which can significantly save you time.
Here are the steps for using this online tool to compress your large PDF files:
Step 1. Go to pdfcompressor.com and click on the "UPLOAD FILES" button to upload your files. The compression process will initiate automatically.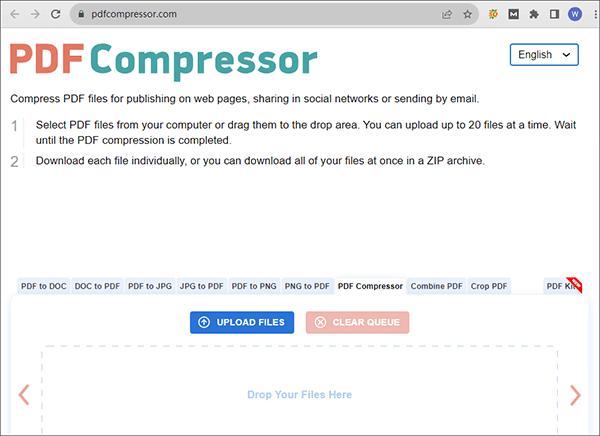 Step 2. Once the compression is complete, initiate the downloading process by selecting the "DOWNLOAD ALL" option.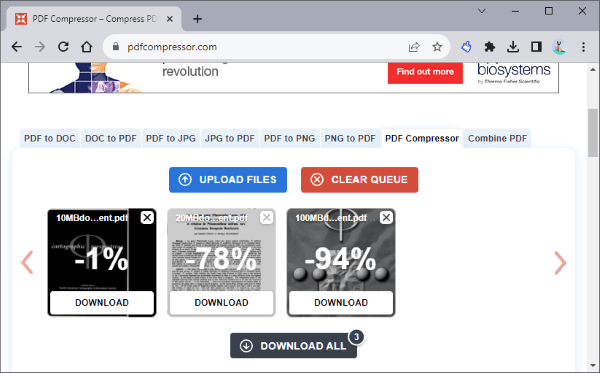 Also read:
[PDF Solutions] How to Compress a PDF on iPhone with 4 Super Easy Methods
What Are the Best PDF Compressor? [10 Offline & Online Tools Introduced]
Part 2. How to Compress a Large PDF [Single File]
If you don't need to frequently compress a large number of PDF files, you can also use commonly used office software like Adobe Acrobat DC or WPS Office to compress your PDFs. These tools are not specifically designed for file compression, so they may not be as efficient as the tools mentioned earlier. However, they are convenient enough to fulfill occasional needs.
Method 1. Compress Large PDF File to Small Size in Adobe Acrobat DC
Adobe Acrobat DC, developed by Adobe Systems, is a leading and widely recognized software solution for creating, editing, and managing PDF files. It offers a comprehensive set of tools and features that enable users to convert documents from various file formats into PDFs, as well as manipulate and enhance PDFs. Whether you need to create, edit, or collaborate on PDF files, Adobe Acrobat DC is a powerful and versatile tool for your document management needs.
Adobe Acrobat DC is a highly popular office software that allows you to compress your PDF files to a smaller size. Here are the steps to do this:
Step 1. Launch Adobe Acrobat Pro and open the PDF file you want to shrink in size.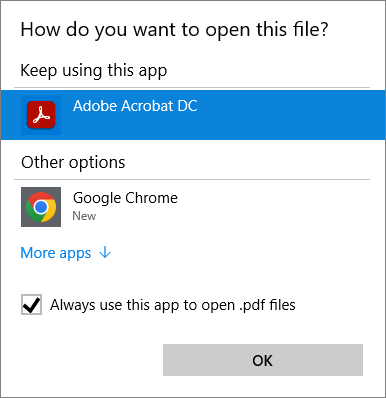 Step 2. Click the "File" > "Save As Other" > "Optimized PDF" options.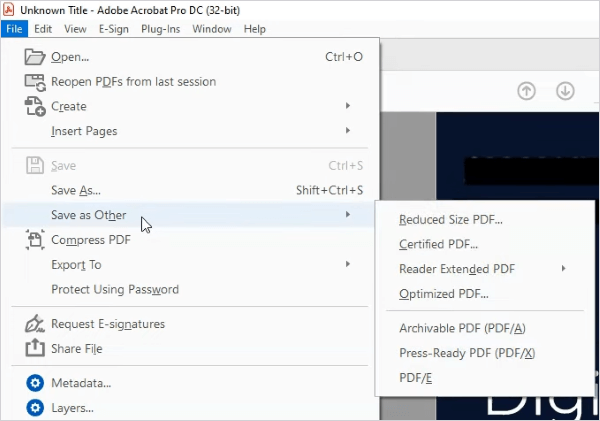 Step 3. In the "PDF Optimizer" window, you can find many options to customize the compression details.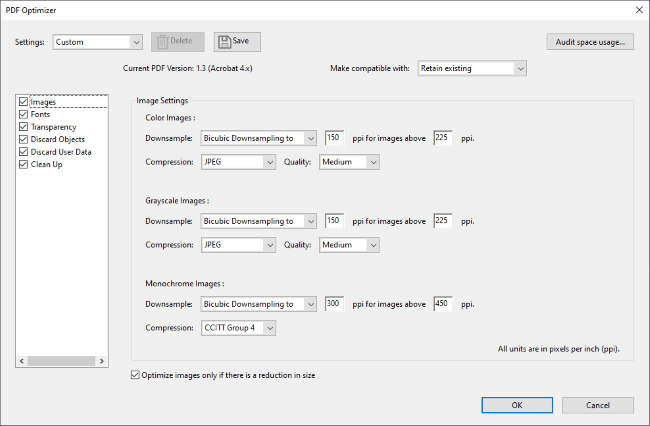 Step 4. Click "OK" to start the compression process. Adobe Acrobat will compress the PDF according to your chosen settings. Then choose a location to save the compressed file and save the compressed PDF file.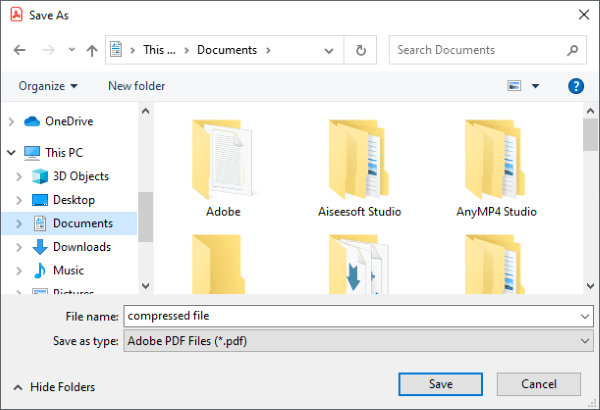 Method 2. Compress a Large PDF in WPS Office
WPS Office is a comprehensive office suite software developed by Kingsoft Office. It offers a range of office productivity tools, including word processing, spreadsheet, etc. With its user-friendly interface and powerful features, WPS Office has gained popularity as a cost-effective alternative to other office suites, allowing users to create, edit, and manage documents efficiently.
It's pretty easy to use WPS Office to compress your large PDF. Here are the steps:
Step 1. Open the PDF to shrink size in WPS Office by directly dragging & dropping it into the application's window.
Step 2. Navigate to the "Tools" > "PDF Compressor" options in the toolbar.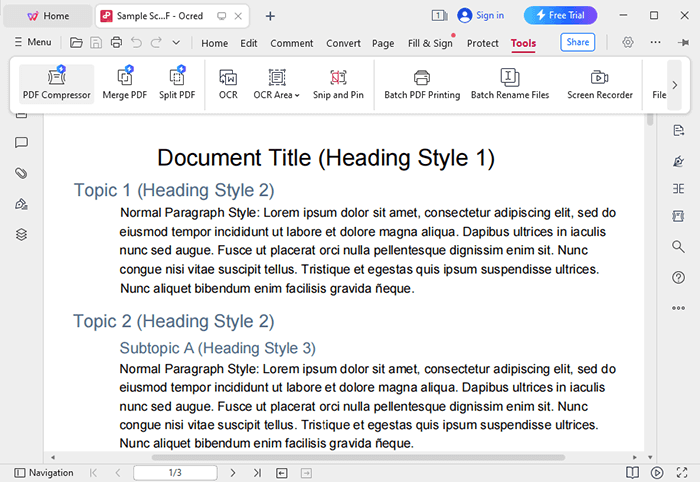 Step 3. Upon the pop-up window choose your preferred compression level and choose the directory you want to save the compressed file.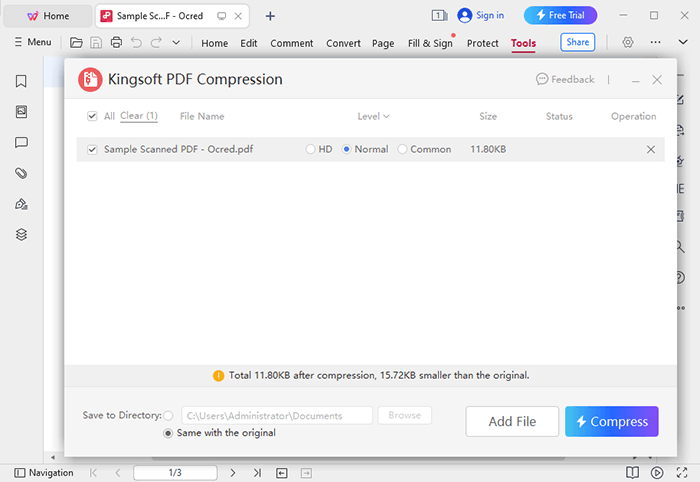 You may also need:
Email Optimization: How to Compress a PDF for Email Effectively
Mastering PDF Size Reduction: How to Make PDF File Size Smaller
Conclusion
Efficiently managing large PDF files is a necessity in the modern digital world. Whether you're dealing with a single document or a multitude of files, you now have a range of methods at your disposal to achieve the desired file size reduction. From dedicated software solutions like Adobe Acrobat to online tools such as pdfcompressor.com, there's a solution for every situation. By mastering these techniques, you can optimize storage space, streamline document sharing, and enhance your overall digital document management.
Related Articles:
How to Enlarge PDF for Printing: 6 Methods for Better Results
[Solved] How to Merge PDF Files in Google Drive & Using Alternatives
PDF Size Reducer iLovePDF - Empowering You to Control Your File Sizes
Adobe Compress PDF - Your Key to Compact, High-Quality PDFs
Effortless PDF Size Reduction: Reviewing Free PDF Compressor Software