In the digital age, e-books have become increasingly popular, offering convenience and portability. However, many readers find themselves faced with the challenge of converting PDF files to the more flexible ePub format, particularly on Mac. If you're seeking a seamless solution to transform your PDFs into interactive e-books, you've come to the right place. In this comprehensive guide, we'll walk you through the step-by-step process of converting PDF to ePub on your Mac, unlocking a world of enhanced reading experiences and digital mobility. Get ready to revolutionize your e-book collection and embrace the freedom of reading on your terms. Let's dive in!
You may also want to know:
How to Insert Pages into PDF Files?
How to Add Stamp to PDF Document Easily?
In this article, we mainly tell you how to convert PDF to ePub on Mac computer. What you need is a professional PDF conversion program like Coolmuster Convertisseur PDF to help you transform PDF files or eBooks to ePub format quickly and easily with original file layout and quality fully preserved. Just in 3 steps, you make it. Read on to learn the details about the user steps. PDF Converter Pro for Mac also allows Mac users to convert native PDF files to editable Microsoft Word, Text, Images (.jpg, .bmp, .png, .gif, .tiff, etc) and HTML Webpages on Mac.
Step by Step Guide to Save PDF as ePub on Mac
Step 1. Add PDF Files
Import the PDF files that you want to convert to ePub by clicking the Add Files or Add Folder button. You can upload up to 200 PDFs at one time and convert them simultaneously.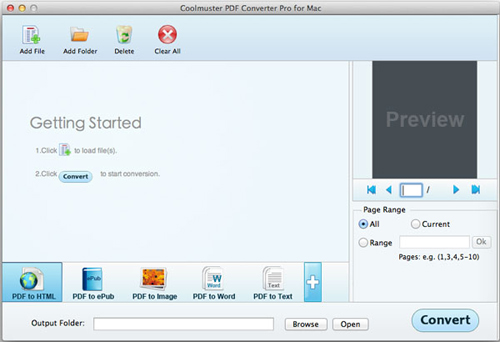 Step 2. Customize Output Settings
Click to choose the conversion type you need for the output file. You are provided with 5 conversion types like PDF to Word, PDF to ePub, PDF to Text, PDF to Images and PDF to HTML. Here, you should choose PDF to ePub conversion type. Select an output location for saving the converted files by clicking the Browse button.
Note: You can preview the imported PDF in the thumbnail window in the right window and customize page range for the PDF files to convert. Default page range for the PDF to ePub conversion is All Pages.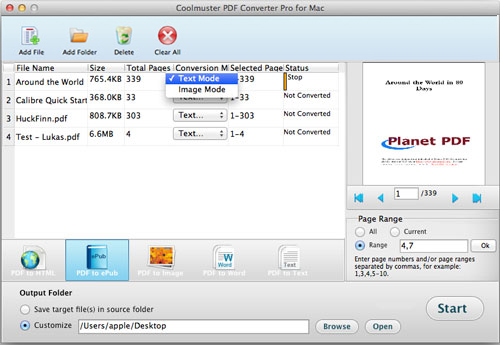 Step 3. Convert PDF to ePub on Mac
Click the Convert button to start the conversion on your Mac machine. In a few seconds, the conversion process will be finished. You can find the converted ePub files directly by clicking the Open button. Quite easy, isn't it?
After converting PDF to ePub, you are able to see the content clearly, without having to zoom in. Download Coolmuster Convertisseur PDF for Mac to have a try:
In conclusion, with the help of tools like Coolmuster Convertisseur PDF, converting PDF to ePub has never been easier. Enhance your reading experience, improve portability, and enjoy the freedom of accessing your e-books on your terms. Unlock the potential of your PDFs and dive into a world of interactive e-books today.