We can add additional features to PDF to let other viewers read the document much easier. For example, adding stamp to PDF allows you to direct a viewer to a particular point in the PDF document and make others know what is going on with the PDF. Sometimes, we can see an "Approved" stamp on a PDF, which means the PDF content has been approved.
Are you looking for an efficient way to add stamp to PDF files? Here is the way. As an official tool to process PDF files, Adobe Acrobat offers you with the ability of adding stamp to PDF. In the following, we are going to show you the detailed steps to insert stamp into PDF via Adobe Acrobat.
You Might Also Want to Know:
How to Insert Pages into PDF in 3 Clicks?
How to Add Music to PDF File via Adobe Acrobat?
How to Merge PDF Files on Mac OS X?
Easy Steps for Adding Stamp to PDF via Adobe Acrobat
Step 1. Open Target PDF File
Launch Adobe Acrobat on your computer, go to the "File" menu and choose "Open" to browse and import the PDF file you wish to add stamps from your local hard drive.
Step 2. Choose Stamp Tool
Turn to the PDF page you want to add stamp, select "Toolbars" and click "Comment & Markup" from the drop-down menu. In the Annotation panel, you should click the Add Stamp Tool to bring out an additional menu, from which you can select Dynamic, Sign Here or Standard Business.
From the submenu, you can choose the suitable stamp from REVISED, REVIEWED, APPROVED, CONFIDENTIAL, etc.
Step 3. Identity Setup
Navigate to the "Edit" menu, choose "Preferences" and select the Identity category which is located on the left side of the screen. Here, you can edit your identity information.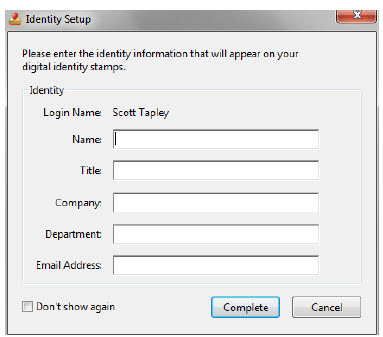 Step 4. Place the Stamp
After selecting the stamp you need, you can click on the page where you want to place the stamp and then it will appear here with your name, date and time included.
Step 5. Edit the Stamp
If needed, you can click on the stamp and edit it as you like. You can change a stamp's location or appearance as needed by using the Select tool or the Hand tool.
Apart from the feature of adding stamp to PDF, you have other options as well to make full use of PDF files, such as Add watermark to PDF, Add bookmarks to PDF and Add Signature to PDF, etc.
In conclusion, adding a stamp to a PDF file is an efficient way of directing a viewer to a specific point in a document and indicating its status. With Adobe Acrobat, this process can be done easily, and we've provided a step-by-step guide to help you. Moreover, there are other features like PDF encryption, adding a watermark, bookmarks, and signature that can make your PDF files more functional and secure.
Related Articles:
How to Secure PDF Files with PDF Encryption