Data Transfer between Motorola and Google Nexus
When a Motorola user buys a new Google Nexus phone online or in retail establishes, they may want to perform data transfer between the Motorola and Nexus phones. The data that people need to transfer usually include: Family photos of special events and any selfies that they take of themselves on all kinds of different occasions; Text messages you have sent or received via the phone. Another important part of these kinds of transfers may involve transferring contact information that people have saved over a long period of time. Transferring information from a Motorola phone to a Google Nexus phone can be a challenging experience if the person really does not know the procedure for making this kind of transfer.
Based on the tool or process that is used, the person can encounter a wide variety of different problems and issues. Coolmuster Mobile Transfer (Windows) or Mobile Transfer for Mac is a software tool that people can use to perform these kinds of transfers with ease. It provides you with a hassle-free data transfer between Motorola Moto X/Moto G/Atrix/Charm/Droid and Google Nexus 7/6/6P/5/5X/4. From backing up all of the data on the phone to computer and restoring files from computer to phone, to allowing people to review the instructions on how to do each transfer process within 2 to 3 steps, Coolmuster mobile transfer has been designed to accommodate several different types of mobile transfer processes.
Are you interested in:
Data Transfer between Samsung and Nexus
Data Transfer between Sony and Motorola
Mobile Transfer is able to transfer photos, videos, music, contacts, SMS, apps and more. And all the mobile devices from iOS, Android and Symbian systems can be supported by the program. The following 1-2-3 step guide is going to tell you how to transfer data from Motorola to Google Nexus, and vice versa.
How to Copy Data between Google Nexus and Motorola Atrix/Droid?
Step 1. Open Mobile Transfer on your computer
Install the Coolmuster Mobile Transfer on your computer and then launch it to be used. Also, before getting started with the initiation of this process, the Motorola phone and the Google Nexus phone must be connected to the computer via USB cables.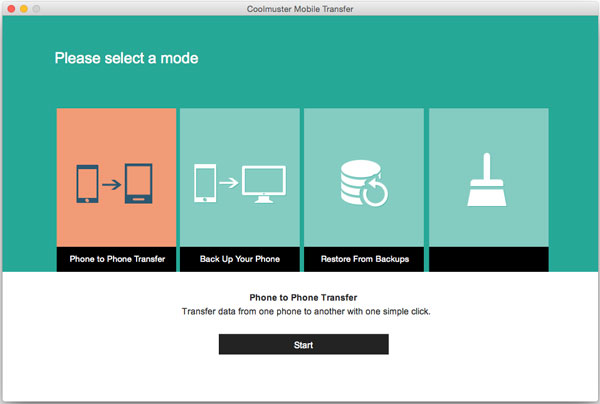 Step 2: Click on Phone to Phone Transfer
Once both USB cables have been connected to the computer, the user will see a screen that displays its primary interface. To select the right option, the user should click on Phone to phone Transfer.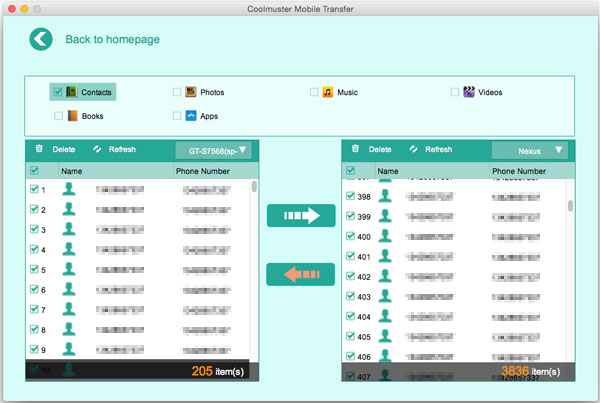 Step 3. Begin data transfer between Motorola and Nexus
When the user sees the phone to phone transfer option on the interface, the next step is to choose the specific file or files that need to be transferred (i.e. photos, text messages, apps). and start the transfer by clicking on the right or left arrow.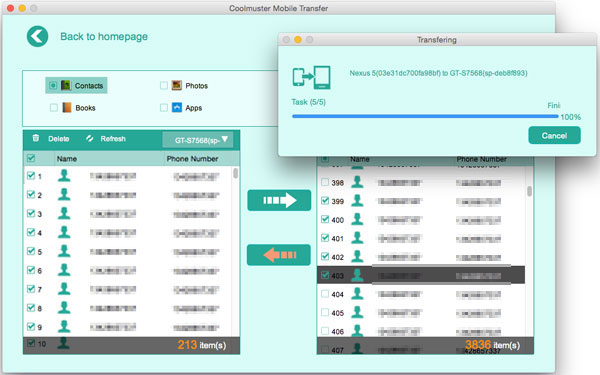 By the way, you can also use the Coolmuster Android Assistant to copy data between Motorola and Google Nexus.
Related Articles:
How to Copy Apps between Two Sony Devices