"I realize that this is not technically about the Note 9 however it is the one big question that is making me drag my feet about upgrading. After the great Note 7 debacle I ended up getting an iPhone 7. The one thing I love is having iTunes on my phone instead of a separate device and since I have a pretty big music collection with most of it purchased I'd like to keep using iTunes."
--From Androidcentral Forum
So, is there any iTunes Alternatives for Android? This is probably the first thought of all users accustomed to using iTunes for iPhone management. In this regard, 6 ways sorted out below may provide some references for you. Select a proper one to fix your problem.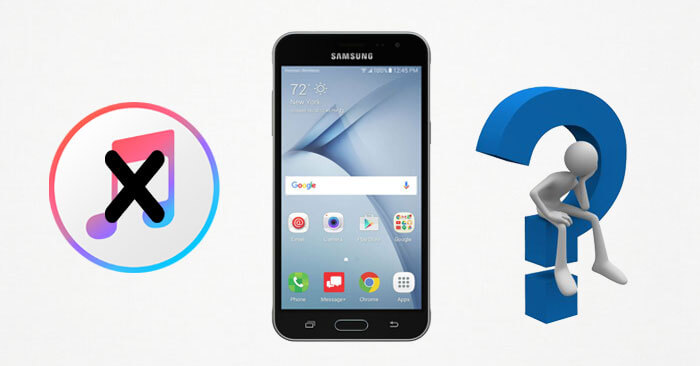 Top #1 Best iTunes App for Android - Coolmuster Android Assistant (Stunning)
Top #2 iTunes Equivalent for Android - RealPlayer
Top #3 iTunes Replacement for Android - AirDroid
Top #4 App Like iTunes for Android - MediaMonkey
Top #5 Android iTunes Alternative - Samsung Kies
Top #6 iTunes Like App for Android - DoubleTwist
Top #1 Best iTunes App for Android - Coolmuster Android Assistant (Stunning)
As is known to all, iTunes start from music management. It allows users to arrange music into playlists, edit and manage files, backup and restore iPhone data, etc. So, once you get accustomed to it, is there a program like iTunes for Android? Coolmuster Android Assistant deserves your trust. If you have a Google phone, what's the Google version of iTunes might be your concern. However, this smart tool can work properly on nearly all Android phones apart from Google gadgets.
The amazing thing is that this is a pro tool that not only replaces iTunes, but provides features that iTunes doesn't boast. Is that true? Well, seeing is believing.
The amazing virtues of Coolmuster Android Assistant:
> Work smoothly on almost all the Android phones with the latest phone versions such as Samsung Galaxy S23/S22/S21/S20/S20+/S20 Ultra/S10/S10+/S10e/S9+/S9/S8+/S8/S7/S6/S5, LG V40/V30+/V20/, Sony Xperia XZ, OPPO R11/R11 Plus/R11s/R11s, etc.
> Transfer music from Android to computer with either Windows or Mac version, aside from videos, photos, contacts, call logs, text messages with XML, CSV, BAK, HTML, Text formats or others for further use without hassle.
> Import contacts, call logs, text messages from PC to Android phones, and more data will be available in the coming version.
> Export, import, delete, built, reset text messages, conduct mass texting, and uninstall apps.
> Offer standalone and totally green management services and backup and restore Android files selectively within one click.
Aren't these jaw-dropping merits worth downloading for a trial?
After that, how can I use this Android version of iTunes?
1. Launch the program and make your phone connected.
Install and open the app to go to "Android Assistant" module, then you can connect your phone with a USB cable (or Wi-Fi). Switch on USB debugging on Android > Install driver > "Allow" USB debugging on Android > Install Coolmuster Android Assistant > Tap "OK" to get your phone connected.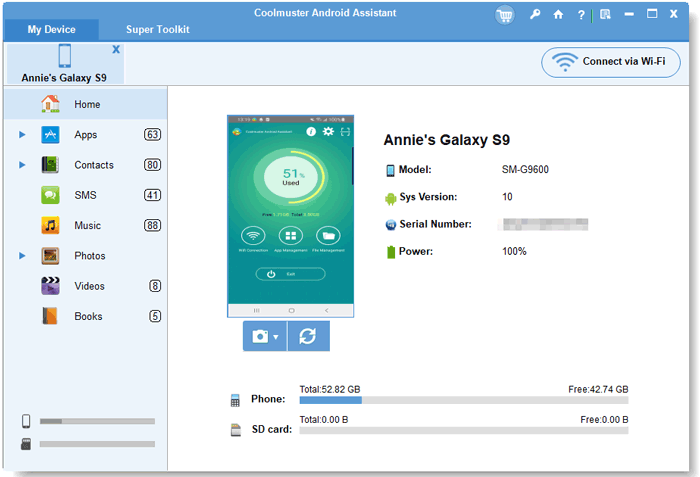 Note: Failed to connect Android with USB cable? Read this guide to fix it.
2. Manage Android phone files
- Regular Management
After the connection, you can see the following interface. On the left side bar, there are Apps, Contacts, Call Logs, SMS, Music etc. Choose the corresponding tab to check the details on the middle of the window. For instance, select "All Contacts" and choose the specific checkbox. Then you can do any operations on the title bar (New, Delete, Export, Import or Refresh).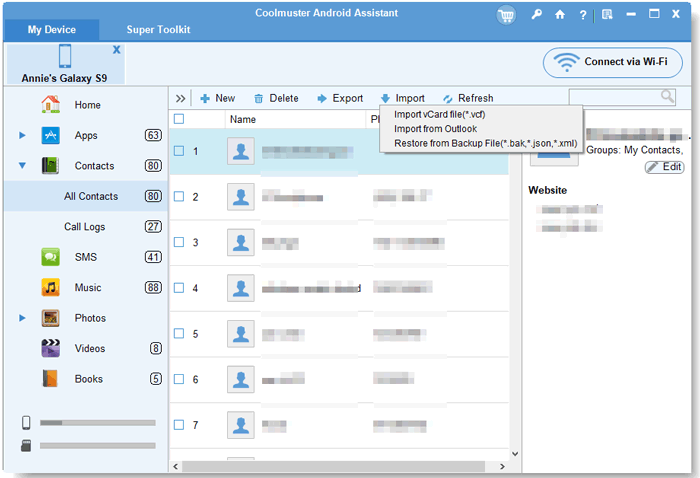 Tips: You can click other file categories on the left side bar and try all the functions shown on the title panel.
- Advanced Management (Backup and restore Android data)
Backup your Android files selectively
Go to "Super Toolkit" and select "Backup" option. Choose the contents you need to backup and set a location to save them. Then tap "Back Up" to move on.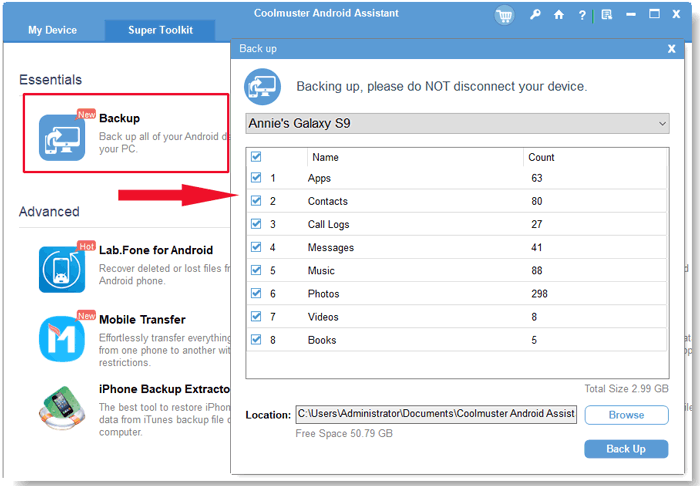 Restore Android data
Choose the backup records and your needed data types from the "Super Toolkit". Then press "Restore" to recover your Android phone data.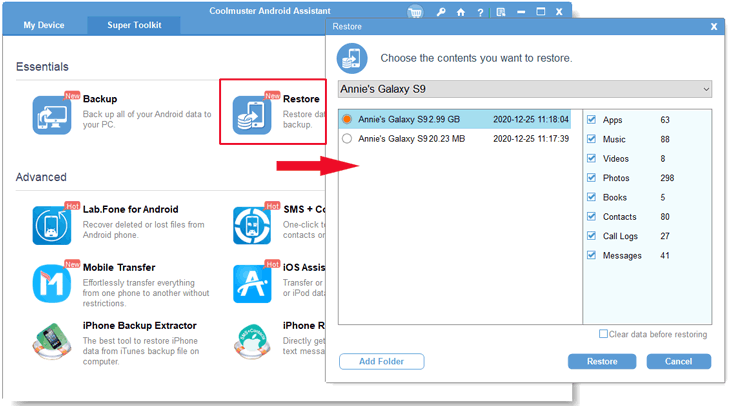 Bonus: Need to get how to connect Android via Wi-Fi? Click here >>
Video Guide:
Want to know more details about how to use Coolmuster Android Assistant? Watch this video to learn more.
Top #2 iTunes Equivalent for Android - RealPlayer
Are you familiar with RealPlayer? Yep, it is a considerable alternative concerning iTunes. But the former can open files with RM, QCELP, EVRC formats which iTunes cannot. Many years ago, it was an essential app for listening to music and watching movies on PC.
With the popularity of streaming media like YouTube, some RealPlayer users have been diverted, but its features cannot be ignored. You can search for music directly on it and download it to your Android, and can also set songs as ringtones.
Its new product, RealTimes, uses photos taken by users to create video slideshows and save them to a cloud computing platform.
Other fortes for this app like iTunes for Android:
> Supports file formats like AU, RA, RM, RMI, Mp4, Mp3, WMA, AVI, QCELP, EVRC, RMVB, etc.
> Run on almost all the Android phones with different versions and iOS phones, but windows PC only.
> Price: The Shared version is free, but features are limited, and the prices of the paid version are up to the countries.
Tips: If you want to clear cache on this app to relieve the running pressure, you can go to Tool > Preference > Regular > Clear history > OK.
You May Be Interested in:
Top 10 iTunes Alternatives for Windows You Can't Miss
How to Transfer Data from iPhone to PC without iTunes
Top #3 iTunes Replacement for Android - AirDroid
AirDroid is a remote control software for Android device management. Whether your PC is in a local area network or a remote network environment, you can control the Android phone for file transfer with this function.
It is suitable for mainstream operating systems, managing personal devices through a browser, mirroring phone screen, and offering two-way transfer of music, documents, pictures between Android and PC. You can play mobile music, search, upload, download and delete other data.
Besides, it also can be used to install, backup files and position phones.
Other characteristics of this iTunes equivalent for Android:
> Manage multi-media files without compressing and format conversion.
> Operate on almost all the Android and iOS phones without version limit, and common computer operating systems.
> Price: $24.39 per year for Advanced Account.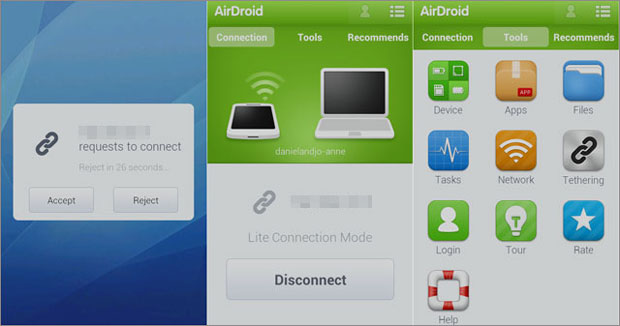 Attention: The regular account for this app is free, but it only helps you transfer files between devices, control mobile devices, and receive reply phone messages. If you need to use more features, you can upgrade to a premium account for a fee.
Top #4 App Like iTunes for Android - MediaMonkey
Providing with free and paid versions, MediaMonkey is a media data management.It bears quick search function to search online videos.Moreover, it also can sync music between mobiles and Windows PC.
You can download multimedia directly to your Android through the DLNA server associated with the app. Furthermore, you are allowed to transfer and organize files on your Android directly from Windows.
Finding missing track and album info on the Internet and syncing iOS or Android devices, it adds missing tags for audio or video tracks for seamless connection.
Other traits for this Android iTunes alternative:
> Support music and video file management, recording, conversion, playback, TAG editing, podcasting and CD ripping with such formats as MP3, WMA, MPC, APE, FLAC, OGG, VQF, WAV, etc.
> Work on almost all the Android phones, but Windows PC only.
> Price: $24.95(Version 4 License)and $49.95(Lifetime License)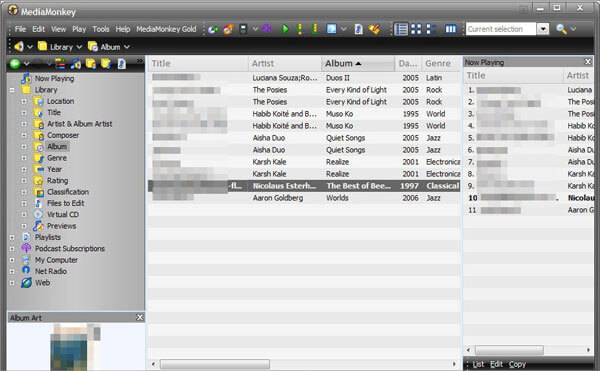 Tips: Each time you upgrade the product version, you will need to pay for the serial number again. You need to download the corresponding language package when you installed this app. In addition, there is no Chinese version of this tool.
Top #5 Android iTunes Alternative - Samsung Kies
Known as Samsung's iTunes, Samsung Kies has a huge music library and is a Samsung phone management program, designed by Samsung for smartphones and tablets.
You can transfer iTunes music to Samsung phones. Meanwhile, you are allowed to backup memos, call logs, messages, videos, photos and other files to your computer. You are required to enable the regular backup option to manage your data regularly.

Recently, the latest version of Kies3 launched the Mac version. No matter what network your device is running, you can view the software in full screen mode on PC. In addition, you only need to be a Samsung app member or register your phone to personalize the services.
Other strengths for this iTunes replacement for Android:
> Transfer contacts, music, photos, videos, and other files from your Samsung phone to PC with previous formats.
> Be compatible with most Samsung Galaxy and Samsung Note series (Android 4.3 or above), and both Windows and Mac PC.
> Price: Kies3 (the latest version) is free so far.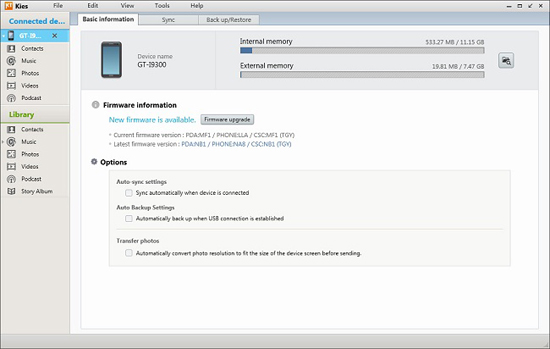 Notice: Some models of Samsung Galaxy, Samsung Note series are not available, and the latest version (Kies3) still cannot manage apps, messages, and other documents. In addition, smart playlists on iTunes cannot be transferred with this tool.
Top #6 iTunes Like App for Android - DoubleTwist
As a combination of music, radio and video management app, DoubleTwist can import iTunes music playlists from your computer, display music ratings and play counts or play music, browse and subscribe to your favorite video podcasts.
If you want to connect your phone to it via Wi-Fi, you can upgrade to AirSync, which syncs your iTunes music, pictures, and videos to PC on wireless connection. The built-in siren also acts as a voice recorder with CloudPlayer, so your music can be played at any time, no matter where it is stored.
It can automatically sync pictures and videos from your Android phone to PC wirelessly. Yet, some premium functions require payment.
Other features for this app like iTunes for Android:
> Transfer music, videos, and other multimedia files from your phone to PC with appropriate formats.
> Operate on Android phones (Android 2.2 or up) for Win and Mac PC. But some phones (Android 4.3 or later) are not supported.
> Price: $8.99 in a lump.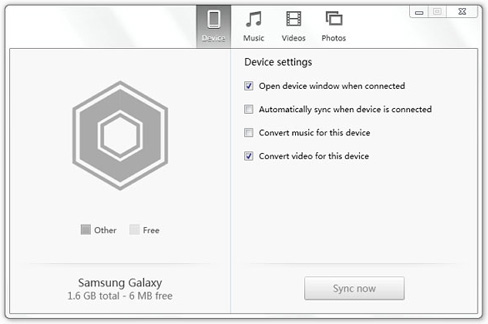 Notes: For MacOS, Android devices should possess USB MSC mass storage mode. For devices that only support MTP, AirSync is a must. It's reported that some versions of DoubleTwist have OpenCandy programs, which may install adware or potentially unwanted apps.
Words in the End
After reading these 6 iTunes alternatives for Android, what is the Android version of iTunes do you think? Technically, it is Coolmuster Android Assistant beyond question. Firstly, it supports unlimited types and versions of mobile phones and computers. Then, it is available for backing up most data selectively. Lastly, we could hardly find other shortcomings other than professionalism and safety.
In contrast, other 5 software can be selected when necessary, but they, to a large extent, have various restrictions, such as operating platforms, mobile phone models, Android version numbers, file transfer types. Among others, some binding programs or ads may be bundled during installation. So, if needed, make your wise choice.
Related Articles:
Best iTunes Alternative to Sync Data from iPhone to PC/Mac
5 Useful Methods to Transfer/Watch iTunes Movies on Android
How to Transfer Photos from iPhone to Computer without iTunes
Four Ways to Transfer iTunes Music to Android
How to Transfer Music Files from iTunes to Android Tablet?