In this day and age, phone to phone transfer tools are more popular than ever before. The reason behind this is due to how a great percentage of the population is trying to keep-up with the latest technology on the market, and thus, they often tend to upgrade to the latest model that is currently available. With this type of tool, you can transfer music, videos, photos, text messages, call logs, and contacts from an old device to a new one. If you are using an Android device, you must know the Cloneit app, which is specially designed for transferring content from your Android device to other devices in a few seconds.
Part 1: How to Clone All Data to Android via Cloneit App
Part 2: Best Alternative to Cloneit: Coolmuster Mobile Transfer
Part 1: How to Clone All Data to Android via Cloneit App
Cloneit is developed by SuperTools Corporation that can help you transfer text messages, app data, photos, bookmarks, saved passwords, browser history, calendar, notes, and much more from Android to other devices easily and quickly. All you need to do is following the steps in the below. First of all, you can download Cloneit from the link: https://play.google.com/store/apps/details?id=com.lenovo.anyshare.cloneit
Step 1. Install Cloneit app on both your old Android phone and the other device.
Step 2. Go to the target device, click Settings and turn on the installation from unknown sources. Then, turn to the Accessibility menu and turn on Auto Installation.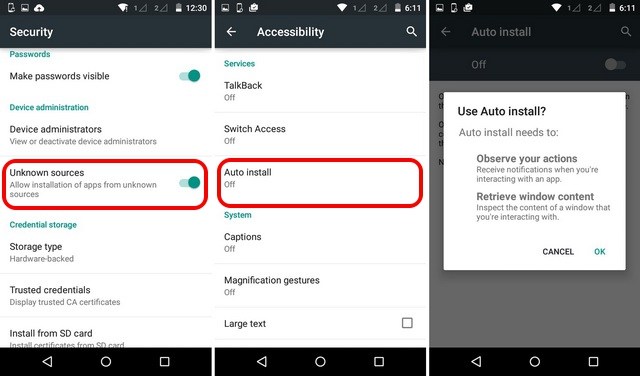 Step 3. Launch Cloneit app on both the devices now. You will be asked to select the sender and the receiver device. Just tap on the "Sender" on the source device and wait for a while until it makes the device into a hotspot.
Step 4. Then, you can find a new WiFi network appear on the target device. Just connect the device to the network.
Step 5. Once the two devices are connected to the same network, the source device will start looking for a sender, and you will receive a prompt on the target device, which sends you a connection request, just click "OK".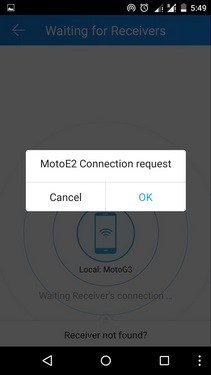 Step 6. Ok, the two devices are sharing a secure connection now. Just select the data you want to copy from the source phone using the Cloneit app and click the "Start" button.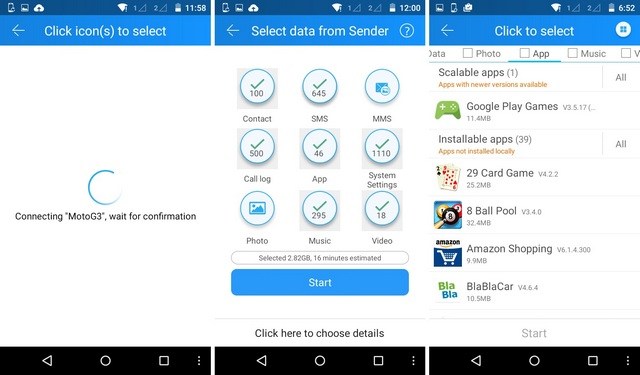 Ok, just sit down to have a rest because Cloneit app will automatically to move the selected content from the source device to the target one. You should make sure the two devices are in a close proximity of the hotspot range.
Part 2: Best Alternative to Cloneit: Coolmuster Mobile Transfer
As I mentioned above, Cloneit is designed for Android devices. So, if you are looking for an alternative tool which works for iPhone, we recommend Coolmuster Mobile Transfer, which can be used to transfer data between Android, iOS and even Symbian devices. It provides an one-click solution to move your content like photos, videos, music, contacts, SMS, apps and so forth. You can use it by following these steps:
Simple Steps to Conduct Cross-platform Transfer with Mobile Transfer:
Step 1. Download and install the Coolmuster Mobile Transfer software for either Mac, or Windows PC. After doing so, you should launch it and then connect both devices utilizing USB cables.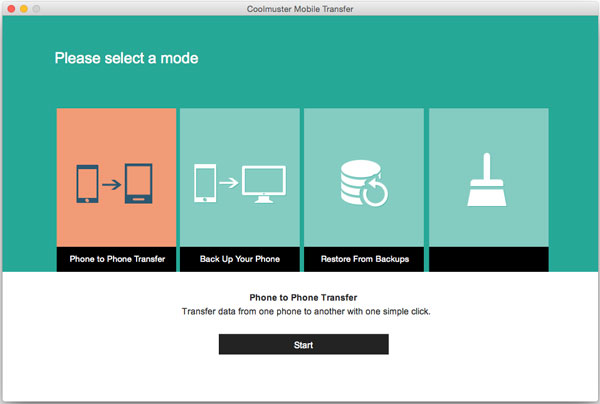 Step 2. Click on the 'Phone to Phone Transfer' mode from the main interface in order for this Cloneit alternative tool to detect both devices and then show them side by side on the screen.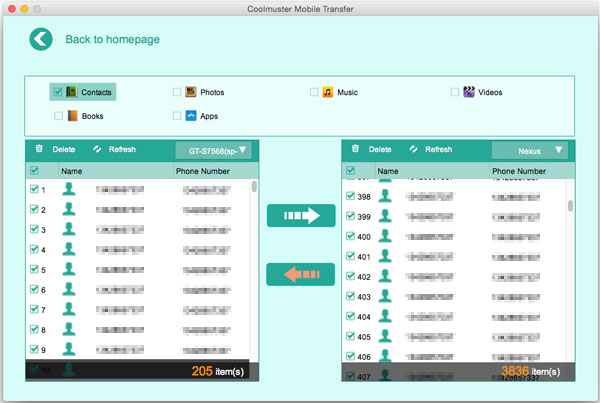 Step 3. Selecting the data that you want to transfer from one device to the other and then clicking on the transfer icon. Once the process is completed, you can go ahead and disconnect both devices from your computer.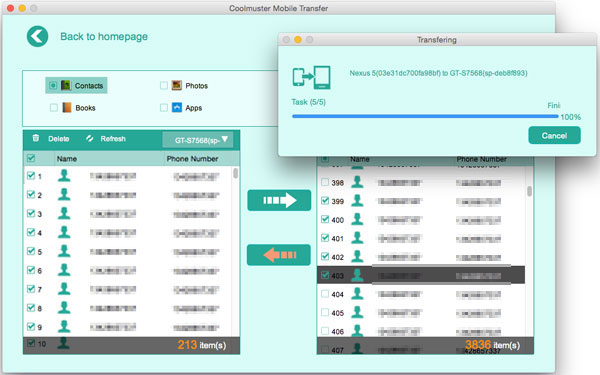 As you can see, it is much easier to use Android Assistant to transfer phone data than using Cloneit. Just try the best Cloneit alternative tool right now!
Conclusion
As you can see, Cloneit is a convenient app for transferring data from one Android device to another. However, if you're looking for an alternative tool that offers even more flexibility and cross-platform compatibility, Coolmuster Mobile Transfer is the perfect choice. With Coolmuster Mobile Transfer, you can easily transfer data not only between Android devices but also between iOS and even Android devices.
Related Articles:
How to Back Up Android to Mac? [Top 4 Ways Offered]
Why Is iCloud Backup Stuck? How to Solve iCloud Backup Not Working