Backup Android Files to Mac - Android Backup Solution
The importance of backing up our technological devices is emphasized and reiterated over and over again by tech experts and specialists because all our private and important information is generally saved in our Android mobile phones. In many ways, this is a disaster waiting to happen, because no matter how advanced your Android phone may seem, it is still a machine, and machines can break down. If there comes a day when your phone runs into problems, and has to take a serious nap in order to repair itself, you do want to know that your data is safe and secure.
The Mac system is considered to be one of the best in the world for security, making it an ideal place to backup mobile files. That's why many people would like to choose Mac machine to save their important files. The only problem is that you need the help of a third party app to transfer data from an Android to a Mac for backup. The good news is that there is a tool out there which can help, and it is the Coolmuster Android Assistant for Mac. This third party app has been designed specifically to help Android users learn how to backup data files, including contacts, text messages, photos, videos, music, apps, documents and many more from Android to Mac, with the minimum of fuss and effort.
It has an easy to navigate interface, performs functions quickly and efficiently, and allows users to either cherry pick selected files for backup, or conduct a full back up at the click of a button. And it also comes with Windows version - Coolmuster Android Assistant, which is specially designed for Windows users to backup and manage Android data on Windows PC. Android Assistant, no matter Windows or Mac version, can work on almost all Android devices, such as Samsung, HTC, LG, Sony, Motorola and so forth. Just free download it to have a try.
How to Backup Android Phone/Tablet Data to Mac Computer?
Step One: Download and install Android Assistant for Mac
The first step is to simply download and install the Coolmuster Android Assistant for Mac on your Mac computer. Once the installation has finished, the app should launch itself, with an easy to navigate interface. At this point, connect your Android device to the Mac via a USB cable.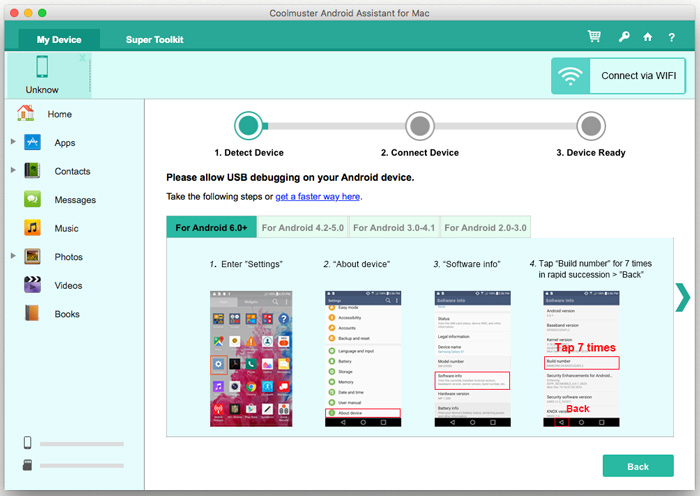 Follow the below instruction to enable USB debugging. If you did it before, you can skip to next step.
1) For Android 2.3 or earlier: Enter "Settings" < Click "Applications" < Click "Development" < Check "USB debugging".
2) For Android 3.0 to 4.1: Enter "Settings" < Click "Developer options" < Check "USB debugging".
3) For Android 4.2 or newer: Enter "Settings" < Click "About Phone" < Tap "Build number" for several times until getting a note "You are under developer mode" < Back to "Settings" < Click "Developer options" < Check "USB debugging".
After you finish the USB debugging, you can go to your device screen to tap the "Allow" option. Then, the parameter information of your device, including phone model, system version and storage space size will be shown in the main interface.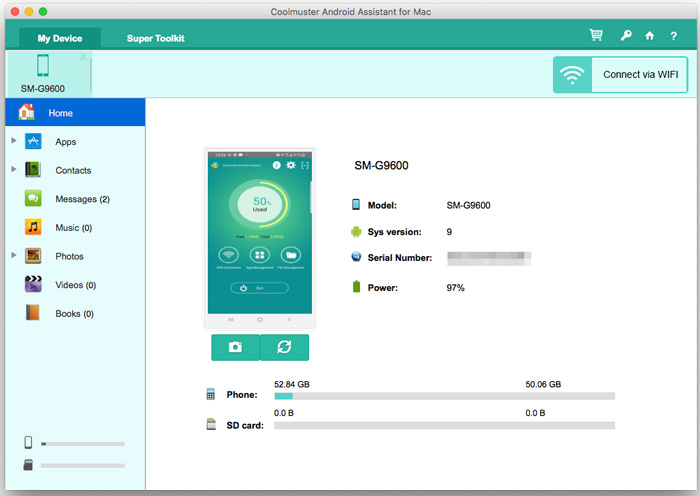 Step Two: Browse and preview the presented data files
The Android device should be automatically detected by the app, and all of the relevant files will then be presented within the interface window. In order to back them up, all that you have to do is selecting the ones that you want to be transferred to the Mac. The tool will allow you to click through and browse the files before you confirm the back up.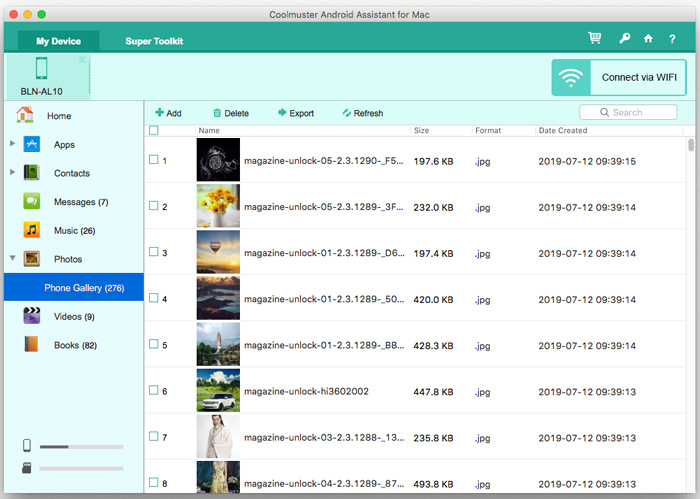 Step Three: Confirm the back up and wait for it to finish
Now that you have selected the data files that you want to back up, using the Mac, select the EXPORT button, and bring up the path choosing options. This should be a familiar enough process, because the system is merely asking you where you want to place the backed up files on your computer. Once you have picked a destination folder, the backup process will start. It should take minutes for the back up to finish.
Ok, the guide above is helping you backup Android data to Mac in the easiest way. Now, you can use your Mac as a safe and secure home for your Android important files!
Related Articles:
Copy SMS from Motorola Phone to Computer