What happens when your iCloud backup gets stuck? The excitement to try a new iPhone stops when iCloud backup gets stuck. Backing up data to the cloud is very easy, but sometimes, the process fails to finish due to one reason or the other. Now, you are in a dilemma of what to do. iCloud backup getting stuck is a minor issue that can be easily fixed, and this guide shows you ways to efficiently fix it.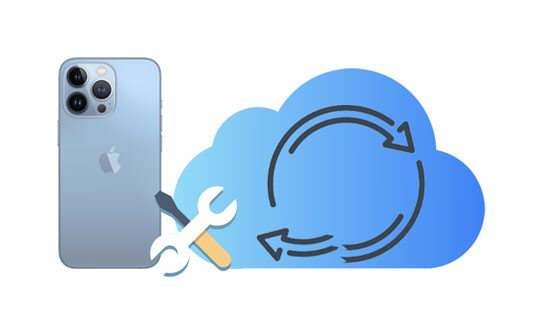 Part 1: How Long Should an iCloud Backup Take?
Part 2: Why is iPhone iCloud Backup Taking So Long?
Part 3: How to Fix iCloud Backup Stuck?
Part 4: Try An Alternative to Bypass iCloud Backup Stuck
Part 5: iCloud Restore Stuck on 1 Minute? How to Finish Restoring?
Part 1: How Long Should an iCloud Backup Take?
The time it takes to finish iCloud backup depends on various factors such as Wi-Fi connection and the size of the files. Time taken will take shorter if you have stable internet and fewer data to back up. Generally, iCloud backup can take 20 mins to 2 hours, depending on the size of your files and network connection.
Part 2: Why is iPhone iCloud Backup Taking So Long?
An iPhone iCloud backup may take a longer time due to various reasons. They include:
Unstable Wi-Fi: If your iPhone is disconnected quite often, the iCloud backup will fail.
Large data: When you select many files to back up with iCloud, it will need more time to complete. Thus, please patiently wait for the backup process.
Insufficient space in iCloud: iCloud only offers 15GB of free storage space, so it will not work if the storage is run out.
Learn more: Open this guide, and you can get easy ways to transfer your playlists from an iPhone to iTunes and vice versa.
Part 3: How to Fix iCloud Backup Stuck?
Even though it's super easy to back up data to the cloud, it can get stuck. But that doesn't mean we can't fix it. Some efficient ways to fix iCloud backup stuck are as follows:
1. Restart Your Phone
One of the best ways of fixing iCloud backup stuck is restarting your phone. Simply switch it off and on again. To restart your iOS device, press the Volume Down and Power buttons simultaneously and release them when you see the slider. Then drag the slider to turn off your iPhone. After a while, press the Power button to switch on the device.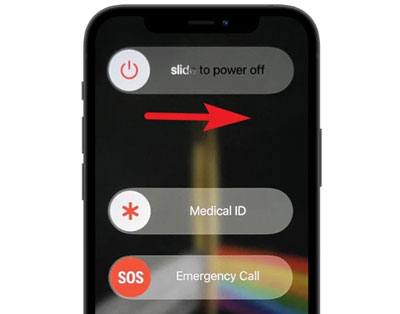 See also: You can fast sync contacts from your iPhone to Mac with these 5 methods. Let's check it out.
2. Update iOS
The most important thing with backing up data in the cloud is compatibility. If your iOS system isn't up to date, the chances of encountering such an issue are high. Old iOS versions can cause iCloud backup to be stuck on "Estimating time remaining for hours." If you update the iOS system, then the issue might be solved.
To update an iOS version, navigate to Settings > General > Software Update to check for new versions and update it.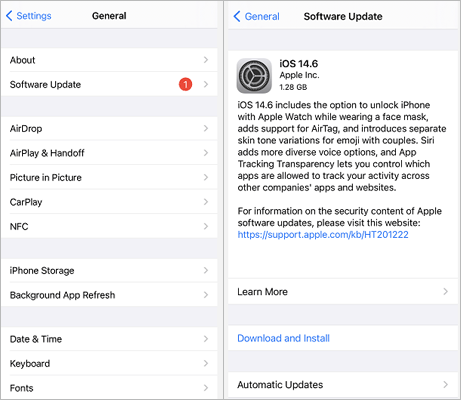 3. Reset Your Network
To use iCloud, you need a stable internet connection; if it's unstable, you will likely encounter an iCloud backup issue. So, reset your network and see if the problem is resolved. To reset the network, go to Settings on your iPhone, then choose General. From there, proceed to Reset and Reset Network Settings. After doing that, connect to Wi-Fi and try again.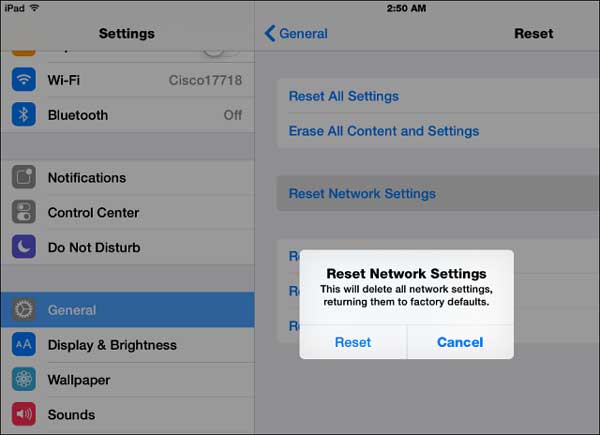 You might need: Do you know how long to back up the data on an iPhone? Open this full guide to get further knowledge.
4. Delete Old Backup
An old backup can sometimes slow the iCloud backup process or get stuck. The main reason is an incremental backup from iCloud. The compatibility of these two backup files can conflict, so try deleting the old iCloud backup and then try again.
To delete the old iCloud backup, navigate to Settings on your iPhone and click iCloud, followed by Manage Storage, and lastly to Backups. All of your iCloud backup files will be shown by time. Choose the unwanted tasks and erase them.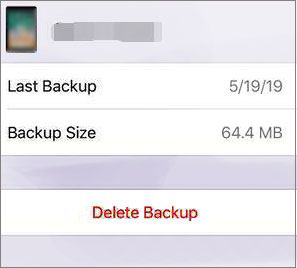 Tips: Looking for efficient ways to transfer your photos from an iPhone to a Lenovo laptop? You can learn 6 approaches from this article.
5. Check the Size of Your Backup
Insufficient iPhone storage space could also be a possible reason for backup to be stuck. Apart from clearing any existing data in iCloud settings, you can also check the size of the Backup being uploaded to iCloud.
The uploading data to the iCloud process stuck at 1 minute/ hour can result from insufficient storage on the iPhone. Except for clearing the existing data in the iCloud setting, you could also decide the size of your backup.
Navigate to iPhone's Settings app > [your name] > iCloud > Manage Storage > Backups > [your device name]. You'll see the last time you did your data backup to iCloud, the next size of backup, and the application data which would be included in the backup. You can decide to switch off any unwanted apps to reduce the backup size.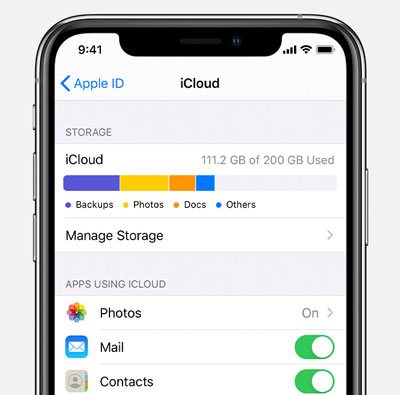 6. Enable Automatic Backup
Enabling automatic backup could also be a good way of fixing the problem. Note that backup would occur if your iPhone device is locked and connected to WiFi and power during the night. To enable the automatic backup, go to your iPhone's Settings > [your name], and then look for iCloud > Backup. Next, enable iCloud Backup.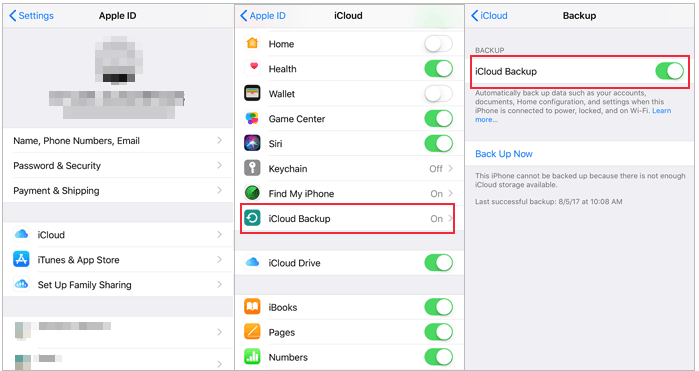 See more: How to Fix iCloud Drive Not Syncing on Windows 10/Mac/iOS Devices?
7. Resetting All Settings
This is your last resort. After trying every other way to fix the issue, you can now try resetting all settings on your iPhone. Before that, back up all of your data to the computer since resetting all settings will erase all of your iPhone's data. Navigate to Settings on your iPhone and go to General > Reset > Reset All Settings. Doing this will delete all the personal settings in your iPhone and refresh it.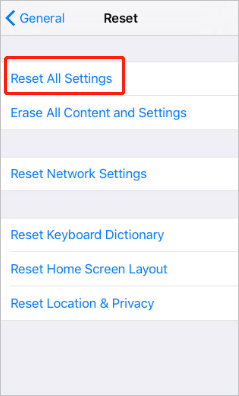 Read more: Want to back up your important text messages from your iPhone to a computer? This guide will teach you to make it step by step.
Part 4: Try An Alternative to Bypass iCloud Backup Stuck
iCloud is a proprietary solution that is known to efficiently backup as well as restore your data. But, it does not always operate the way it's intended to. But does that mean you can no longer back up your data and secure it? Of course not. We have great software, the Coolmuster iOS Assistant software, that can do anything for you.
This handy application - Coolmuster iOS Assistant, can be easily installed on the computer to carry out any data management work. For example, you may use it to back up your iOS data to a computer without iCloud or iTunes. You may also selectively transfer your data from an iOS device to a computer or to the iTunes default folder on your computer to an iPhone, etc. The features are practical. Whatever you want, Coolmuster iOS Assistant has got you covered.
Among the many things, this can easily help you to bypass the iCloud backup stuck by exporting your files from an iOS device to a computer. This all-around data manager for iOS devices will put your worries at bay.
Download this iCloud alternative on your computer.
Follow the below steps to transfer files from iPhone to a computer or default iTunes backup location for backup:
Step 1: Launch the Program on Your Computer
After you've downloaded the right version of the software, install it, then open it to get to the first interface.
Step 2: Connect Your iOS Device
Using a working USB cable, connect your iOS device to the PC. The program will detect your device automatically, and a pop-up window showing the main interface will be displayed on the computer.
Click the Trust option on your phone and tap Continue to proceed.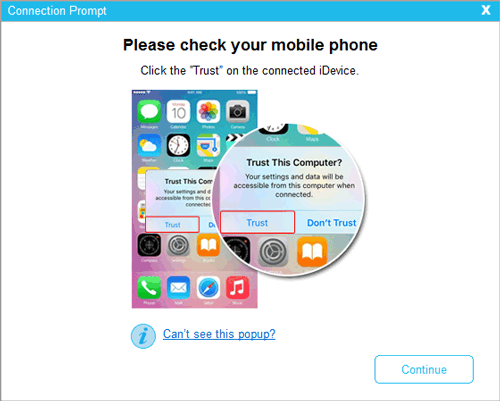 Step 3: Export Your Data from the iOS Device to the Computer
Just enter the files you want to export and preview.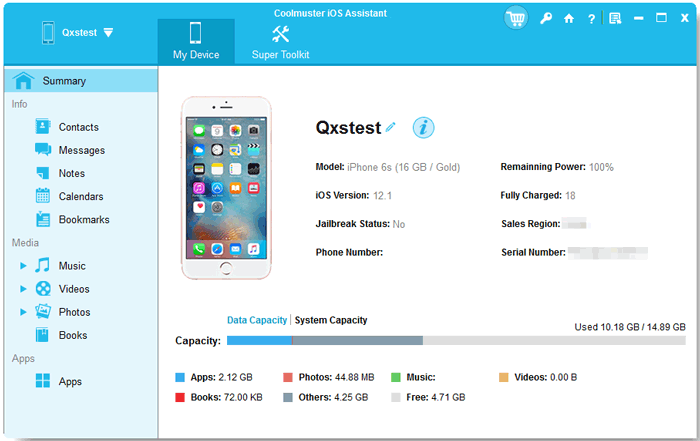 You may choose the specific files by checking boxes to send to the computer as you preview. Then click the Export option, select the correct output format of the file, and start the transfer procedure.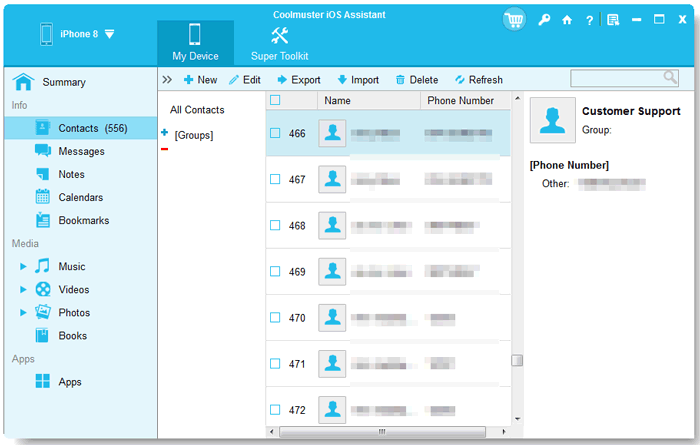 Check it if needed: Want more powerful iPhone backup tools? Browse this list.
Part 5: iCloud Restore Stuck on 1 Minute? How to Finish Restoring?
What to do if you try restoring your iCloud data but it gets stuck in just 1 minute? How do you get the process to finish? Restart your iPhone and try restoring again. Yes, that's what you should do; believe it or not, it does wonders.
Restarting the phone is an easier way to finish the restoring process. To do this, first, end the current restoration procedure and then restart the process again from the start. You'll reboot your iPhone device and then restore it from iCloud backup again. Below is a step-by-step process to do that:
Step 1: Restart the iPhone to interrupt the current restoration procedure. Here is how you can restart the various iPhone models:
For iPhone X phones and above, press the Volume Up button, then release it. Do the same with the Volume Down button. After that, long press the Side button till you see the Apple logo on the screen.
For iPhone SE, the 2nd generation, 8,7, & 6, long press the Volume Down and Side buttons at the same time and release them when you see the Apple logo.
iPhone SE (1st generation), 5 and below, long press the Home and Power buttons simultaneously and release them when the Apple logo shows on the phone's screen.
Step 2: After rebooting your device, open the Settings app on your phone and proceed to General > Reset and click on the Erase All Content and Settings option.
Step 3: Set up the phone and choose the Restore from iCloud Backup option, which is found in the Apps & Data section.
Step 4: Choose the iCloud backup file you want, and it will be restored on the iPhone.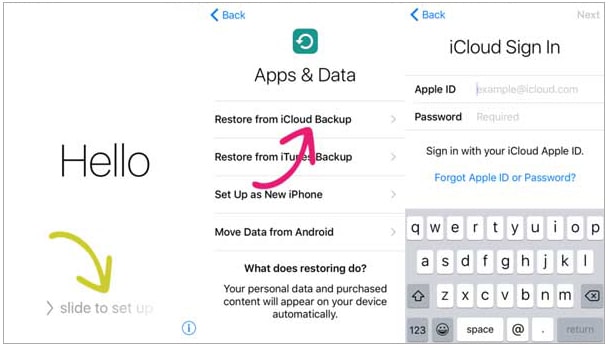 Conclusion
That's it! The iCloud backup stuck problem happens more than often to iOS users. So, you should at least know a way or two to resolve the issue. This blog post has just helped you with various ways to fix the problem, from restarting your iPhone to resetting your settings and network and a cool software like Coolmuster iOS Assistant to bypass the iCloud backup stuck issue. Thus, you can solve the problem without any stress.
Related Articles:
3 Simple Ways to Back Up iPhone to Flash/USB/Thumb Drive [Reassuring Guide]
3 Amazing Ways to Back Up WhatsApp from iPhone to PC
How to Swiftly Back Up Viber Messages on PC? (Fixed)
How to Transfer Files from Mac to iPad? 6 Ways for you
Photos Didn't Transfer to New iPhone? Work It Out with Easy Solutions
Move to iOS Transfer Interrupted? Repair It Now [Why and How Guide]