How to View iPhone Backup File on Computer (Windows/Mac)?
If you have an iPhone, you will need to use iTunes to keep it running smoothly. This all-encompassing media library application and Apple syncing center serves as the hub of activity for the iPhone. It is used to play, download, store, and organize digital audio and video on a personal computer, as well as on the mobile device itself. The question is, how do you actually view iPhone backup files on a computer? It can be tricky to find the iPhone backup files folder on your computer, especially if you do not know where to look, but there are plenty of tools out there which can help you.
For example, the Coolmuster iPhone Backup Extractor or Coolmuster iPhone Backup Extractor for Mac is able to locate, identify, and transform unwieldy (and often inaccessible) iTunes files into a format which can be easily read on a computer. You will almost certainly need the help of a third party app if you want to locate and read iPhone backup files. Whilst many of the tools available are fussy and time consuming, the Coolmuster iPhone Backup Extractor promises to get the job done in three simple steps. This means if you ever accidentally lose important data from your iPhone, you can find and use them on your computer.
The benefits of using Coolmuster iPhone Backup Extractor are numerous. For one, it can be installed and downloaded within minutes and the easy to use interface makes carrying out tasks quicker and simpler than ever. The last thing that you want is to have to spend hours fiddling with frustrating folders and files on your phone or computer, so let Coolmuster iPhone Backup Extractor help you to find what you need.
Step by Step to Access and Read iPhone Backup File on PC/Mac
Step 1. Download and install Coolmuster iPhone Backup Extractor
The first step is to simply download and install Coolmuster iPhone Backup Extractor on your computer. Once the installation has finished, the app should launch itself and an easy to navigate interface should appear. You just have to select the iPhone backup files which correspond to your device (usually labeled with you name) and then hit the START SCAN function.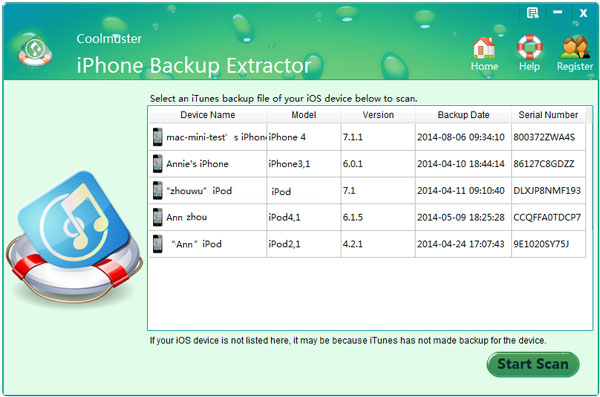 Step 2. Preview the backup files before recovery
Once the scan has finished, you should see that all of the data files in your iPhone backup folder have been categorized into separate files. For example, you should see a separate file for SMS messages, another for call logs, another for contact lists, and so on. To check and preview a folder, you just have to select it and browse through the information displayed on the right hand panel.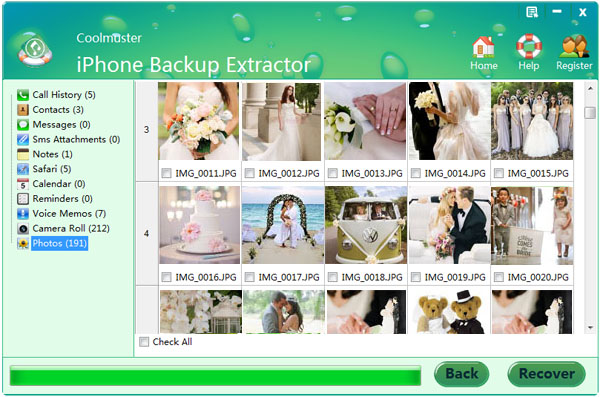 Step 3. View and save the backup files on your computer
The final step is to check or mark all of the backup data files that you want to save and keep safe, by hitting the RECOVER function. This last step will make sure that the files are saved on your computer in an easily accessible form and you should be able to read them after this has been done.
The Coolmuster iPhone Backup Extractor is compatible with all iPhone models, so there should be no problem locating, reading, storing, saving, backing up, or duplicating files.
Related Articles:
Copy Contacts from iPhone to Samsung