Smart phones like Android, iPhone and Symbian spread all over the world and we can see almost everyone surround us is incessantly on the go, running a mobile phone in hand from appointment to appointment. A cell phone can be so important nowadays, on one hand because it can help us to keep in touch with each other, on the other hand, we can use the mobile phone as a portable storage device and save crucial data in it. We can image that how inconvenience it is if we switch to another new phone and leave such important files behind in the old phone.
You must be in urgent need of transferring precious data from the old phone to the new one, or you just wish to share beautiful photos, interesting movies and songs on your Android phone with your friends or families who are using iPhones. No matter what your reason for transfer phone data, you have to ask help from a third-party program, which can assist you to share and transfer all types of data from Android to iPhone, iPhone to Android, Android to Symbian, Symbian to Android, iPhone to Symbian, or Symbian to iPhone. In a word, everything between any two phones in different operating systems.
Once Click is enough to transfer files between Android, iPhone, iPad, iPod and Nokia!
Coolmuster Mobile Transfer makes it simple to move data among Android, iOS and Symbian phones no matter they are from different carriers and manufactures. This Phone Transfer can help you transfer files, including contacts, text messages, photos, videos, music, call history and more between multiple phones, no matter from internal memory or external SD memory. Phone Transfer is easy to use and 100% risk-free, everything after the transfer will perfectly keep the original quality.
Coolmuster Mobile Transfer is fully compatible with 2,000+ devices from iOS, Android and Symbian, such as iPhone, iPad, iPod, Samsung, HTC, Motorola, LG, Sony, Nokia, etc. Download the handy program on your computer and try:
Tutorial to Switch Data among Android, iPhone & Symbian Nokia
Step 1. Run Phone to Phone Transfer
When the downloading and installing process are finished, you can launch the phone transfer software directly. Connect two devices to the same computer via USB cables.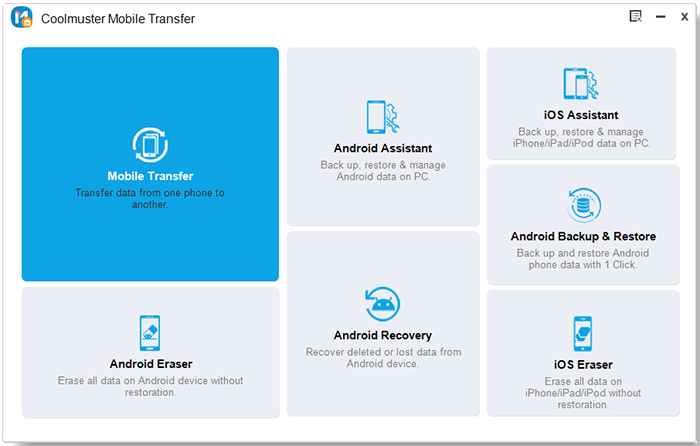 Step 2. Connect two of your phones to computer
Once the connection is finished, the two devices will be detected by the program instantly and displayed in the places of "Source" and "Destination". The files will be moved from source phone to destination phone. If you need to switch their positions, you can click "Flip" button.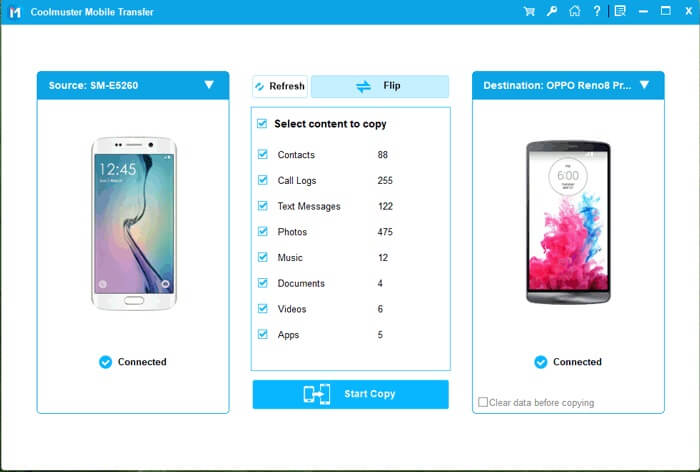 Step 3: Start to transfer data from one phone to another
Now, photos, videos, music, contacts, SMS, call logs and more will be transferred from source phone. You can choose those you want to move to the destination phone and click "Start Copy" button.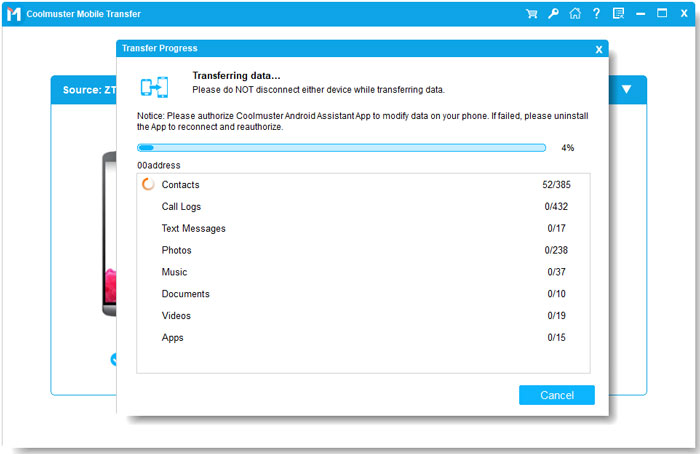 That's all! Transferring data from one phone to another is just so easy. By the way, if you would like to transfer files from or to iPhone, you need to install iTunes on your computer beforehand.
Related Articles:
Move SMS Messages between BlackBerry and Samsung
iCloud vs. iTunes Backup: What's the Difference between Them?
Does Smart Switch Need Wi-Fi to Send Data?