Anyone tells me how to transfer music from iPod touch to Samsung Galaxy S23? I have a new Galaxy S4 and I have been trying to move all my favorite songs, as well as movies on my iPod touch to the Galaxy S4. But no way can really help me and I am nearly in deep despair. Do you have any idea about how to go through the transferring task between iPod and Android phone? - Yahoo Answer
Transferring files from Apple iPod to Android device is doomed to be a difficult thing because the two devices are running with different operating systems. Maybe we can figure out the way to transfer data from Android to iPod via the iTunes syncing. That is to export Android music, videos and photos to computer, transfer them from computer to iTunes and then sync them to iPod. But the reversed transfer is much more difficult, let alone the contacts, calendar and iMessages located in the internal memory of iPod touch, iPod Classic, iPod nano, iPod Shuffle and etc.
Then, you need to ask help from an iPod to Android transferring tool to transfer files from iPod to Android phone or Android tablet. You are lucky enough to arrive here. This article is mainly introducing the iPod to Android Transfer, which can help you transfer almost everything from all iPod models to all Android-based device with one click. Besides, it can also transfer photos, videos, music, contacts, messages, calendars and more from iPhone, iPad and iPod to Android and Symbian on Windows or Mac computer. This amazing tool empowers users to finish the transfer with zero quality loss.
Just go through the passage and learn more about how to use the iPod to Android transferring tool to copy songs, videos, photos, contacts, SMS, calendar and many more from iPod to Android device, including Samsung, HTC, LG, Motorola, Sony, Windows phone, etc. First of all, click the following button to get the wonderful tool downloaded on your computer.
Easy Guide to Transfer Songs, Videos, Pictures, SMS & Contacts from iPod to Android Phone
Step 1: Run the iPod to Android transferring program
Install and launch the Transfer on your Windows computer. Mac users can follow the same way. When you see the primary interface of the Transfer pops up, you can choose "Phone to Phone Transfer" and click "Start" to enter the phone transfer window.
Note: Install iTunes on your computer to make sure the program can work normally.
Step 2: Connect your iPod and Android device to PC
Plug into the USB cables to get both your iPod and Android phone connected with the same computer. Then, the Phone Transfer will show the two devices as "Source" and "Destination". Files will be copied from Source device to the Destination. Therefore, you should click "Flip" button to make sure the iPod is in "Source" area.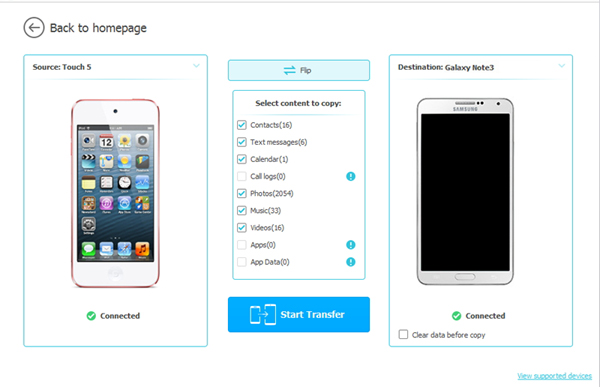 Step 3: Start to transfer iPod data to Android
All file types are ticked off as default, which means all files will be transferred from iPod to Android if you directly click the "Start Transfer" button. If there is anything you don't want to transfer, you can simply uncheck it.
There is a progress bar shows you how the files transfer is going. When the task is complete, you can click OK and check the transferred files in your Android phone.
Related Articles:
Copy Contacts between Samsung and iPhone
Transfer Contacts between Android and iPhone
Powerful SMS Recovery Apps for Android - 9 Options