Users will encounter many problems when using the Android system. This is also the main reason users want to upgrade Android to iOS. On the other hand, switching from Android to iOS is not a system upgrade. It is actually just a kind of transfer. Users choose to upgrade Android to iOS to ensure providing the best for their platform. This method is not only applicable, but also has a high success rate. In this article, we will explain in detail about how to upgrade Android to iOS.
Part 1: Why Many People Choose to Upgrade Android to iOS?
Part 2: How to Upgrade Android to iOS Step by Step?
Part 3: How to Transfer Data from Android to iOS in 1 Click?
Part 1: Why Many People Choose to Upgrade Android to iOS?
People choose to upgrade from Android to iOS because iOS has many advantages over Android. After considering these advantages, people carefully decide on the platform switching to ensure that they will not regret this decision in the future.
- iOS hardware and software integration is far better than Android. Many users who have tried these two systems also found that iOS devices run and operate very smoothly, and are faster than Android in all aspects.
- iOS camera configuration is also much more advanced than Android. Usually the photos taken with iOS devices are more HD than Android. iOS can easily generate high quality photos, which is one of the reasons people choose to upgrade Android to iOS.
- Although the Android system has evolved and its functions have become more comprehensive, iOS is still the easiest software to use, so it is still at the top of the mobile phone system. Compared to Android phones, iOS update is also very easy. With one-click update, iOS users can enjoy the latest features effortlessly.
- Applications in our Android phones and Play Store are experiencing problems with bloat ware, but in iOS, this problem never occurs. iOS security is also higher than the Android system.
You May Like: How to Backup iPhone to iPad?
Part 2: How to Upgrade Android to iOS Step by Step?
In order to ensure that all users can safely upgrade Android to iOS, we provide a guide with a combination of illustrations and words to make this steps easy to understand. This is one of the easiest ways to get two operating systems running on the same device. After completing the following steps, you can easily switch from one system to another on the same phone. The only thing you need to do is rebooting the device each time you need to switch the OS.
Step-by-Step Guide to Upgrade Android to iOS:
First of all, you should visit the page of https://www.applehacks.com/ and you will see the outlook like the following picture.
In the next step, you need to press the button of "INSTALL ANDROID". Then, the device will restart and the whole process will be completed automatically.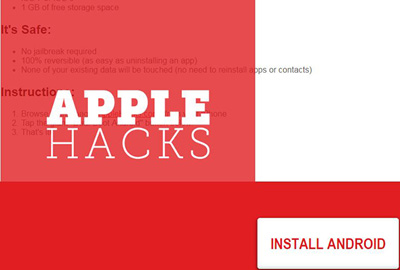 See? It is the easiest method to upgrade Android to iOS, and vice versa. Please follow the steps carefully.
Part 3: How to Transfer Data from Android to iOS in 1 Click?
Phone Transfer is one of the best phone to phone transferring applications that help you transfer data between Android and iOS, Android and Android, and iOS and iOS on Mac or Windows in a hassle-free manner. The program is easy to use and user-friendly, even a computer novice can handle it without any problem. With this application, you can transfer everything, including photos, videos, music, contacts, text messages, call logs, notes and so on between two devices in one click, no complicated operations are needed.
Following are the steps to transfer data from Android to iOS in one click, with the help of Phone Transfer. First of all, you can click the following button to get the trial version of Phone Transfer installed on your computer.
Read More: How to Port Android Apps to iPhone
Step 1. Install and launch Phone Transfer tool
Phone Transfer allows the transfer of text and media files between Android and iOS. To do that, you need to install the application first and then launch it on your PC or Mac computer. Then, its primary window appears and you are required to connect your phones to the program.
Step 2. Connect Android and iOS devices to computer
Now, you can use two USB cables to connect both of your Android and iOS devices to the computer. The two connected devices will be detected by the program and displayed side by side. All the transferable file types are listed in the middle of them.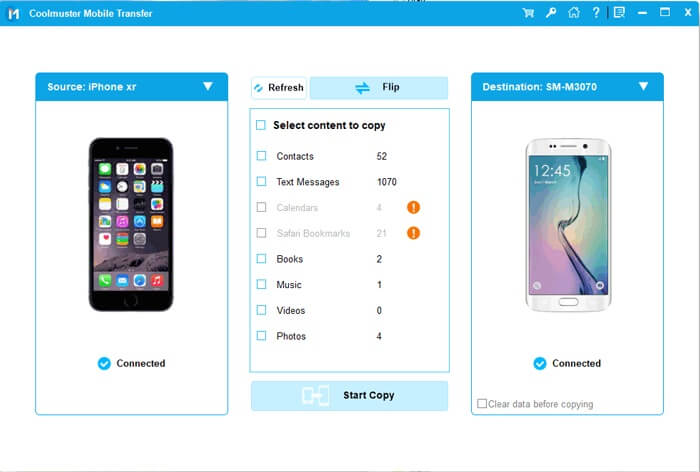 Step 3. Click "Start Copy" button to begin transfer process
Now, check the data types you want to transfer from your Android phone to iOS device and click the button of "Start Copy" to initiate the transfer process. Then, all the selected files on your Android will be transferred to your connected iOS device completely.